Black Diamond
ReVolt
Reviews
This headlamp is bright, light, and easy to use. You…
Rating:


Source: bought it new
Price Paid: $59.99

Summary
This headlamp is bright, light, and easy to use. You have the choice of either using NiMH batteries or alkaline. The rechargeable batteries are proprietary, so you must use Black Diamond branded NiMH batteries. The proprietary batteries lost my rating 1/2 star.
Pros
Brightness (110 lumens with Alkaline batteries)
Lightweight
Battery choice (MiMH or Alkaline)
Cons
Proprietary NiMH batteries
No wall plug for USB
Not waterproof
A good headlamp is a must have in your kit. Nothing worse than taking more on a hike than you expected, reaching in your bag and finding your lamp is dead.
I bought this headlamp because I wanted the ability to use rechargeable batteries on longer treks with a power source to charge. I loved that I could carry a set or two of alkaline batteries as backup, but could simply charge these with a USB and power source (only USB is included).
It also has a lock that on the switch buttons. Hold it down to lock it and then you won't reach into your bag and grab it, only to find your gear bumped the button, lit the lamp and burnt the batteries.
This lights up the trail and if there are animals or reflectors in the distance, this headlamp will reflect them as far as about a quarter mile away! That will give you a heads up detecting those pesky bears and wolves staring you down further up the trail! You can hold the button down and decrease the brightness to match your use on a sliding scale to save batteries and get just the right amount of light for the job. You can dim it all the way down to 4 lumens! When you hold down the button it starts getting dimmer. Release and repress to begin getting brighter. That easy.
I have a pretty small head and this could get tight enough not to slide around on my forehead, yet easily enlarged for over a helmet. Certainly may not work for a small child but adults should be fine from pin head to Sasquatch with no worries!
If you are buying this because you want to depend on it's recharging capabilities, it charges in about four and a half hours, So you can hook it to your solar charger on your pack and, depending on the charger get a charge. OR you can toss some alkaline batteries in the pack for backup. Probably a good idea to do so. You get a good amount of time on charge depending on how you use it. I set it on bright and left it and it went out while I wasn't home, but at least had 45 hours on it nonstop.
Additional Pros:
Knight vision low light

Durable

Well designed button placement

Quiet operation (tent mates appreciate most)

Trickle Charges when fully charged if left plugged in

Lock feature helps keep it from accidentally turning on if bumped in the pack.

Fully variable brightness feature
Additional Cons
Only 90 Lumens if using the rechargeable batteries
******Edit 3/14*******
I just want to add that i have just used this lamp after months without charging. (I had a backup but wanted to see if it had any juice at all after laying around say....5 months.) Amazingly it worked! I had it blasting out until the sun came up (2 hours) and no sign of failing! 
Don't depend on it, but it was a surprise that it was fully functional!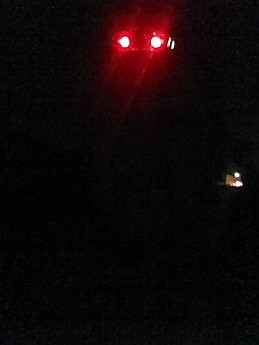 Black Diamond ReVolt
currently retails for:
$59.95 - $59.99