Black Diamond
Speed 30
Reviews
Great pack for everything from day hiking to alpine…
Rating:


Source: bought it new
Price Paid: $130

Summary
Great pack for everything from day hiking to alpine climbing.

(This was written for the old model which recently was updated. In the new pack the ice axe loops were fixed, and the crampon pouch was improved, but they made the hip and should pads WAY too narrow, and the suspension is half as breathable as it once was. I would not give the pack two stars.)
Pros
Versatile
Huge amount of extra space
Great suspension system
Cons
Ice axe loops don't work
Crampon pouch useless
Since this review was written they fixed all the things I complain about in this review. They also ruined all the things I like. No longer a fan of this pack at all. 
I've had this pack for three years. I have climbed multipitch in summer and winter, used it on scrambles as a ultralight overnight backpacking bag and more.
For vertical sports it really performs well. The shoulder straps move with your body giving you consistent contact with the pack. As you move it always moves with you. In the alpine this is essential. The best pack is the one you don't notice, and climbing this fits that bill.
Hiking its comfort is so good you end up ignoring the sweaty back. It's not that bad and it hasn't chaffed at all yet. Because it is a roll top there is heaps of extra space, probably about 15 litres. It makes the pack a awkward height, but it can do it. Not so good for overnight backpacking, but excellent for the grocery store. The extra space does make camping easier though.
The main cons lie on the face of the pack. The ice axe loops do not function well. Had they been made out of bungee rather than cord, and used a bungee lash system it would have been revolutionary. Instead a useless plastic knob that always loosens has been used. This causes picks to clang together as you walk on the approach. It's annoying and reverberates through the pack. 
The bikini crampon pouch is equally crap. On my older Speed (new generations the rings are larger and easier to access) the tiny metal loops are hiding away and near impossible to thread the thing in. Once it's on you discover it only covers a third of a pair of crampons. It can't even hold a jacket properly.
In fact I have you to find a item that it can hold. Water bottle? Nope! Helmet? No way! Literally nothing will stay in it. If BD's Toolbox crampon pouch had been made with four-way straps that it could fit into then perhaps it would have been useful, but alas, the bikini is a pointless addition and should be made of a daisy chain instead. 
But I love it. Climbing is a dream and it's just simple enough I can mod the bugs out of it. BD tried to reinvent a system that didn't need to be changed, and completely and totally failed. But the suspension system (by far the most important system) is excellent. The roll top is a brilliant feature, and the whole simplicity of the pac can't be ignored.
A great pack, and I recommend it for summer use.
Excellent top loading pack with ample volume for overnight…
Rating:


Source: bought it new
Price Paid: $139.95

Summary
Excellent top loading pack with ample volume for overnight peak climbing adventures. Pack's carrying system makes the load very comfortable. Pack is lightweight, and material is beefy.
Pros
Lightweight and "streamlined"
Swing-arm shoulder straps
Ample volume
Beefy and water repellent material
I bought this pack, after months of looking, when the bartack shoulder strap stitching on my incomparable 30 year old Buzzard Mountain Ware ruthsac went south. 
While the BD Speed 30 fits well, I would have bought a Large but the BD sales rep said he was 6'2 and used a Medium (my wife measured my torso, also within M parameters).  I am 6'1 and the waist belt rides high on my waist, so I think I could have gotten away with the large size. 
The pack rides/carries comfortably. On a recent peak ascent my partner unloaded 6 full 20 oz. drink bottles into my BD Speed. There was ample space in addition to my 2-quart water bottles, Gatorade, guide pants, gore-tex jacket, 2 fleece jackets and trail shoes etc.. and the extra weight was not bothersome. 
It is a top loading bag, which I prefer, and does require attention and organization when packing to keep load balanced.  I like the roll top closure, but I wonder if it will last 30 years? Like all my previous BD gear this item is well made and after two Colorado peak outings looks like it will last a long time. 
I bought this online directly from BD because not one mountain gear store between Steamboat Springs to Telluride had them in stock, even REI — crazy!!  The bottom line; great mountaineering pack!
 Pack worked great as a one day alpine pack or as…
Rating: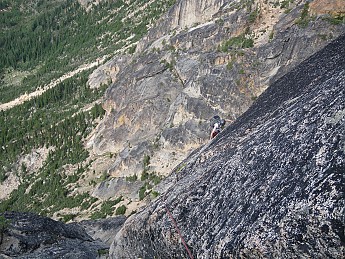 Pack worked great as a one day alpine pack or as a multipitch route. Highly compressible, and light with great BD quality.
The hydration bladder holder a seam for tube are essential in keeping hydrated while climbing. You can also remove features and collapse the pack into the brain to use as a summit pack.
Probably one of the best packs I have purchased. It…
Rating:


Design: Top-loading
Size: 30L
Height of Owner: 6ft 1in
Price Paid: $75

Probably one of the best packs I have purchased. It has the hydration aspect, the removable hip belt and brain, the gear loops for both ice axes and crampons, the best compression straps in the perfect locations to make it any size you might need and the material is durable for climbing.

This pack is perfect for day trips when you want to…
Rating:


Design: internal top loading
Size: 30L
Height of Owner: 5'10"
Price Paid: $55

This pack is perfect for day trips when you want to make sure you have all that you might want, or weekend trips when you want to make sure you have all that you need. It definitely does not intrude on arm movement. It says it has a place for an ice axe, but it does not hold one very well. The gear loops are small. Mine looks slightly different from the one pictured. I was hesitant about the single strap from the lid to the body, but it works well and you don't have to worry about the lid falling to either side.
Black Diamond Speed 30
currently retails for:
$98.99 - $149.95
MSRP: $129.95