Black Diamond
Venom Hammer Ice Axe
1

review

5-star:

1

4-star:

0

3-star:

0

2-star:

0

1-star:

0
Specs
Weight
528 g / 1 lb 3 oz (50 cm hammer with leash)

Pick
Tech Pick: Chromoly steel

Head
Head, Hammer/Adze, Spike: stainless steel

Shaft
Aluminum

Grip
Dual-density

Reviews
When you need a second tool, but not necessarily a…
Rating:


Source: bought it new
Price Paid: $145

Summary
When you need a second tool, but not necessarily a technical ice tool.
Pros
Curved shaft
Moderate weight
Rubber grip
Comes with a wrist leash
Replaceable pick
Safer self-arest
Less expensive than a dedicated ice tool
Cons
A compromise tool
One ounce heavier than the adze option
"You know when it's good picket snow when you drive one in and you really wish you had a hammer." These were the words of wisdom from my crevasse rescue instructor. He was basically saying that snow should be really hard if you intend to place a picket in vertically, otherwise you should bury it dead-man style. 
"So I need to bring two tools?" I asked.
"No," was his response.
"Well if all I have is a hammer, then how do I dig in the snow?"  What do you say to that smart guy?
"With a shovel, which is way better than an ice axe, or dig with the picket itself," The guide countered.  Oh, um OK, so I guess I don't know everything yet. 
It makes sense. Except in the pages of FOTH, the days of chopping steps are mostly gone since the invention of crampons but a hammer is pretty darn handy. Just ask Thor. 
I chose the Venom hammer in 57 cm so I could make it my solo tool on ice/snow climbs like the Cascade volcanoes. 
Mt Hood Summit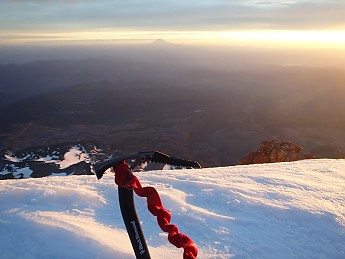 I first took the Venom hammer along on snow climbs of 45 degrees maximum where my primary mode of self arrest was plunging the shaft in. For this job the slight curve in the shaft is no impediment and the tool sinks in perfectly. I had a lot of opportunity to do this on a short section of Grindstone mountain this Spring. 
Venom in my left hand, straight ice axe holstered, where it belongs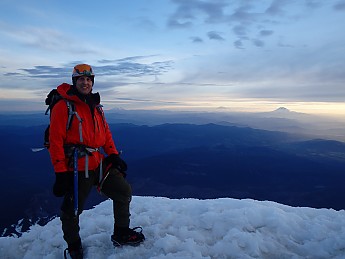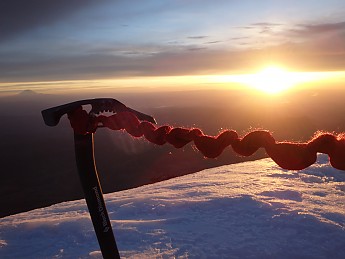 For self-arrest I also like the hammer because it doesn't put a sharp adze anywhere near my chest or face where I can get gouged. It is the tool of choice when my kids are practicing self-arrest.
On Mount Hood I climbed the final chute using the Venom like an ice tool, learning how the curve of the shaft made the strike angle more aggressive resulting in better traction. A conventional ice axe pick is not quite steep enough to get a good bite into ice. 
I removed the nice wrist leach it came with and put it on another axe I own and replaced it with an umbilical style webbing leach. 
Anyone who has used the top of their conventional ice axe to drive a picket may tell you that this is a time you wish you had a hammer. Also driving a picket can also harm the head of light weight ice axes.
I do not ice climb so I would not get much use from a conventional curved ice tool, but with the Venom hammer I can make it my only tool and also gain the benefit of the curved shaft and the hammer.  
I hope to own this tool long enough to wear out the pick, and when I do it's nice to know it's easy to swap out.  After three months of weekend use I see no wear issues. 
So, if you are carrying a picket or shovel anyway, why not ditch the conventional ice axe and consider a hammer? At one ounce heavier than the adze version it adds a lot of benefits to the climber who wants to carry just one tool. 
Where to Buy
sponsored links
Help support Trailspace by making your next purchase through one of the links above.
Manufacturer's Description
The ultimate hybrid axe for technical couloirs and rugged alpine terrain, the Black Diamond Venom bridges the gap between classic piolet and technical ice tool. The curved upper shaft provides added clearance during technical ice and snow sections, while the traditional spike makes for smooth plunging on the uphill. The dual-density grip and included Lockdown Leash increase security when things get dicey.
Climbs steep couloirs, plunges and self arrests
Venom Hammer is equipped with a Tech Pick and the Venom Adze comes with the Classic Pick
Comfortable, dual-density molded grip
Lockdown Leash included
CEN-B certified
Visit Black Diamond's Venom Hammer Ice Axe page.
Retailers' Descriptions
Here's what other sites are saying:
A long snow route with a couple pitches of ice is the hardest type of climbing for which to select an appropriate tool. It used to be that you could either have a good ice tool that sucks for self-arrest or a standard ice axe that can barely climb a pitch of easy ice. Not anymore. Black Diamond designed the Venom Ice Axe to self-arrest and plunge into the snow easily but still offer good ice performance.
- Backcountry.com
Free Shipping. Black Diamond Venom Hammer FEATURES of the Black Diamond Venom Hammer Climbs steep couloirs, plunges and self arrests Investment-cast, stainless steel head and spike Interchangeable pick design accepts Venom Classic and Tech Picks Venom Hammer comes equipped with a Black Diamond Tech Pick Comfortable, dual-density molded grip Lockdown Leash included CEN-B certified SPECIFICATIONS of the Black Diamond Venom Hammer Type: Hammer Spike: stainless steel Pick: Tech Pick: Chromoly steel Shaft: Aluminum Grip: Dual-density SPECIFICATIONS for 50 cm Length: 50 cm Weight with Leash: 1 lb 3 oz / 528 g SPECIFICATIONS for 57 cm Length: 57 cm Weight with Leash: 1 lb 4 oz / 564g ALL CLIMBING SALES ARE FINAL.
- Moosejaw
The Black Diamond Venom Ice Axe is a hybrid piolet tool which excels in steep and technical terrain. The Venom Ice Axe with Adze mimics your technical tools with a curved upper shaft for extra clearance in steeper ice and snow and Tech Pick while a traditional spike ensures smooth plunging on the uphill. Excellent for steep mountaineering route, especially when paired with another lightweight axe; excels in couloirs, plunges and self arrests Venom Hammer is equipped with a Tech Pick (geared for ice climbing), the Venom Adze comes with the Classic Pick (best for self arrests) Slight bend just below its head offers more clearance when swinging the tool Dual-density molded grip provides insulation and a comfortable grip Ergonomic-shaped head is easy and comfortable to grasp when in mountaineering mode Includes Lockdown Leash CEN-B certified Don't forget an Axe or Pick protector to protect your delicate nylon gear and keep your pick ding-free
- OMCgear
The ultimate hybrid axe for technical couloirs and rugged alpine terrain the Black Diamond Venom bridges the gap between classic piolet and technical ice tool The curved upper shaft provides added clearance during technical ice and snow sections while the traditional spike makes for smooth plunging on the uphill The dualdensity grip and included Lockdown Leash increase security when things get dicey Compact and light piolet for technical mountaineers Replaceable Venom Classic Pick sticks and holds in steep ice Curved shaft and dualdensity grip penetrate hard snow well Comes with a Lockdown Leash
- Bentgate.com
Black Diamond Venom Hammer Ice Axe
currently retails for:
$149.95
MSRP: $149.95

where to buy: