Casio
Pathfinder PAW1100T-7V
1

review

5-star:

0

4-star:

0

3-star:

1

2-star:

0

1-star:

0
Reviews
Brilliantly designed and rugged watch with altimeter-barometer-compass…
Rating:


Source: bought it new
Price Paid: $250

Summary
Brilliantly designed and rugged watch with altimeter-barometer-compass functionality. Great for backcountry, fine for EDC. An excellent option for those looking for this feature set.
Pros
Superb design
Dual screens
Useful ABC options
Solar recharging
Nightly atomic clock synchronization
Cool auto-light feature
Comfortable and secure
Cons
Huge and heavy on the wrist
Sensors are not supremely accurate
Sensors require recalibration
Somewhat quiet alarm (could be good for light sleepers)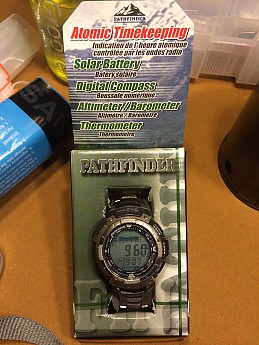 I purchased this Casio Pathfinder watch several years ago after much Internet research. I knew I wanted altimeter-barometer-compass (ABC) capabilities, and I was drawn to the titanium for its durability (okay, and cool looks).
Three other features appealed to me as well--a cool light function (more on this later), the solar recharging ability, and the nightly synchronizing of the watch with the nearest atomic clock. Here was a watch that illuminated itself when turned toward my face for reading it, whose battery wouldn't die, and that would always have the correct time!
It is a sizable beast, but I find something satisfying about that: it measures 53mm from left to right across the watch face, and it weighs in at 111g/3.88 oz. The massive watch is secured by way of an adjustable titanium watch band with a double clasp for extra security.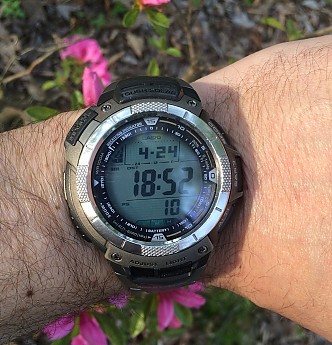 As you can see (image, above), the watch completely spans my wrist. In the image below, you can get a sense of its high profile. I've never had it snag on something, but I suppose that is something to think about depending on what sort of activities you plan to wear it during.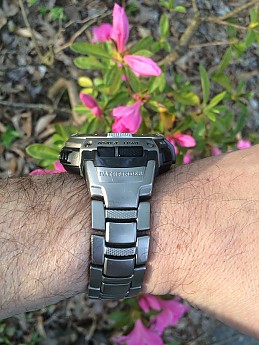 Note: What follows is an overview of watch functions and features. If you wish to skip over this, scroll down the the section labeled Reflections, below.
Watch Functions and Features
While the owner's manual is unquestionably daunting (a 3/4-inch thick block of thin paper in multiple languages), one can master the basics of the watch's functions in little time. The usual display (what Casio terms Timekeeping Mode) indicates either the day, and time (in hours, minutes, or seconds) or the date and time (see below, set to date mode). Time can be shown in either 12-hour or 24-hour display; a P indicator appears during PM hours of the 12-hour mode.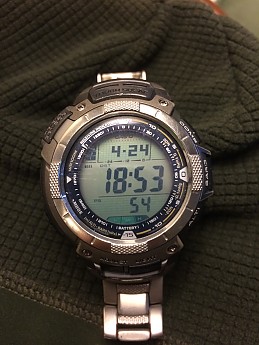 Additional icons indicate the strength of the radio reception indicator for the atomic clock (black bars in upper left), a battery strength indicator (L, M, and H across bottom of display), whether or not the watch is on Daylight Savings Time (DST indicator above hour), and a Power Save mode indicator (PS in lower left). The DST mode activates automatically if you wish, synching via the nearest atomic clock to ensure year-round timekeeping accuracy. The Power Save mode allows the watch to go to sleep when it is in the dark for 60-70 minutes (at night, for instance). This is a huge key to the watch's efficient operation.
The watch hides some nice features, one of which is the black border above the display. This is actually a solar cell that recharges the battery. I keep the watch in Power Save Mode, and in the years I have had the watch, the solar recharging and Power Save mode have meant that I have never had to purchase a new battery. I don't think the charge indicator has every moved from the H (high charge setting), an indication of the efficiency of the watch's operation in Power Save Mode. I love this feature because it means I can count on my watch.
A mode-select button is located in the bottom left of the watch (just to the left of the lefthand screw in the image below). Depressing this button cycles the watch through its various screens.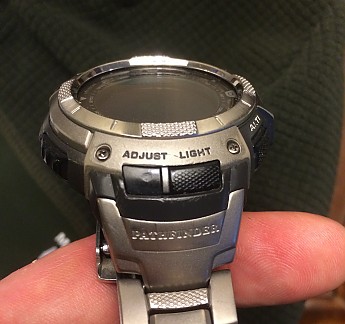 The first mode after Timekeeping Mode is Data Recall Mode (see image, below). This mode allows one to view altitude periodic records currently in the watch's memory. No record is indicated on the screen in the image.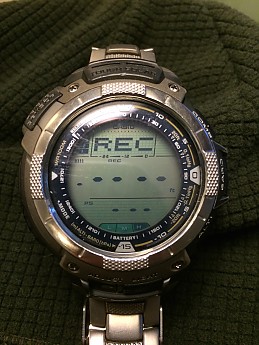 Another push of the mode-select button takes you to the World Time Mode. This is useful for world travelers, allowing one to keep one's home time on the Timekeeping screen while selecting one of 29 provided international time zones on this screen. I have used this abroad several times and found it quite convenient (I just use the WTM screen as my home screen until I return home). The watch is set to New York time in the image below. And yes, the Daylight Savings Time feature works in World Time Mode, too.
Yet another push takes you to the Stopwatch Mode (image, below). The display gives you hours, minutes, seconds, and 1/100ths of a second. A nice feature here is that the display also shows the Timekeeping Mode at the bottom while the stopwatch is operating. Functions in this mode include elapsed time, split time, and the recording of two finish times.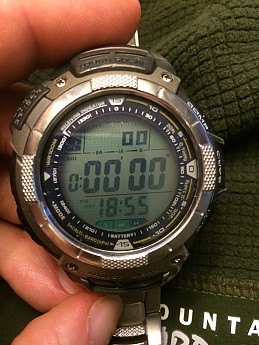 The next screen accessed via the mode-select button is the Countdown Mode. Here you have a 1-60 minute countdown timer that triggers an alarm upon reaching zero. An auto-repeat mode is available if desired. I have the timer set for 25 minutes in the image below. Progress beepers may be set to go off at minute 10, 5, 4, 3, 2, and 1 or at seconds 50, 40, 30, 20, 10, 5, 4, 3, 2, and 1 in the final minute of the countdown.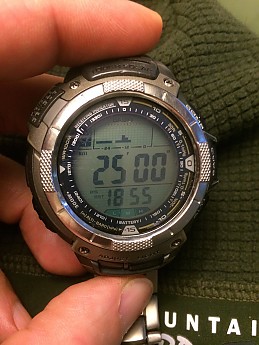 Naturally, the watch has an Alarm Mode, too--five alarms per day if you wish, plus an hourly signal for the time-conscious folks. When I first got this watch, I found the alarm to be remarkably soft in tone; I was worried I would sleep through it. Well, I have sometimes, generally when my wrist has been under a pillow, but for the most part I find the pitch of the tone sufficient to awaken me. After a while, the sound becomes familiar, a sign that it is time to get up. My worries have long since abated, but this is a consideration for sound sleepers (I am a light sleeper).
The final mode in this circuit is the Receive Mode (image below), which indicates when the watch last received a signal from the nearest atomic clock to synchronize the time. I have mine set to do this nightly. The display below indicates that my watch last synched with the attic clock at 12:05 AM (0:05 24-hour mode) on April 24. If interference prevents radio reception, the watch allows you to manually initiate the synchronization process.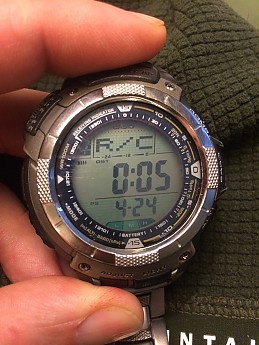 On the bottom bezel of the watch is an Adjust button (think Set button, but with more uses due to the watch's complexity) and a Light button. Both are protected to prevent inadvertent pressing. The light function is very cool: depress the button and the electro-luminescent panel glows blue-green; hold the button for a few seconds and the Auto Electro-luminescent mode turns on. In this mode, a turn on the wrist that raises the watch parallel to the ground and then to an angle more than 40˚ will activate the light. Yes, that means hands-free operation.
The geek factor of this feature is wonderfully high, and I have found it useful under certain circumstances. If I am hiking at night and wish to monitor my progress, this feature works brilliantly (get it? sorry . . . ). However, I have also forgotten to turn the A.EL mode off again, and found myself coming fully awake in the night  as I accidentally activate the light while turning in my bed. Driving with this mode on is not a good idea at night: the sudden flash of light as you turn the steering wheel can cause momentary night blindness (no, it isn't that bright; just that stunning coming from the usually dark space).
This mode gets the most questions from friends when I casually "happen" to demonstrate it. No buyer's regret for this feature! The light is hard to photograph; my apologies for the blurry, poor quality image below. The actual light does not bleach out the numbers; my camera just couldn't figure out how to focus on something that was lit for 2.5 seconds at a time. The color, however, is true. Hopefully you can get the idea.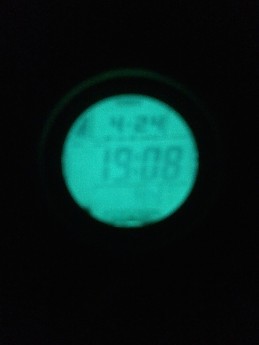 The Altimeter-Barometer-Compass functions feature separate buttons on the right side of the watch casing, Compass, Barometer, and Altimeter respectively from top to bottom.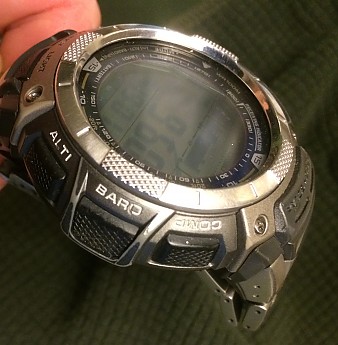 The Digital Compass adds obvious functionality to the watch but also some cool factor, too--a floating display is suspended above the regular Timekeeping display, allowing blue compass indicators to appear above the black readout of the degrees (see image below).
North, south, east, and west are indicated by the blue directional markings with north being indicated by the thicker triple indicator (at bottom of watch in image); the 12 o'clock watch position is the direction that the watch reads, in this case, 183˚ S, or south. Casio indicates a margin of error at +/- 11 degrees. The watch display includes 16 direction abbreviations--N, E, S, W, NNE, ESE, SSW, WNW, NE, SE, SW, NW, ENE, SSE, WSW, and NNW.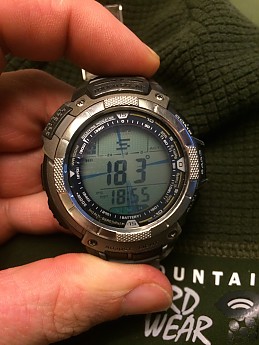 The Barometer is actually a Barometer/Thermometer (see image below). These functions utilize a pressure sensor (barometer) and a temperature sensor. A nice feature here is the graph of elapsed barometric data at the top of the screen. The blue overlay indicator here suggests the trend in air pressure--rising (indicator pointing up), holding steady (indicator at 3 o'clock), or falling (indicator pointing down).
In the image below, the pressure reads 983 hectopascals (1 hPa= 1 mb). The graph shows approximately the last 30 hours of barometric readings (taken every two hours), a useful feature for identifying weather trends. The blue indictor line indicates a rising pressure trend, the differential between the current reading and the historical data depicted in the graph. I just removed the watch from my wrist, so the 83.2˚F reading is not accurate; it is inflated due to my body heat. Removing the watch for about 30 minutes allows (I hang it up at night when camping) allows accurate air temperature readings.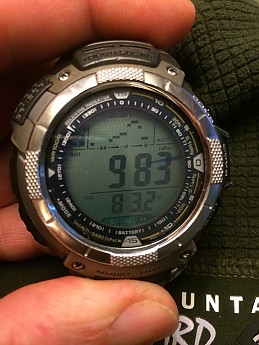 The Altimeter works from a barometric pressure sensor that takes the reading and then estimates the altitude based on "International Standard Atmosphere preset values." Sorry, folks; that's straight from the manual--I can't elaborate. The most accurate reading comes with using a reference altitude: find yourself on a topo map and init the altitude reading into the watch. A number of variables impact the altimeter, including temperature: Casio warns not to use this for sky diving, hang gliding, paragliding, etc.
For all that it may not be the most accurate, the altimeter is a useful tool. Zeroing it at the base of a building allows one to determine the buildings height when you reach the top; taking a reference altitude does the same thing for measuring elevation gain or loss in the mountains. The savvy backcountry traveler knows that an altitude reading--coupled with accurate interpretation of local geography and reading of a topi map--can help one locate one's position on a map.
The altimeter also records data over time, graphing it for quick reference, and allowing one to toggle through high and low altitude data, total ascent or descent, and relative altitude change data. My reading in the image below is 960 feet above sea level with the blue indicator arrow and the graph showing that I have not gain or lost altitude, which makes sense since I was standing in my living room. Elevation interval are recorded in 5m/20 foot increments, from -700 to 10, 000 meters/-2300 to 32, 800 feet.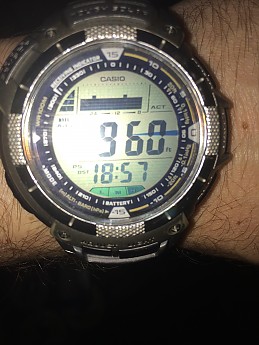 Reflections
While it took me a few days to get used to the mass of the Pathfinder, I have always found it to be comfortable. Surprisingly so: I didn't think the titanium band would be all that comfortable, but the watch back is contoured to sit securely on the wrist, and the band offer multiple means of adjustment to ensure a comfortable and secure fit.  That said, the weight of this watch will not make it attractive to some, nor will its massive size endear it to those with small wrists. And heavy sleepers, don't forget my caution about the alarm being softer than some watches' alarms.
I've lost track of how many years I've had this watch now. I wear it constantly, even (perhaps foolishly) in the shower for years on end before I relented and cleaned it (hello, soap scum). It has been in lakes and creeks and oceans, in hot summer sun and bitter winter cold. It has had its share of blows and dings and dust and dirt--aside from some silver-tone paint wearing off and an indentation in the Adjust button--it shows no signs of damage or wear. Construction quality is excellent, durability is superb. Sensors do need to be recalibrated from time to time, of course. At present I seem to have a glitch in my compass that causes some inaccurate readings; I plan to have it serviced soon to address this (I'll attach an addendum to this review should the service results merit it). 
The accuracy of the sensors is basically ballpark--I mentioned the +/- 11 degrees accuracy of the compass; the thermometer seems to be accurate within a few degrees when off the wrist, and the altimeter seems to work best when a reference elevation is used. I wasn't seeking professional accuracy from these ABC functions, but rather a quick confirmation of direction of travel, the morning air temp when I rise in camp, and a general sense of elevation loss of gain over time. It is fine for these sorts of uses. The graph of barometric data is very useful, and several times the barometer has saved me from getting soaked by an approaching front. That's all I am really asking for from these functions.
Obviously, this digital compass can't compete with a quality hand-held compass for backcountry navigation, nor can the altimeter compete with a stand-alone, professional altimeter--those seeking such accuracy should look elsewhere. But the fact that these functions coexist with a highly functional watch replete with solar recharging, auto-lit display, and atomic timekeeping makes this a very useful set of tools in one satisfyingly heavy package. I love having the capabilities strapped to my wrist on a day-to-day basis. I enjoy the ease of use.
This isn't a piece of gear that stays closeted: I use the alarms daily, and often I find myself checking the barometric pressure--that gets addictive, especially as clouds roll in. The price may be a deterrent for some (though it is cheaper now than when I got mine). I made the conscious decision to go this route with a watch because I wanted the multiple capabilities in a single device and I wanted the solar option--I've had too many digital watches die at inopportune times.
Stretched over the years I've had the watch, the original sticker shock seems to me now more like a good investment. I recommend this for hikers, campers, and backpackers who are seeking reasonable accuracy in a single device equipped with ABC functionality. And besides, the Auto Electro-luminescent feature will wow your pals around the campfire!
Retailers' Descriptions
Here's what other sites are saying:
Once you crest the ridge and your 'smart phone' loses service, you're on your own. That is, unless you have the rugged, solar-powered Casio Pathfinder PAW1100T-7 Altimeter Watch to supply you with info for navigation and weather. Update your climbing party or make informed decision during your solo backpacking trip with this all-digital data center's altimeter, digital compass, barometer, thermometer, and time functions.
- Backcountry.com
If you are looking for a watch that can do almost anything for you the Pathfinder will show you the way! The tough solar powered Pathfinder not only tells you time but features a Digital Compass, Barometer, Altimeter, Thermometerand many other great tools. First, we will look at its regular timekeeper functions. Watch digitally displays time. It can be set in a 12/24 hour format, has five daily alarms, hourly time signal, countdown timer with measuring units of one second, and a countdown range of one minute to 60 minutes along with an auto-repeat function. 1/100 second stopwatch with measuring modes of elapsed time, split time, and 1st and 2nd place time. The stopwatch measuring capacity is 9:59'59.99". Watch display is a duplex LCD. Auto calendar which is pre-programmed until the year 2099, watch is accurate +/- 15 seconds per month with no signal calibration, uses a CTL1616 storage battery, and has a battery power indicator and power saver function with an approximate battery life of 5 months on a full charge without further exposure to light. This atomic timekeeper function receives time calibration radio signals automatically up to six times a day which keep the displayed time accurate, alsohas a manual receiver function; the signal received for the US is WWVB at a frequency of 60 kHz, UK is MSF at 60 kHz, Germany DCF77 at 77.5 kHz, and Japan JJ40/JJY60. Watch gives world time with 29 time zones (30 cities), displaying city code and a daylight saving on/off function. In addition the watch is water resistant to 330' (100 meters), is low temperature resistant to 14 F (-10 C), has an automatic electro-luminescent backlight with afterglow illuminating the watch for low light conditions. The altimeter function measures altitudes from -2,300 to 32,800 ft (-700 to 10,000 meters) in measuring units of 20' (5 meters). Altimeter has an auto memory function with up to 40 logged sets of altitude memory including month, date and time. The altimeter has a high/low altitude memory, cumulative ascent/descent memory, relative altitude display, altitude alarm function, and altitude tendency and differential graph and graphic. The Pathfinder also has a built in barometer and thermometer. The barometer has a measuring range of 7.65 inches of mercury (Hg) to 32.45 Hg (260 hectopascals [hPa] to 1,100 hPa), has measuring units of 0.05 inches of mercury (1 hectopascals), with a tendency and differential graph displays of atmospheric pressure. The thermometer has a measuring range of 14 to 140 degrees F (-10 to 60 C) in measuring units of 0.2 F (0.1 C). You can't get lost when you have your Pathfinder on your wrist with its built incompass. How many times have you been told by someone to go north on Elm then head west on Oak etc, without a compass many of us can get lost. The Pathfinderscompass has 16 points of measurement, with a measuring range of 0 to 359 degreesin units of one degree. This Silver Pathfinder Triple Sensor Watch with a titaniumn band will lead the way on your next adventure.
- SunnySports
The Casio Pathfinder PAW1100T-7 multifunction watch sports a titanium band, keeps time via the accurate Atomic Clock and draws its power reliably from the sun! Automatically receives Atomic Clock time calibration signals in the U.S., England, Germany and Japan for incredibly accurate timekeeping. No batteries to replace! This compact unit has a large-capacity solar storage battery that requires very little light to recharge. Small sensors detect direction, altitude and temperature, keeping you in tune with the world around you. Digital compass displays current heading; reports bearing in 1deg increments. Altimeter tracks elevation gain and loss from -2,300 to 32,800 ft./-700 to 10,000m in 20 ft./5m increments. Altimeter memory captures up to 40 records of high/low altitude, cumulative ascent/descent, date, month and time. Altitude tendency graph positions you with respect to your target altitude. Detect change in the weather-barometric tendency graph charts weather changes. Barometer tracks atmospheric pressure changes from 260 to 1,100 hPa (7.68 to 32.49 inHg). Thermometer ranges from 14 to 140degF (-10 to 60degC) measured in 0.2degF increments (0.1degC). Electroluminescent backlight allows reading at night. 1/100-second stopwatch measures elapsed time, split time and first- and second-place times. Features countdown timer, time in 12 or 24-hr. format, world time with 29 time zones, date, day, auto calendar (through 2039), 5 daily alarms and hourly chime. The Casio Pathfinder PAW1100T-7 multifunction watch is water resistant to 100m (330 ft.).
- REI
Casio Pathfinder PAW1100T-7V
previously retailed for:
$199.93 - $249.99

The Casio Pathfinder PAW1100T-7V is not available from the stores we monitor. It was last seen February 3, 2012 at Backcountry.com.
If you're looking for a new altimeter, check out the best reviewed current models.