Clif
Blueberry Crisp Bar
1

review

5-star:

0

4-star:

0

3-star:

0

2-star:

1

1-star:

0
Reviews
Energy bars come in all different taste, textures…
Rating:


Source: bought it new
Price Paid: .98

Summary
Energy bars come in all different taste, textures and types. There are activity bars, meal replacement bars, protein bars, endurance bars and organic bars. All of these bars give energy according to the ingredients and the activity you want to perform.
Pros
Original
Impressive flavor
0mg Cholestrol
Cons
Tastes like sawdust
High in sugar
Contains traces of peanuts and other tree nuts
Do you eat Clif Bars??? Why or Why not.
Clif Blueberry Crisp energy bar is light and crunchy blend of rye, oat and barley and real blueberries. The only thing missing is the sweet smell of blueberry crisp baking in the oven.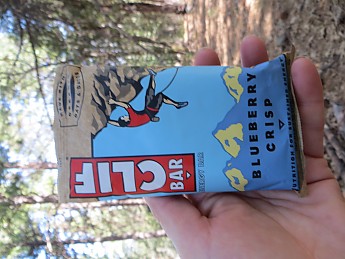 In my opinion, no food is "bad" just make sure it fits your caloric and macro requirements. I didn't really treat my Clif bar as a meal replacement, but a snack. These bars aren't bad but they are not the best options either, at least for meeting macro goals.
This Clif bar wasn't a total calorie rip off for me neither ... the extra sugar boost helped me walk a rigorous trail where I needed the energy and not the bulk of an actual meal. I loooove them sooooo much!!! They are easy to put into your pocket, backpack or purse and go.
I didn't realize how bad Clif bars are.
Be sure to inspect the ingredients: it isn't just brown rice syrup, cane sugar, glucose syrup, blueberry fruit pieces, blah, blah, blah... don't want to get in detail about the rest of the ingredients but toooo much Vitamin A can lead to liver damage and the problem with soy it's tough to have it in moderation... these energy bars could sit beside candy bars on a store shelf but I happened to find them sitting on a store shelf with the vitamin & minerals with a warning sign posted. I was in shock to see the warning signs and took a few pictures.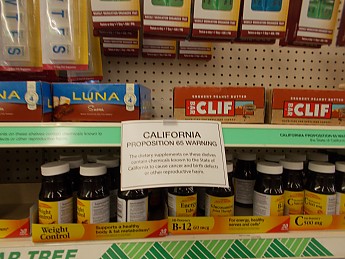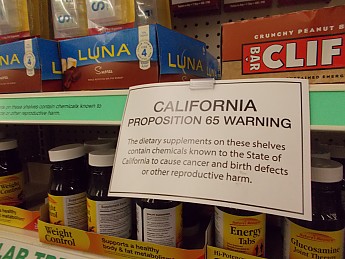 I just refuse to buy into the paranoia of a Clif Bar not being healthy, perhaps dangerous. I have an open mind and think Clif Bars have lots to offer. I have found Clif Bar also has posted a warning sign in customer care about the harmful effects. http://www.clifbarstore.com/cc_proposition65.asp
I know in many European Governments they are putting warning labels on Soy foods. Processed food products are never going to be 100% safe and healthy, which I am moving myself toward eating whole natural foods.
I did enjoy my eating my Blueberry Crisp energy bar and will always keep a Clif bar around for an emergency. I don't want to eat tooo many!
Where to Buy
sponsored links
Help support Trailspace by making your next purchase through one of the links above.
Manufacturer's Description
Visit Clif's Blueberry Crisp Bar page.
Retailers' Descriptions
Here's what other sites are saying:
Its the first bar Clif made, and its still everything Clif Bar is about. Whole, organic ingredients. Performance nutrition. And great taste. Whether youre on a 150-mile bike ride or exploring a new trail, this energy bar is built to sustain your adventure.
- CampSaver.com
4:1 ratio of carbohydrates to protein; excellent for post workout recovery Made with 70% organic ingredients Mix of carbohydrates, protein, and fiber promote steady increase in blood sugar levels followed by a gradual decline for sustained energy Item Specifications Flavor Blueberry Crisp Type Bar Use Before Use During
- Mountains Plus
The only thing missing is the sweet smell of blueberry crisp baking in your oven.Whether you're on a 150-mile bike ride or exploring a new trail, this energy bar is built to sustain your adventure.
- RockCreek
Clif Bar Blueberry Crisp - Ingredients: Organic Brown Rice Syrup, ClifPro (Soy Rice Crisps [Soy Protein Isolate, Rice Flour, Malt Extract], Organic Roasted Soybeans, Organic Soy Flour), Blueberry Fruit Pieces (Organic Evaporated Cane Juice, Blueberry Puree Concentrate, Brown Rice Syrup, Pectin, Citric Acid, Sodium Citrate, Natural Flavor), Organic Rolled Oats, Organic Dry Roasted Almonds, Organic Evaporated Cane Juice, Organic Toasted Oats (Organic Oats, Organic Evaporated Cane Juice), ClifCrunch (Organic Oat Fiber, Inulin [Chicory Extract], Organic Milled Flaxseed, Organic Oat Bran, Psyllium), Blueberries (Blueberries, Apple Juice Concentrate), Organic Date Paste, Almond Butter, Organic Sunflower Oil, Natural Flavors, Sea Salt, Citric Acid. Vitamins & Minerals: Dicalcium Phosphate, Magnesium Oxide, Ascorbic Acid (Vit. C), Tocopheryl Acetate (Vit. E), Ferric Orthophosphate (Iron), Beta Carotene (Vit. A), Zinc Citrate, Phytonadione (Vit. K1), Biotin, Niacinamide (Vit. B3), Calcium Pantothenate (Vit. B5), Potassium Iodide, Manganese Gluconate, Copper Gluconate, Sodium Selenite, Thiamin (Vit. B1), Chromium Chloride, Cyanocobalamin (Vit. B12), Sodium Molybdate, Folic Acid (Vit. B9), Riboflavin (Vit. B2), Pyridoxine Hydrochloride (Vit. B6). Allergen statement: Contains soy and almonds. May contain traces of dairy, peanuts, and other tree nuts. Clif Bar sources ingredients that are not made using wheat, dairy, and are not genetically engineered. May contain nutshell fragments.
- Appalachian Outdoors
Clif Blueberry Crisp Bar
currently retails for:
$1.13

where to buy: