User Review:
Coleman SunDome 4 Tent 9' x 7'
Rating:


Source: bought it new
Price Paid: $50

Summary
This is a decent 3-season tent, it's not great, but it's not bad either. Somewhere along the middle as far as quality goes. It's easy to set up and pack up, and has a few nice features as well.
Pros
Price
Easy Setup
Easy Take Down
Good Size for Two
Easy Transport
Cons
Small Fiberglass Poles
Ventilation Could Be Better
Short Rain Fly
Coleman is a trustworthy name in camping that has been around for many years.  Their products are generally reliable and usable by anyone.
The Sundome doesn't seem to be any different.  It is a nice tent that isn't too hard on the wallet.  Sure, there may be better tents out there in this size, but they come at a harder to pay price as well.  That being said, if you are looking for a tent that will see heavy use throughout the year, like camping every weekend  or for weeks at a time use, you may be better off buying a more expensive better built tent.  However, if you are just doing the occasional holiday or one weekend a month type of camping, then the Sundome will serve you well.  
The Sundome 9'x7' is advertised as a 4 person tent.  It's not.  Sure, maybe four really good friends or close family members will fit in the tent, if they are below average size.  They will be cramped though.  If there are four people in the tent, there will be absolutely zero space for anything else.  
This tent is great for two people though.  With two people there is enough room to set up a queen size inflatable mattress, and still have room for extra gear you may want to store in the tent with you.  There is a mesh gear pocket to store things like you wallet and phone in to keep them off the ground.  You'll also find a zippered opening near the door to run an electrical cord through so you can run a fan, or C-PAP machine in my case.  Also, in the rear of the tent there is a privacy vent, the outside tent fabric covers the mesh vent material near the bottom and it is partially adjustable by setting a stake closer or farther from the tent to hold the window more open or closed.  
Even with the added privacy vent, I find ventilation for this tent to be a little less than impressive.  The front and rear windows are fairly small, only covering the top portion of the tent.  There is good size ventilation mesh on the ends of the tent, but once the rain cover is in place those are also covered.  It is good for privacy though.  With the rain fly on, and the front and rear windows down, it will still be difficult for anyone to look in on you while changing clothes, and it's easy enough to zip the front and rear windows for complete privacy.  With the rain fly off, it will be difficult to maintain privacy since those mesh areas will not be covered.
Set up of this tent is super easy.  I can do it by myself in around five minutes or so.  Taking it down is just as easy.  My one complaint in this area is the flimsy fiberglass tent poles.  I'm not a fiberglass hater, but these are a little on the thin side.  I can see it being easy to form cracks and break, although in over a year of use I haven't done either as of yet.  I still carry materials to make a repair though, just in case.  I haven't got caught in a strong storm yet in this tent, but I imagine it will be easy for the wind to blow the tent in on itself because of the poles.
The storage bags for the poles, stakes, and tent are all great.  They hold the gear well.  I like the make of the storage bag, it is zippered instead of being made like a stuff sack with a draw string.  With the zipper open it is easy to fit the tent, poles and stakes back inside.  
The rain fly seems to work well on this tent.  I did seal the seems when I bought it, a practice I do with all my tents.  So, in the couple of rain storms I've experienced I haven't any bad leaks.  I did have a bit of mist blow in through the ends, since the rain fly doesn't actually come too far down the tent.  As I said earlier, I haven't had this tent in a bad storm yet, I think heavy winds would possibly blow more rain in and make water inside the tent an issue.  
Reading back through this review, I seem to view the tent in a negative light.  I want to make sure you know that's not the case.  This tent is a great tent with some neat features.  It will be great for light to medium duty use, but is not a heavy duty camper.  For fair weather camping it will be hard to beat.  Especially in its price range.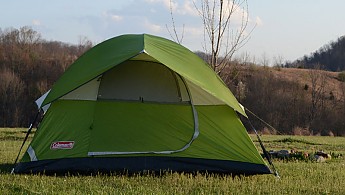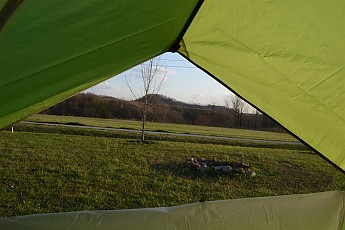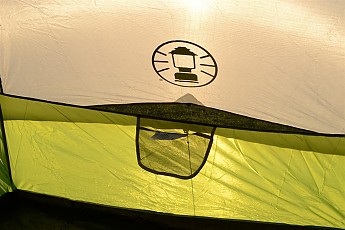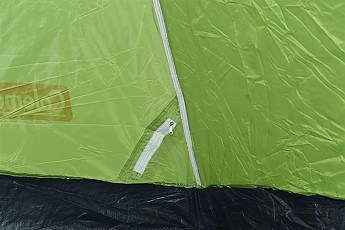 Where to Buy
sponsored links
Help support Trailspace by making your next purchase through one of the links above.