Cree
3 Watt Zoom Ultra Bright Headlamp
2

reviews

5-star:

1

4-star:

1

3-star:

0

2-star:

0

1-star:

0
I have been a slow to adopt LED light technology because…
Rating:


Price Paid: $15

I have been a slow to adopt LED light technology because I found LEDs either too dim or that the narrow spectrum of light emitted made the terrain appear flat, making it difficult to trek cross country. 
The sheer brightness of this light makes it the best compact light I have used for night travel. Comparing it with other lamps it appears slightly brighter than a 200 lumen flash light (vehicle headlights are 600 – 1300 lumens).  The batteries last long enough for typical use over a weekend trip; I would bring extras for extended trips.
The lens on the light is a nice concept, but as expressed in this product's design it falls short of expectations.  I found the lens in its widest setting cast a beam too narrow for my preference, only about six feet wide when directed just in front of your feet (Figure 2).  The effect felt like I was walking down a storm drain. 
The lens in the zoom mode was laser like; throwing a very very narrow beam a great distance (Figure 3). 
I found the lamp most useful with the focusing lens removed (Figure 4).  In this mode it provided a wide bright work area illumination or a good trail light bright enough to see subtle terrain undulations and preclude stepping on snakes and such. 
The down side to removing the lens is it exposes the LED to potential damage; however, this is easily avoided exercising a modicum of care (Figure 9).
The other significant comment about the lamp's performance addresses the fact that the bill of a baseball style cap will partially block the beam of the headlamp when it is adjusted to illuminate the area in front of your feet.  Wearing your cap rally style alleviates this problem.
The other adjustable features of this lamp are the head band adjustments and direction the lamp can be aimed in. The headband is fully adjustable, and reliable.  The lamp can be pivoted through a range, anywhere from focusing just in front of your feet, to looking straight ahead (Figure 5).  Pivot setting is maintained by detents on the hinge that facilities the adjustment (Figure 6).
There are two concerns I have about the design of this product. The threads on the lens unit are plastic, while the mating threads on the light housing are metal; this results in accelerated wear of the plastic threads, should you find yourself screwing and unscrewing the lens on a regular basis (Figure 7). 
The other concern is the negative terminal battery contact posts (Figure 8).  The posts are formed from sheet metal that loses its spring memory, eventually causing poor contact with the batteries. They can be reformed and contact restored, but I am given the impression this part will eventually fatigue and break after repeated attempts to restore function. 
Despite the multiple short comings described, I love this lamp but would want to design an adaptor for cold weather travel, permitting me to carry the batteries close to my body for warmth.  With a little improvisation the headlamp can be converted into a great area light for in camp use.
Suspended overhead, it illuminates an area as large and bright as any mini canister gas lantern, yet weighs only a fraction thereof.  You can extend battery life using the lamp in the low power setting, which is still plenty of light for most purposes. 
An internet search using the model description (on the product page) will point to several merchants vending this product.

Figure 1.  Cree 3watt Zoom Ultra Bright Headlamp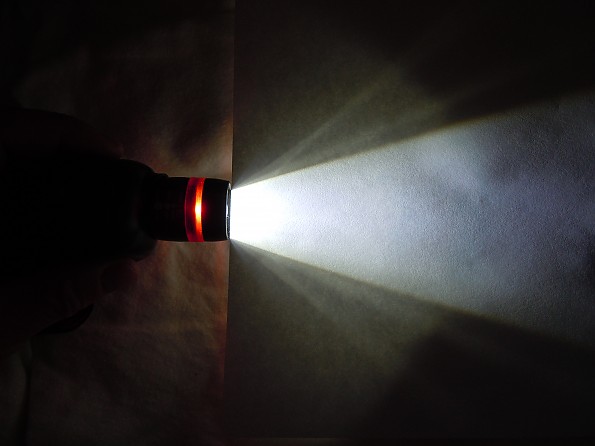 Figure 2. Lens set on widest setting results in a beam that is still a little narrow for illuminating area directly in front of your feet.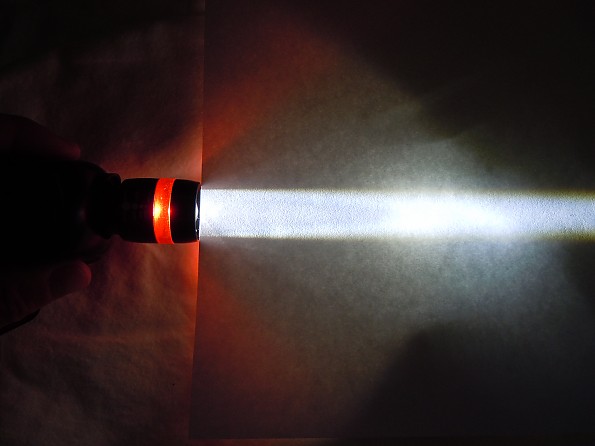 Figure 3.  Lens set at most narrow setting throws a bright zero degree spot great distances.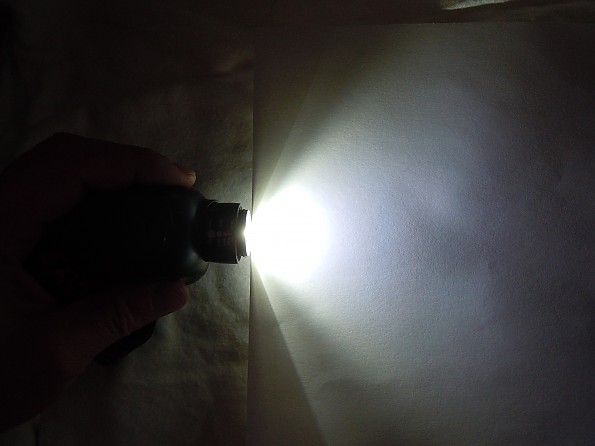 Figure 4.  I found removing the focusing lens provided the widest beam; the best mode for walking and as a camp site lantern.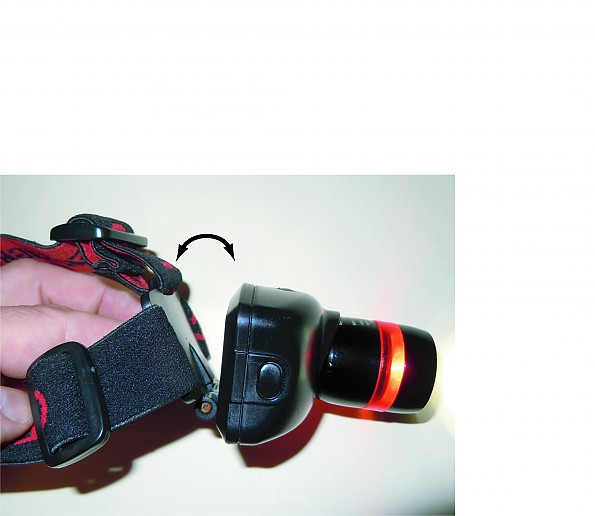 Figure 5. Headlamp can be pivoted up and down.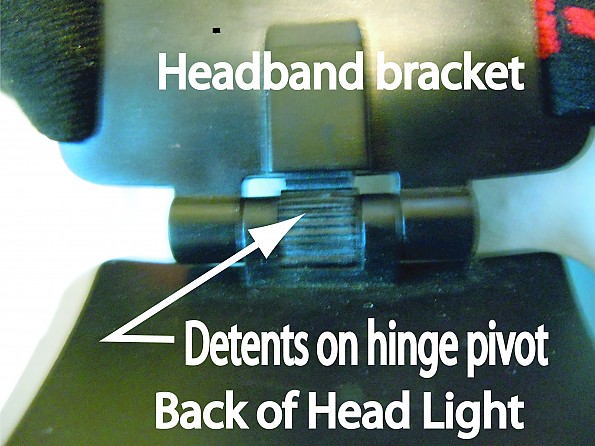 Figure 6.  Close up of hinge assembly shows detents used to hold pivot position of head lamp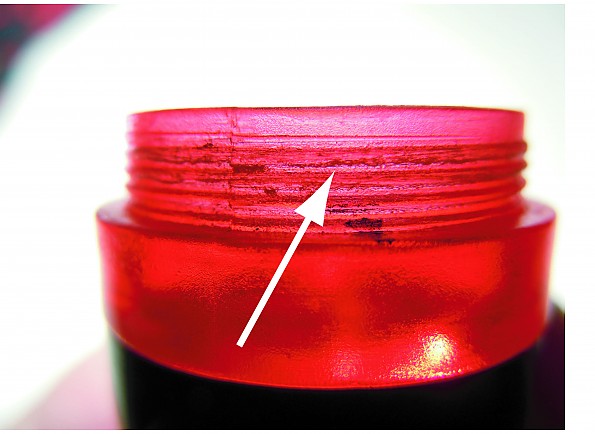 Figure 7. Repeated removal of lens module results in fairly rapid wear of plastic threads, here indicated by rough contour of thread surfaces.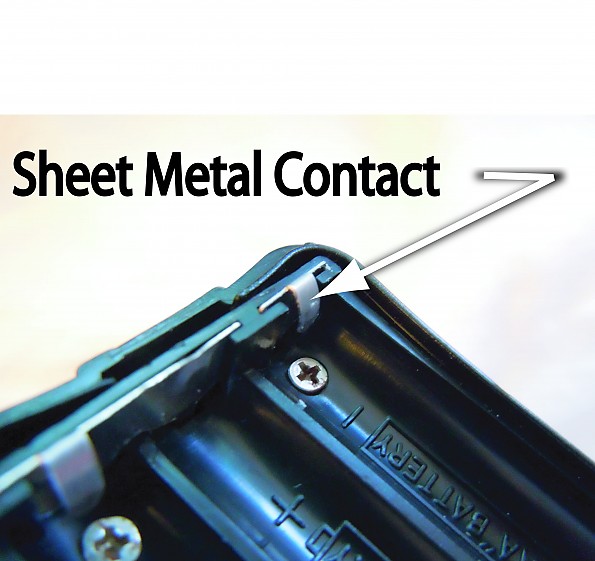 Figure 8.  The sheet metal battery contacts lose spring over time, requiring user to bend them back into shape.  Repeated attempts may cause the metal to fatigue and break.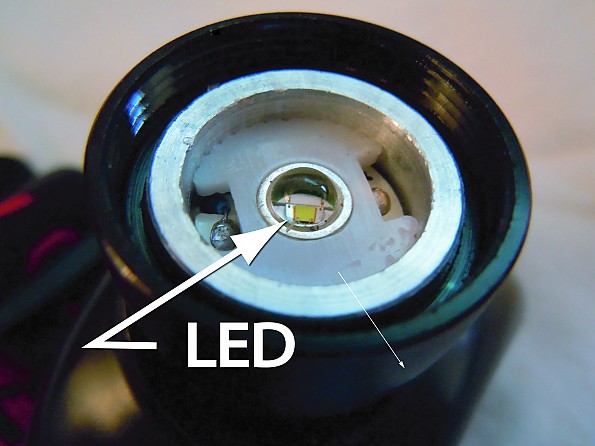 Figure 9.  Removing the focusing lens to obtain a wider area of illumination exposes the LED to potential damage; however the actual hazard is low, since the LED and connecting wires are recessed.  A clear cover could be glued to the rim of the LED housing to preclude damage.
Very bright. You can buy these with varying Lumens.
Rating:


Source: bought it new
Price Paid: $8

Summary
Very bright. You can buy these with varying Lumens. Mine was advertised at 300 Lumens and it lives up to its brightness. Mine has Hi, Lo, strobe.
The telescoping lens makes for a very pointed beam or more spread out. With new batteries on Hi, its almost too bright when working on something right in front of you. (I got mine on ebay.)
Cree 3 Watt Zoom Ultra Bright Headlamp
reviewers paid:
$8.00 - $15.00

The Cree 3 Watt Zoom Ultra Bright Headlamp is not available from the stores we monitor.
If you're looking for a new headlamp, check out the best reviewed current models.