Deuter
ACT Lite 75+10
Reviews
Comfortable adjustable pack that can adapt to haul…
Rating:


Source: bought it new
Price Paid: $179 on sale

Summary
Comfortable adjustable pack that can adapt to haul a lot or a little. Quality construction with some thoughtful details. Weighs in at 4 lbs 5 oz, a good compromise between weight and haul-ability.
Pros
Comfortable padding that does not press directly on the spine
Easy to adjust for torso size
Easily adjusted for size and load of pack contents
Comfortable padded hip belt
Can expand upward for more gear if needed
Removable lid that converts to daypack
Big stretchy side pockets and front pocket
Hydration bag compatible
Cons
Only one hip belt pocket
Lack of pockets and organization
Can not replace hip belt
Lacks points of attachment to bottom of pack
Age and prior back injuries has made finding a backpack I could wear a difficult task. With the Deuter Act Lite 75+10, I finally found a pack that I could not only carry but was comfortable also. For me, the key was to find a pack that did not put any pressure directly on my spine. The "air contact" system employed by Deuter not only keeps the pressure off the spine, it also provides for good air circulation and padding.
There are men and women specific packs, I found the men's version fit me better so that is what I chose. For larger sized backpackers like myself, the men's version has ample room for adjustment particularly with the hip belt. For smaller sized backpackers the women's SL model may be a better choice.
I have used the pack over the summer during many training hikes, day hikes, overnights, and one multiday backpack. No apparent wear or damage is evident. I am typically carrying 20-30 lbs and with that weight the pack extremely comfortable, in fact hardly noticeable that I am carrying a pack. Maximum weight I have carried in this pack was 42 lbs, with no issues with the pack and no points of abrasion, bruising or discomfort between body and pack. Ultimately this pack will be used for an AT thru-hike next year. 
The velcro "vari-quick" system allows for quick torso adjustment. I found it easy to dial in the correct fit for myself. Load lifter straps make it easy to adjust the load of the pack on the fly. The sternum strap has a stretchy portion which allows you to snug in the shoulder straps but still allowing for chest expansion when breathing. The hip belt buckles with a sturdy buckle and tightens by pulling in from each side.
Once the pack is on and adjusted it rides comfortably and I did not experience any slipping of the hip belt or any adjustments. I found that with the load lifter straps tightened the pack moved with me and felt very stable. It was easy to loosen the load lifters to shift the balance when going downhill or to just increase the air circulation if needed. 
The pack appears to be well made with quality materials. Zippers, buckles, and pulls are all sturdy. Fabric is sturdy and held up to friction against granite with no evidence of abrasion. The stretchy side pockets and large stretchy outer pocket appear to be much more fragile. I did not experience any wear on those stretchy pockets but I did treat them a bit more carefully. 
I like the fact that the pack can easily be adjusted to carry smaller loads with side compression straps. You can just as easily expand the volume by using the vertical collar to hold an additional 10 liters of stuff. Also convenient is the ability to take the lid off and convert to a daypack. The inner pocket on the lid has been a secure place to store valuables.
Other notable features and minor details include a velcro strap that secures hydration tubing to shoulder strap, interior zipper divider between upper and lower sections, and one zippered hip belt pocket (I wish they had put one on each side). An interior pocket holds up to a 3 liter hydration pack, though I preferred to carry mine in the outer large stretchy pocket. A bear canister can fit horizontally or vertically in the upper section and horizontally in the lower section. 
I purchased the Deuter raincover for this pack. It will not fit over the pack with a sleeping pad rolled and attached to the outside of the lower compartment, but will fit if you hang the pad from the ice ax loops at the bottom of the pack. I wish they had included a couple of points of attachment to the bottom of the pack. 
Overall I am very impressed with the comfort of this pack. Though it has taken a while for me to figure out a place for everything and everything in its place with this pack, it is only a minor inconvenience. The pack has a great balance between durability and weight. Deuter delivers what it promises with this pack, I wouldn't hesitate to recommend it.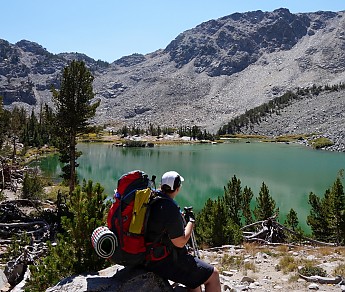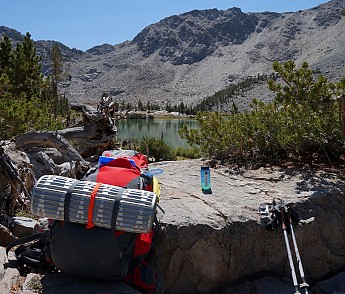 Update 7/9/2015
After extensive use on the Appalachian Trail, I am happy to report this pack surpassed my expectations. It remained comfortable and easy to adjust. Once I got the perfect fit dialed in, I never really gave a thought to the pack. It was comfortable enough that I really just didn't notice it while hiking.
No damages or excessive wear. It will soak up water like a sponge if you don't use a rain cover. I did use the Deuter rain cover every day and for the most part kept the pack relatively clean and dry. The rain cover suffered a few tears, which probably prevented damage to the pack.
Love this pack so much I bought a smaller version for weekend trips. 
Deuter ACT Lite 75+10
currently retails for:
$171.75 - $229.00