Exped
Gemini 2
1

review

5-star:

1

4-star:

0

3-star:

0

2-star:

0

1-star:

0
Reviews
This tent provides awesome livability, a stable pole…
Rating:


Source: bought it new
Price Paid: $378

Summary
This tent provides awesome livability, a stable pole structure, and a fast setup. Exped put some time and effort into this tent and it shows.
Pros
Easy and fast setup
Strong pole structure
Quality materials
Great livability
During my 4 days in the Maroon Bells Wilderness in Colorado, I unfortunately discover my current tent was leaking through the seams on the fly. I can't complain since the tent served me well for 7 years and lots of secure and dry night.  When I got back home, I began looking for a new 2 person tent. 
I looked at 2 person tents that weighed less than 4 pounds (that ended being so small on the inside that Clark Kent couldn't change his mind) to 6 pound plus tents that I couldn't justify carrying the extra weight.  Throughout my tent buying adventure and the ensuing analysis paralysis, I seemed use the Exped Gemini 2 as my "compare against" tent and in the end, nothing else compared.  I purchased one from Moontrail.com and had it sent to my house.
Exped is a company based in Switzerland and imports its products into North America through Exped LLC.  I have long since been a fan of their sleeping bag mats and if you own one, you know they reek of quality.  Before I pulled the trigger on purchasing this tent, I spent some time speaking with Brendan Collins from Exped LLC (North America) about how the tent was constructed and a few other details about Exped. He was very helpful and I would like to thank him for his time and efforts.
Inside the stuff sack, you will find the tent, fly, 4 poles, 8 stakes, repair kit and pole/stake/repair kit stuff sack.  Here is the Exped claimed statistics directly from their website:
Gemini II
Capacity  2
Sizing
Floor space  220 x 125 cm  86.6 x 49.2"
Height inside  110 cm  43.3"
Canopy area  2.75 m²  29.6 sq ft
Vestibule area  2.0 m²  21.5 sq ft
Weight
Packed  * 2.45 kg  5.3 lbs
Minimal  ** 2.20 kg  4.8 lbs
Materials
Rainfly  30 D ripstop-nylon, silicone-PU coated, factory seam taped
Canopy  UV-resistant, flame retardant ripstop polyester and No-See-Um netting
Floor   70 D PU-coated, taffeta nylon (5000 mm water column)
Poles  4  DAC Featherlight NSL 9 mm TH72M aircraft grade aluminium
Packed size  51 x 16 cm  20 x 6.3"
Setup time   approx. 3 min
Color   green
* Packed = All inclusive weight without packaging
** Minimal weight = Rainfly, canopy, poles
The claimed weight was 5lbs/5 oz's and that's exactly what I got right out of the box. Once I got rid of the rubber bands around the poles, repair kit packaging and all that sort of stuff, my tent weighed 5lbs/3 oz's. The length, width and height dimensions claimed by Exped were also on the money. One item of note is the overall height.  While the peak interior height is 43" as claimed, I measured the maximum height of the pole structure at 46".
Setup of this tent is extremely simple and fast. I laid the tent out and inserted the 4 equal length poles into the sleeves. The sleeves are dead ended at each corner and this prevents you from walking around the tent to inserting a pole end into a grommet.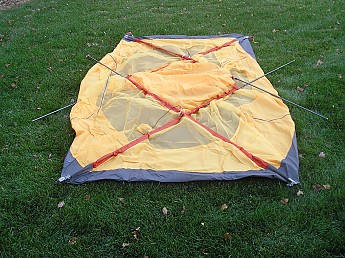 On each side of the tent just above the door, you will find a yellow, aluminum pole connector. This pole connector is the backbone of the pole structure. You take two poles, insert them into the pole connector, repeat on the other side and the tent setup is complete.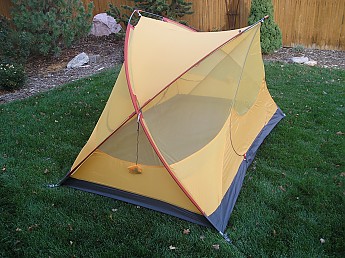 Here is a close up of the pole connector.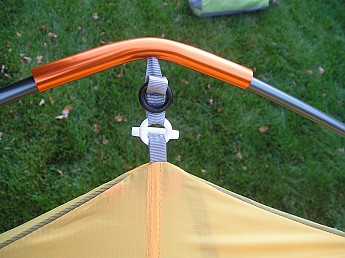 You will find everything on this tent is color coded. The white toggle goes to the tent and the black toggle goes to the fly. One small detail I like about Exped's design is the fact that it's serviceable. Should something happen to the pole connector, it's easily replaced by undoing the while hoop connector.
To this point, I spent about a one minute with the setup.
Once you stake out the tent, the fly gets connected to the pole connectors (one on each side) via the black toggle.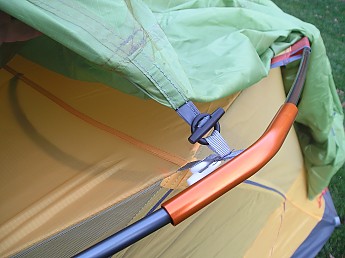 Connect the fly to the tent at each corner via the color coded clip toggle, stake it out and you're finished.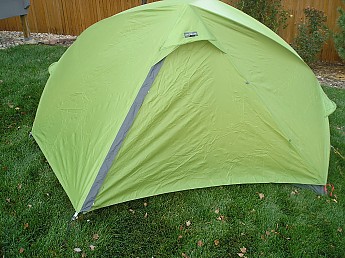 I finished the set-up to this point in just over 2 minutes. Here is a You-Tube link sponsored by Exped LLC Exped Gemini II Set-up - YouTube that shows the setup.  It's about 3-1/2 minutes long.
One important thing that drew me to this tent was the pole structure.  My previous tent, and like many other tent designs, had 2 poles that crossed at the apex of the tent. While this arrangement does provide for a stable tent, the Gemini's pole arrangement provides a significantly stronger structure. The 4 poles (or 2 continuous poles with the help of the connector) cross in 2 places rather than 1 and are at opposing ends of the tent. This arrangement, in conjunction with the continuous sleeves that evenly distribute any wind loads, provides an impressively stable structure.
Living in Colorado, I can see warmer nights in the upper 40's to low 50's, I can see downright nasty nights (I got caught in a freak blizzard on Longs Peak that dumped 6" of snow in JULY) and on rare occasions, I can see both in the same trip.  
Another thing that drew me to this tent was the 4 ventilation holes. This tent has 2 lower vents at each end (where the guy lines exit from) and 2 higher ones at the top of the fly.  In the following picture you can see 3 of the 4 with the other one on the opposite door. I couldn't get a clear picture, but under the brow on the fly is a mesh panel.  This panel is more than adequately covered by the brow to prevent water infiltration, but provides continuous air flow even with a fully zipped fly. Between all 4 vents, I have had zero issues with condensation.
The first time I set up this tent and climbed in, the word volume came to mind.  The 43" peak height in conjunction with the vertical walls creates huge amounts of interior tent volume.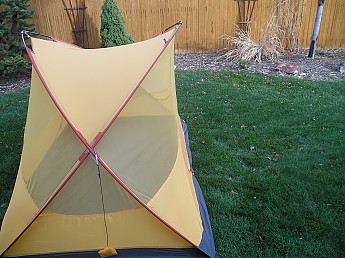 The interior of the tent has 6 stash pockets (1 at each corner and 2 in the overhead) that help with the equipment organization. The 2 in the over head are designed to hold the door when not needed, but at night, you could easily turn on your LED head lamp, stash it in the pocket and have overhead lighting.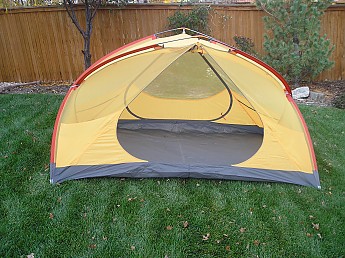 Exped also added numerous red loops on the inside. According to their website, they don't currently make a gear loft for this particular tent, but if a loft is your style, I'm sure you can buy a universal one and make it fit. 
The guy lines on this tent are quite unique. There is only one other tent manufacturer that I can think of that connects the guy lines directly to the pole structure. Instead of connecting guy lines to the fly via a sewn loop, Exped added a stout webbed loop around the poles where they cross at each end of the tent. The guy lines, when needed, are passed through the ventilation opening, staked out and tensioned. The guy lines are dyeema reflective cord and when not in use, the provided stuff sacks hold everything on the inside of the fly. Just to say I did, I weighed all the cords, tensioners and stuff sacks and everything came in at a whopping 0.6 oz's (or 15 grams).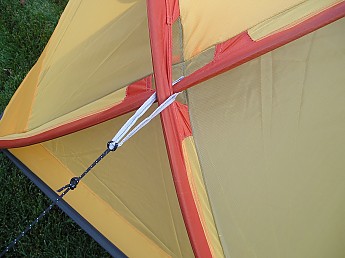 With my past tents, it seems like tent manufacturers assemble the fly, seam seal it, and then sew in the guy line/reflective loops. As I found out with my first North Face tent, the needle holes through the seam seal really do leak in prolonged storms.  Exped on the other hand seam sealed the fly after it was fully assembled. This is one of the items that Brendan and I discussed in detail and will prevent me from seem sealing a brand new fly.
The vestibules on this tent are massive. As described on their website, the vestibules terminate 36" from the tent body. On the plus side, there is lots of space for gear storage when sleeping 2 in a tent and getting in/out isn't a yoga pose.  On the negative side, don't expect to pitch this tent on a ridge line and get a tight fly.  The overall dimension side to side is an honest 121".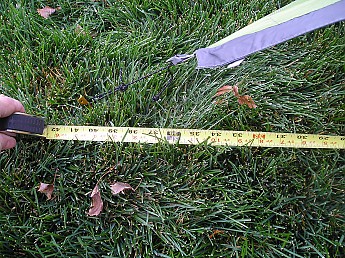 This tent will easily sleep 2 people with all the gear stowed in the vestibules.  I placed both my sleeping bag pads inside the tent and there was a little room to spare side to side. I hear many complaints from people that say the inside of a 2 person tent is really a 1-1/2 person tent. If this tent had severely sloped walls, I might agree.  Since this tent has near vertical walls, I think Exped sized the floor perfectly.
Exped's attention to detail extended to the stuff sacks. The first thing I noticed about the tent stuff sack was the lack of compression straps.  I had a small concern the straps on my Osprey Kestrel 58 would be too short to allow me to secure it. On my first trip out, it turned out not to be an issue. 
The second thing you notice about the tent stuff sack is the separate compartments for the tent body and the fly. You will find a nylon divider inside the sack to form the 2 compartments.  Brendan had indicated the purpose for this was to minimize the water transfer from the fly to the tent if you were packing up after a rain storm.  While this sounds good in theory, I found it to be a pain.  The smaller opening made it that much more difficult to stuff the tent and fly into the sack.  I'll give it a few more tries, but I foresee removing the divider with some scissors. 
Exped also provides a stuff sack for the tent poles, stakes and repair kit. The sack is all in one so you don't have to keep track of a pole sack and a stake sack and a repair kit. The company was even kind enough to label it in three different languages.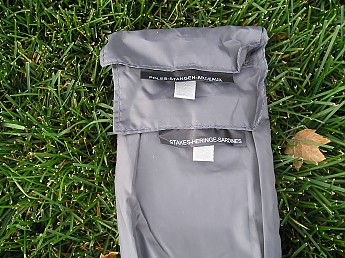 The tent stakes provided by Exped were not some clunky bottom basement afterthought. The 8 stakes I received were top notch and weighted in at 3.1 oz's (or 89 grams).  With my past tents, the manufacturer didn't provide enough stakes for all the anchor points and unfortunately, Exped continued that tradition. I counted 10 anchor points (4 on the tent body, 4 on the fly and 2 guy lines) and Exped only provided 8 stakes. 
I will be more than happy to carry the extra 22 grams in order to fully stake out the tent when needed.  If I had my say, I'd provide one extra stake as well. How many times have you dropped your tent in the early morning darkness and were unable to find that last tent stake you drove into the ground with a 10 pound rock the night before??
With several tents I've owned in the past, I've found it easy to cut some weight by using higher quality stakes and guy lines or remove other little items that I would never use. I have to admit, Exped beat me to the punch on all my usual suspects.  
As I expected, the quality of this tent is outstanding. I diligently compared the listed dimensions and weights to the Exped specifications and I received exactly what the company said I would. I couldn't find any variations in the materials, seam sealing or the construction of the tent body and fly.
In the mountains, this tent is a joy to live in. The internal volume was refreshing. The four ventilation brows allowed great airflow and I didn't see any condensation on the fly or on the inside of the tent. My previous tent had a siliconized 20D floor and allowed me slide around when I was sleeping. The Gemini 2's floor is poly urethane coated 70D and held me in place. That was a welcomed change.  The large pockets easily stored the items I normally put away and the overhead pocket did work well with my headlamp.
If I was forced to say something negative, I would say Exped's lack of tent distributors. I looked far and near to find a tent I could actually touch and never did. Exped claims they have distributers in Denver, but after calling the listed shops, they really don't. I was a moderately uneasy about buying a tent over the internet sight unseen, but after speaking with Brendan about the tents construction, the other research I did and my past experience with Exped, I eventually worked through it and purchased one.  Hopefully in the future, the company will expand their distribution.
Overall, I think Exped did an amazing job with this tent. It's remarkably light for everything it does, the livability is outstanding, the materials are high quality, and the little details separate this tent from many others.
Where to Buy
sponsored links
Help support Trailspace by making your next purchase through one of the links above.
Retailers' Descriptions
Here's what other sites are saying:
The Exped Gemini II balances comfortable interior space, rapid set-up, and light weight materials. At 230 cm long, this tent is especially comfortable for tall people. The ingenious pole geometry creates steep walls on all sides, creating plenty of space for sitting, sleeping, and dressing.
- CampSaver.com
When you need a tent that doesnt take up much space, but provides plenty of space for you inside, the Exped Gemini II Tent is a great choice. This unassuming 3-season tent has lots of space for two people, as the pole geometry gives it steep walls on all sides, providing ample space for sitting, sleeping and getting dressed. Easy to set up, the poles are fed into the full sleeves from above, allowing you to stand it up while putting it together. The freestanding tent is light enough to carry to a better sleeping spot if the ground isnt quite right and the rainfly attaches easily to the canopy to keep the rain out.
- Altrec Outdoors
The Gemini II tent from Exped balances comfortable interior space, a rapid setup and lightweight materials. It's especially comfortable for tall campers and is very stable in windy weather. High-volume comfort in a compact design: creative pole geometry creates steep walls on all sides to provide ample space for sitting, sleeping and dressing. Wide, high doors enhance comfort; each sleeper has their own door and vestibule; vestibules are large enough to hold a pack, shoes and a dog. Poles are fed into the continuous pole sleeves from the top of the tent and then easily secured with the Arc Connectors; this allows poles to be inserted while standing up. Light yet strong, DAC Featherlite(R) NSL poles are anodized without the use of harmful acids. Fine mosquito mesh keeps the tiniest bugs out and enhances ventilation on hot summer nights; nylon panels on sides and roof keep wind and condensation out. Rainfly vents ensure air circulation to prevent condensation. Guylines attach directly to the pole structure and increase stability in high winds; guylines are easy to access through the rainfly vents. Gear loops and pockets keep personal items organized. Includes partitioned stuff sack, stakes and guyline/tighteners. 2 Exped large-wide mats (sold separately) fit perfectly next to each other without shifting and still leave space to store gear at either end. As a convenient option, poles and rainfly can be set up with the footprint (sold separately) to create a lightweight shelter.
- REI
The Exped Gemini 2 is a stable and sturdy 2 person tent. It has 2 doors for easy livability and 2 large vestibules. The vestibules are the perfect place to store wet or excess gear. The DAC FeatherLite NSL shockcorded aluminum poles are simple to use and highly reliable. The 2 side entry doors are great because each camper has their own door. The full coverage fly is a lightweight RipStop Sil/nylon with a PU coating. It is light, strong and dependable.Sleeps 2All main fly and floor seams are factory sealed2 vestibules for storageFreestanding design is simple to set up2 doors for easy entry or exitFull coverage fly surrounds and protects the tentFly is an ultra light PU coated Sil/NylonCombination sleeve and clip design is fast, easy, sturdy and stableFly vents aid with ventilationNo-see-um mesh body provides great ventilationExternal guy points for stability in wind4 equal length poles for quick, easy set up every timeAll carry bags and stakes includedFire RetardantImport
- Campmor
Exped Gemini 2
currently retails for:
$448.95

where to buy: