Exped
Schnozzel
Specs
Weight
25 g / 1 oz

Size
50 x 9 cm / 19 x 3 in

Packed
9 x 4 cm / 4 x 2 in

Reviews
A dual-purpose pack liner that works incredibly well…
Rating:


Source: bought it new
Price Paid: $23

Summary
A dual-purpose pack liner that works incredibly well as a fill bag for your sleeping pad. While designed to only work with Exped pads, a simple modification can adapt it for Therm-a-rest pads.
Pros
Lightweight
Dual-purpose
Easy to use
Mitigates wear on your sleeping pad by reducing moisture inside
Cons
Modification needed to use with Therm-a-Rests
With adaptor in place, the Schnozzel cannot be sealed
Specs: Length: 27" Width: 19" Weight: 2 oz. Volume: 42 liters (2563 cu.in.). Warranty: 5 years
Materials: Top: 15 D Ripstop Nylon, Silicone/PU coated, 1500 mm water column. Bottom: 15 D Ripstop Nylon, Silicone/PU coated, 1500 mm water column20 D Polyester, TPU Polyether Film Laminate, Hydrolysis resistant, Honeycomb embossed.
Background:

I had previously been using the Exped Mini Pump to inflate my Therm-a-Rest Neoair Xlite, after I discovered that a small piece of bicycle tubing (road bike size 700c) fit over both the Exped fitting and the standard Therm-a-rest inflator. It takes a little effort to stretch the tubing over the Exped fitting, so once in place, I just leave it there. The other end of the tubing will then slide easily over a Therm-a-rest inflator but still creates a seal (don't ever throw away your flatted tubes...they can be re-purposed for many uses!).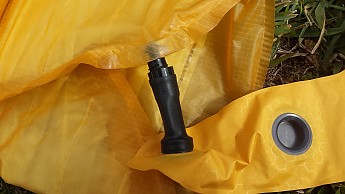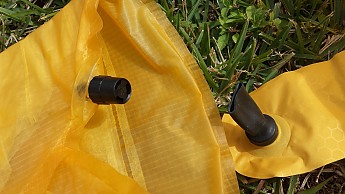 (pictures showing the Therm-a-rest standard inflator valve and the adapter (bicycle tire tubing) in place on the end of the Exped Schnozzel. Note the tight seal when coupled.)
But the Exped mini-pump, while compact and lightweight, only serves one purpose. It is also a chore to fully inflate a pad (but still not as tiring as blowing air in yourself).
Enter the Exped Schnozzel bag, which can be adapted in the same way described above, and has the dual purpose of serving as a pack liner.
Pack liner versus Pack cover:
I won't go into all the detail as to why I prefer a pack liner over a pack cover but just consider what good a pack cover will do if you fall down in water.  Since I hike in regions where water often covers the trail, a pack liner just makes the most sense. I also like to keep a trim profile on my pack. Pack covers tend to become sails in windy conditions and also snag easily on trees and vegetation.
Ease of Use:
So if you've already come to the conclusion that a pack liner works best for you, then why not have it serve an additional purpose?  And as a fill bag for your sleeping pad, the Schnozzel bag does a stunningly good job.  I would venture to bet that after one or two uses, you will wonder how you ever got on without it. It is so quick and easy to fully inflate my Neoair Xlite, taking only 1.5-2 bags to fill.
The trick is in waving the open end of the bag around slightly to 'grab' a good load of air and then quickly rolling the top (just like a dry bag) to begin forcing the air into the pad. It takes minimal time and effort...invaluable at the end of a long day. Having to inflate the pad with my lungs alone used to be a dreaded task, often leaving me lightheaded and out of breath.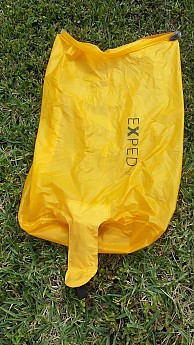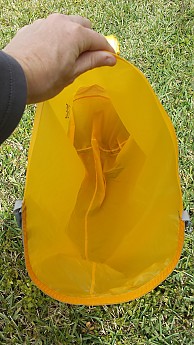 (ample volume and a wide opening equate to ease of filling with your gear and air)


And why, other than simply the ease of saving your lungs the effort, should you be concerned over how the air enters your pad?  There are very practical reasons, in fact. Consider that all those water molecules that come from your moisture rich lungs wreak havoc on the interior of your expensive pad. Namely, mold can form, which not only makes for unsanitary conditions but also destroys the materials the pad is made of. Water droplets also decrease the insulation abilities of the pad. In freezing conditions, these water droplets can even turn into ice, potentially damaging the pad material.
As a pack liner, the Schnozzel bag performs as expected. In past trips, I was able to stuff all my clothes, sleeping bag, hammock, and Therm-a-rest into the bag, with room to spare. The hole in the bottom allows air to escape, so you can get a really compressed fit inside your pack (I'm using this in lieu of a compression sack for my sleeping bag). Like similar pack liners, it's made with very lightweight silnylon, so there is little weight penalty..well worth the security of knowing your gear will be kept dry.
But on that note, I have to deduct a star from this otherwise excellent product. Since Exped designed the Schnozzel to be used only with their pads, my modification takes away one of its key features. The fill opening is designed to be folded over and pressed into the female end, just like a snap, to effectively seal the schnozzel part of the bag. But with the tubing adapter left in place, I can't do this. Instead, I simply twist the schnozzel a few times and call it good.
Once stuffed into my pack, it's unlikely that water would be able to work its way inside, up the twisted schnozzel. But it would be nice if Exped made an adapter to fit other pads...I heard that they used to but I guess I can understand their reluctance in somewhat endorsing competing products.
It should be noted that Therm-a-rest sells an adapter to re-purpose a standard packliner/drybag in this way, but I've heard mixed reviews about it. I think what really sets the Schnozzel apart is in fact the Schnozzel appendage...it allows the manipulation of the bag to 'grab' air while still maintaining a passageway/connection with the pad...I don't know how to explain it otherwise. It just works.
Construction & Durability: As with any pack liner, you will have to take care not to let other things in your pack (like stoves/utensils) rub a hole or puncture the liner.  But if it does get a hole, it can be repaired fairly easily.  A 5 year warranty from Exped is a nice factor.
This is a great multipurpose backpacking accessory…
Rating:


Source: bought it new
Price Paid: $30 USD

Summary
This is a great multipurpose backpacking accessory for use with Exped sleeping Pads. Worth every penny of the cost.
Pros
Extremely lightweight
Waterproof
Drybag
Cons
Cost
Small connector tube
I bought one of these to go with my DownMat 7 mat. I had to buy a small adaptor so the connectors of this bag would fit onto the built-in pump of the Downmat 7. You may ask, if it already has a built-in pump why would you buy this accessory and add weight and bulk to your setup? Two reasons, ease and speed of inflation and dry bag stuff sack for my down mummy bag.
First the pump function. This bag connects, via adapter in my scenario, to the Exped mats very easily. Then all you do is open the bag up so it is "inflated" like a balloon, close the top, and roll the air into the mat. I have an XS size mat and it literally only takes two bag fulls of air and it is completely full! It is WAY faster than using the built-in pump and much less effort too, and after a long day of hiking it is worth every penny!
Second it doubles as an extremely lightweight dry bag/stuff sack for my 20 degree 800 fill power down mummy bag. My bag (Exped Waterbloc 600) fits easily in the Schnozzel bag with some room to spare. It keeps it nice and dry and since I open up my mummy bag to loft when I also want to inflate my mat it works out great. I can also use it as a dirty clothes bag if it's a short trip and I'm NOT moving from place to place (requiring me to use it as a pump again).
The material is very thin and light and seems like it would be easily punctured, but after about 5 trips it is holding up just fine. Still I'm careful not to put any jagged or pointy items next to it in my pack. Normally it goes in the sleeping bag compartment which is separate in my Osprey pack. The tube at the bottom of the bag works as a relief valve when compressing the mummy bag inside of it.  
It is the one frustration I have because of how the tube attaches to the larger bag. It makes it hard to force the air out of this small tube (about 2" diameter). I think I'd just make the whole bag taper down to a point where the Schnozzle can connect to the mat. This would make it much easier to push air out of the bag when trying to compress your sleeping bag inside it and probably easier to push air into the mat too.
Having said that, I would still buy this again and again because of the ease and speed of using it as a pump. It really is ingenious. If I was an engineer I'd make adapters for this thing for every brand of sleeping mat out there, they would sell like hotcakes and Exped wouldn't be able to keep this Schnozzel bag in stock! 
Easy to use. At the beginning I had a hard time using…
Rating:


Source: bought it new
Price Paid: It came with the pad

Summary
Easy to use.
Pros
Weight
Size
Capacity
Excellent customer service
At the beginning I had a hard time using it, but with some practice my DownMat UL 7 pad was ready in less than 3 minutes. You just need to get the "technique" and then to repeat it.
The pump came with my Exped pad.
On my second trip in the high mountains (10,000 feet and more) two of the sides of the ending part, which goes to the pad, just separated and the hole appeared large about an inch. I was supprised, because it was new and used only once before.
I still managed to use the pump, but it was quite difficult trying to close the hole, with one of my hands, or asking a friend....and I was on a 10-day trip !
When I came back to Canada I went on the Exped web site, and wrote an email to the Canadian reference explaining the problem. I got almost immediate answer, "Give us your adresse and we'll send you new." A week later I got it by the post. No questions, no invoices sent, excellent customer service !!!
I think the problem was with the glue and both sides just separated. Anyway, it just happened to me on a trip, but it is an excellent pump and when you learn the technique you can fill your pad faster.
Exped Schnozzel
currently retails for:
$13.46 - $39.00