Faber
Bear Paw - Heavy Duty Lacing
1

review

5-star:

1

4-star:

0

3-star:

0

2-star:

0

1-star:

0
Reviews
A wonderful snowshoe for powder and (especially) wet…
Rating:


Source: bought it new
Price Paid: $150

Summary
A wonderful snowshoe for powder and (especially) wet snow conditions.
Pros
Very good floatation
Quiet – no squeak or creak
Heavy duty babiche can handle wet snow
Spaced lacing does not accumulate snow as does Hypalon decking
The Faber Bear Paws, Heavy Duty Lacing come in a 14x30 inch version and a 16x30 inch version. Mine are the 16" wide version.
The first thing to know about traditional snowshoes is that they require maintenance. They should get at least one coat of spar varnish prior to their first use and between seasons. They should be brought in to dry between uses. Store them in an airy place out of direct sunlight and keep them off the floor or critters will snack on the babiche.
These snowshoes really excel under the following conditions:
in the bush, where blowdown and secondary growth would hang up a set of snowshoes with a tail
in wet snow — the surface area makes for great flotation, and the widely spaced lacing allows clumps of snow to fall through; snow does not stick to the wood frame as with aluminum tubing
on flat or rolling terrain — I have climbed with them, but I find that narrower snowshoes work better for steeper pitches
while photographing or hunting animals and birds — these snowshoes are so much quieter than aluminum frame or injected plastic models
for survey and other forestry work — the short space between the front crossbar and the nose lets the wearer get up close
Look elsewhere if:
you are a purely recreational user who is unlikely to give these snowshoes the TLC they deserve
you expect to be spending a lot of time on crusty snow or ice
you are going to spending time on a lot up in the hills; trads can work great in powder and wet snow in the mountains, but I advise going with the Elongated Bear Paw model for what are sure to be some narrow trails with switchbacks
your time is going to be spent on open terrain — a model with an unturned nose (which is less likely to dig into drifts and send you faceplanting) and a tail (to help keep you and your snowshoes tracking straight out in the wind) will probably serve you better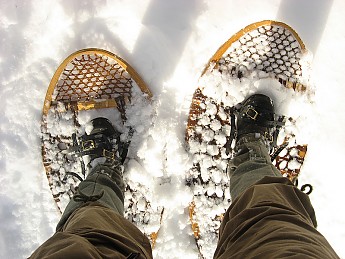 Manufacturer's Description
Built with two tightly fit cross-bars tenons, the bear paw is a shorter but wider model. It is similar in shape to the sport model but lacks a tail. This lack of tail eases backward steps and maneuverability and helps turning around obstacles.
This snowshoe is designed and recommended for thick underbrush and denser forest. Many workers and hunters enjoy the versatility of this model since the short nose allows them to get close to what they are working on while the lack of tail also allows them to easily carry and store the snowshoes. The heavy duty lacing is ideal for spring time conditions and wet snow.
The full hide lacing is made of cowhide from which we removed fur and excess fat. It is a very strong material which is also water resistant. The full hide can be cut in narrow strip to allow the Classic lacing (tight lacing, 1/4" – 6mm) recommended for dry and powder snow, or in larger stripes (1/2" - 13mm) to produce the heavy duty lacing well adapted to melting or wet snow condition. We also use this 1/2" - 13mm lace for the Leisure lacing, as it is a more spaced lacing perfect for occasional use and decoration.
Faber Bear Paw - Heavy Duty Lacing
reviewers paid:
$150.00

The Faber Bear Paw - Heavy Duty Lacing is not available from the stores we monitor.
If you're looking for a new wooden snowshoe, check out the best reviewed current models.