User Review:
Five Ten Anasazi Verde
Rating:


Price Paid: $100

The meat and potatoes from my review on my site:
Oh Anasazi Verde, how do I love thee?  Let me count the ways: 

One - I love thee to the depth and breadth my sole can reach,
And how your laced, synthetic Cowdura uppers comfortably swaddled my wide foot each.

Two - I love thee to climb for eight hour plus days,
Oh, Stealth Onyxx Rubber think of the rocks we'll abrade!

Three - I love thee with the passion to put you to good use,
And how your slingshot heel seeks sketchy hooks to seduce.

And finally, Four - Look how dope that green color is, kid!  So fresh, right!?

Seriously though, I thought these shoes might be a bit much for a beginner climber, but if you're going to the local crag or gym regularly, it's an awesome shoe to grow into.

I sized these for comfort and opted to go with my normal size 10.  With that said, they're tight.  My toes, thanks to the heel design, fill in the toe box nicely and after a few long sessions, I'm not detecting any stretch or dead spaces up front, or out back. 

I'm still developing my feel, but I would say the shoes give me good feedback as to where or what my feet are on or trying to find.  The feel can get a little muted when I try to stand on the very front of the toe box, but I think this issue is a product of the sizing I prefer. 
Edging, both inside and out, on the other hand is nice.  I hear the term "dime" tossed around a lot, and well, I'm not near that type of climbing prowess yet, so I wouldn't know if they can edge on one.  I can tell you they'll edge easily on a, say, pencil eraser?

The back of this shoe is what really gets me all giddy.  As you can probably imagine, my foot work needs work, but I swear, if I can get my heel on it in these pups, the move is going down.  The design of the heel is easily my favorite part of this shoe and if the laces aren't undone, the shoes aren't coming off.

To wrap this up, I'm sure everyone falls in love with their first pair of climbing shoes, and I'm no different, but I really think I made a smart buy. One of the most attractive things about climbing to me is that you seem to get better every time you go and with that in mind, I'm glad I bought a shoe that will keep up with my progress. 
I love you, my little Verdes, let me continue to count the ways...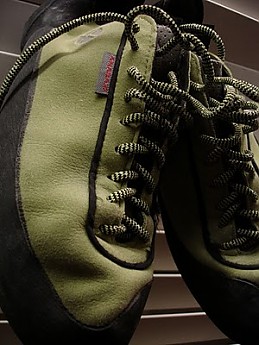 Where to Buy
sponsored links
Help support Trailspace by making your next purchase through one of the links above.