Five Ten
Camp Four
10

reviews

5-star:

5

4-star:

3

3-star:

0

2-star:

2

1-star:

0
Rating:


Source: bought it new
Price Paid: $230 Australian

Summary
Sturdy shoe and comfortable to wear straight out of the box. No break-in period. Had to go up one full shoe size to get a pair to fit properly. Soft rubber sole wears down quickly at heel contact point.
Pros
Comfortable
Good support
Look good
Cons
Heal area of rubber sole wears down quickly
I bought this shoe from a retail store 15 months ago for $230 Australian. (Why do we seem to pay so much down here). I chose the Five Ten Camp Four as it looked like a good quality sturdy shoe to use on my Sunday 5 km walk, mostly on bitumen road surfaces.
I don't use them for rock climbing or rough terrain as such. I had to go up one full shoe size in order to get a pair to fit correctly. They are definitely a comfortable and sturdy shoe for walking.
The only problem I have had to date is the quick wear down rate of the soft rubber sole. The thickness of the black rubber sole at the point where the heel area first makes contact with the ground is very minimal leading to a fast wear down rate right through to the grey under lining of the sole. The balance of the sole area is only showing minimal wear. They really have not had a great deal of use to date.
Ok, I understand that the soft rubber sole is designed for "off road" grip and as a consequence will wear down faster than normal. However, for the advertised quality and price I paid for this shoe I would expect the thickness of rubber at the heel area to be significantly more than what is actually there.
My next purchase will definitely not be Five Ten.
Rating:


Source: bought it new

Summary
They're very comfy, extremely good grip, but for the money they just aren't made very well. FiveTen really need to address this.

3 out of 4 pairs of these shoes I've owned have been faulty. This really isn't what I expect for this level of product.
Cons
Low quality
Various faults develop
I'm now on my fourth pair of these.
1st pair: After 7 months started splitting where the toe guard rubber material stated coming away from the leather of the shoe.
2nd pair: Shop replaced previous pair. These lasted fine, based on which I bought a third pair.
3rd pair: Developed a squeak with two months of light use. I could feel layers of rubber within the sole rubbing against each other as they were coming apart.
4th pair: Shop replaced previous pair. This pair now squelch if exposed to moisture.
They're very comfy, extremely good grip but for the money they just aren't made very well. FiveTen really need to address these. 3 out of 4 pairs of these shoes have been faulty. This really isn't what I expect for this level of product.
Rating:


Source: bought it new
Price Paid: $149

Summary
Sturdy shoe, however the toe box is very short. I normally wear a 8.5 shoe and had to reorder a whole size up to 9.5 and the toe box is still short. Took out the insoles and they fit much better.
Pros
Sturdy well built shoe
Sticky on the rocks
Great support if you can use the insoles
Very Cute shoes!
Bought these shoes to wear on approach for rock climbing last year. Originally ordered 8.5 my regular size for all shoes. Had to reorder 9.5 for a halfway comfortable fit. Still found the toe box too short to wear these comfortably. Had to remove the insole in order to wear the shoe at all. Could have gone up to a size 10 probably and then maybe been able to use the insoles. Definitely order at least one size up or one and a half up would be my suggestion.
I was disappointed as I would have liked to wear these more often with the insoles for more comfort and support. The shoes have great support with the insoles and sticky traction on the rocks. I love the look and durability of these shoes.
I am going to try and cut the insole down and use the heel part of the insole to see if I can get some comfort and support out of the shoes.
Rating:


Price Paid: $115

My first pair of Camp Fours I wore for over a year almost everyday in all kinds of weather in the Adirondacks. I wore them trail running, rock hopping, dry terrain, wet/muddy terrain, snowy/cold conditions, out to dinner, roofing/residential construction, with and without backpack.
Cons-a little warm in hot weather, below freezing the rubber gets a little hard, they only come in one color (wish they had all black and all brown).
Pros(for me that is)- fit perfect out of the box, athletic.jungle cat look, great heel support (feels like you stand straighter), feel light to me, great traction overall (wet logs don't count).
I'm on my second pair and ready for my third (just for casual wear).
As a former Navy Seal I wish they would have had these when I was on active duty (nothing I wore on active duty compares). They are overall tactical and practical and good to go.
Rating:


Materials: leather
Use: approach
Break-in Period: out of the box use
Weight: ?

A good approach shoe. A legend. Stealth rubber is very ok. After a long day climbing the Camp Four gives enough support + stability + security on the way down. Behaves well in scree.
As Michael Chiu points in his review it is not water proof. I am not a Goretex lover, getting sweaty feet. And Gandolf says in his review it is good for walking Grand Canyon with a pack. I have attached a picky of the Camp Four in GC.
For scrambling and climbing (lower grades) I prefer the Guide Tenni (especially when the dots are faded).
For trail and fell running without a pack I use the lighter version like the Progody/Insight etc or Inov shoes (less sticky rubber, but lighter).
Hope this is of any help. Happy trails.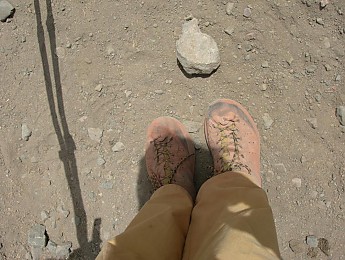 Rating:


Use: weekend warrior
Price Paid: $120

After reading reviews on-line, I bought Camp Four for recreational outdoor activities. My foot size is US 9 and usually shoes (Adidas, LL Bean, Timberland) with US 9.5 would fit me fine because I wear Midweight SmartWool. I find Camp Four at US 9.5 to be a bit tighter than others. However, when I want to use them for some rock climbing, I need them tight. So, I would stick with US 9.5 when I have to buy another pair (Yes! I would buy another pair if this one wears out).
I broke-in this pair with casual walking and cycling, but I could not tell if it's necessary. They felt comfortable out-of-the-box. My first big trip with Camp Four is a 3-Day trip to Taiwan's Chi-Lai South (3358m/11017ft.) in January. My pack weighed 17kb/37lb.. The trail was mixed with rough trail, rocky trail, sliding rocks and wet logs. At summit day, it was snowing the night before. So the trail was full of snow slush and sliding mud.
Bad things first: Camp Four isn't waterproof (by design). And my feet got plenty wet and plenty cold at summit. However, my feet quickly warmed up once they left snow. It is not waterproof so they can provide better breathability and they do.
Good things: Traction and load support. On this trip, Camp Four faced everything besides climbing. And Camp Four provided good traction at almost all conditions. Mud was a tad slippery but that only meant that I had to slow down a bit. On this trip, I was carrying 17kg and Camp Four held up fine. I only felt the rocks a few time at the really rocky portion. Since it's a low-cut, there is little ankle support by design.
Overall, I give Camp Four 4-star. I really want to give 5-star, but I'm not experienced enough and my time with Camp Four isn't long enough to give Camp Four 5-star. Five Ten Camp Four is a really excellent do-it-all outdoor shoes.
P.S. I have since bought a pair of Rocky Gore-Tex Socks to provide waterproofness when necessary.
Rating:


Price Paid: $79

Took these on a 6 night trip in the Grand Canyon. Pack weight before water 30-35 lbs, my weight 194. This was a very rough rocky trip (aren't they all) and they held up pretty well with a small separation between sole and upper that I'll fix and live with.
They did well for the first part of the trip but toward the end their flexibility in the forefoot and underfoot lead to sore feet. They do fit like a glove, and very sticky. Best used for approach hiking or shorter backpacking trips with light loads.
Rating:

I bought these shoes because I wanted something that was lighter than a boot and offered more support than a tennis/running shoe. This shoe fit that bill perfectly.
After several trips into the Grand Canyon (with pack weight around 25 - 30 lbs.), 100s of miles of day hikes in the mountains around my house, and numerous backcountry rock climbing forays these shoes are still holding up great. The sole is super sticky, but is not too slick when it gets wet. I have not had any problems with these shoes.
I think they are great for backpacking, day hikes, or just walks in the neighborhood. I don't wear them too much around town because I don't want to wear the sole down. I bought them for trail use and they are great for that.
Rating:


Materials: leather
Use: dayhikes, rough trail , peak bagging
Break-in Period: none
Weight: light
Price Paid: $99

Great trail walker, hiker. Very comfortable and with toe to ankle lacing quick adjustments are a breeze.
The sticky stealth soles are amazing; especially on wet rocks. Other hikers were slipping all over the place and I was walking with suction cups on my feet.
The shoes are also amazingly waterproof? Don't ask me how. We spent three days in constant rain and my socks never even got damp.
If you're looking for a great hybrid shoe I would challenge anyone to find something that works better. Five-Ten Camp-Fours are great.
Rating:


Price Paid: $114

I needed a very comfortable all around hiking, packing, and light climbing shoe. I am in my second pair, hope they never stop making this one!!!
Where to Buy
sponsored links
Help support Trailspace by making your next purchase through one of the links above.
Five Ten Camp Four
currently retails for:
$107.99 - $154.95
MSRP: $149.95
(men's)
where to buy: