User Review:
Garmin Foretrex 401
Rating:


Source: bought it new
Price Paid: $165

Summary
The functionality I want, nothing else. Don't forget that initial calibration out of the box!
Pros
Small
Inexpensive
Accurate
Brings me back to my waypoints
Tough
Acceptable battery life
Same batteries as my headlamp (AAA)
Awesome wrist strap
Cons
Altimeter is barometric = usless
Garmin Foretrex 401
I tried a low-budget old-school GPS about five years ago and was under-whelmed. It was heavy, devoured batteries and had a teeny little screen that was about useless. I gave the Foretrex 401 a chance after deciding that trying to read a map on an GPS wasn't what I wanted but rather a way to find way-points in a whiteout.  I read other on-line reviews and pulled the trigger on this one.
Several times in the last two seasons I have had to find my way back to camp in a whiteout.  In these cases I used map, compass and cairns and obviously I survived just fine.  I wanted a GPS so I could navigate without stopping to take a back-azimuth and without pulling out the map and note paper.  I dislike the larger units and they cost a mint so the small size and wear-ability of the Foretrex appealed to me.
Did I even glance at the user's guide? Did I look at the CD that came with it? Heck no! Electronics need to be intuitive enough so that instructions are unnecessary. "So, Jeff, how'd that work for ya?" It worked fine-ish, in a day or two of tinkering I had it down, except one small thing which I will elaborate on below.
In my first real backpacking situation I found it to be horribly inaccurate, it told me to go in the opposite direction that I knew I had to go. The reception under the trees was fine at least. Then I figured out to calibrate it, I guess reading directions can help. After that it consistently brought me to within six feet of my way-point.  Once calibrated, which is simple, the arrow in the display brought me to within spitting distance of my way-point every time. 
I use it trail running in the mornings and like the ease that it keeps track of the miles I run and my speed, though I think the speedometer is slightly more accurate at higher (driving) speeds because it clocked me jogging at 11 mph the other day and I KNOW I wasn't going that fast. 
I wore it on a recent hike and it was exposed to a heavy drizzle the entire trip and remained waterproof and took a few lumps from getting banged about.  A lot of military guys seem to use these and even they give it generally good reports from battle conditions.  
In almost-whiteout conditions, Foretrex on left wrist.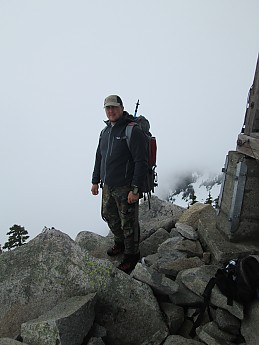 The wrist strap, which fits fantastically, has an extender so it can be worn over a coat or up the forearm which I like even more.
As an altimeter it suffers because it uses a barometer for measuring elevation. I can sit still and the altimeter says I climb 50-60 feet in elevation over the span of a minute. Barometer altimeters are all inaccurate so I never trust one anyway. 
The light works well and I like the date and time feature so I no longer need to wear/destroy a nice watch and its light enough that I don't much notice the weight. 
GPS is improving definitely. I'll always carry map and compass of course but this gadget, to me, is a keeper.
Where to Buy
sponsored links
Help support Trailspace by making your next purchase through one of the links above.