User Review:
GoLite Eden 1
Rating:


Source: bought it new
Price Paid: $199

Summary
This is a good, tough, single wall solo tent.
Pros
Good size.
Holds up well in bad weather
Easy setup
Cons
A little condensation at times
Opening mesh door
I've been using this tent for a while now, in 3-season weather, which includes a lot of rain, hot humid days/nights, and cooler times.
Haven't experienced anything bad about the tent. A little condensation occurs on occasion, but only when the vestibule is fully closed (hardly ever have to do that though). The vestibule design is nice. Very big, and the design allows the vestibule door to stay open during rain (even heavy at times as long as it's not wind blown). Once all guyed out, this tent is very stable and quiet in heavy winds.
The weight is listed as 3 pounds, 7 ounces, but that includes stakes. The tent and poles come in at 3 pounds, 1 ounce. Just about average for a solo tent.
I would consider this more of a double wall tent with the interior mesh attached ceiling and wall mesh allows for good air flow.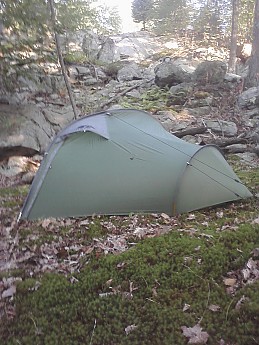 The materials are very durable, especially the mesh.
The dimensions inside are nice, but a little deceiving when looking at pix and diagrams online. (I purchased like this, without seeing it in person first). It is bigger than most solo tents, the length is nice for me, I'm 6'3", 220 pounds. The interior height, in writing states 3'9". True but at the very peak. Useful head space comes in a little over 3". 
There are two large interior pockets that can hold it all. I find the one on the door side to sag a bit, but it holds a lot. There are three ceiling loops, one in center, and one on each end. I tie some cord from the foot end to the center loop to hang stuff.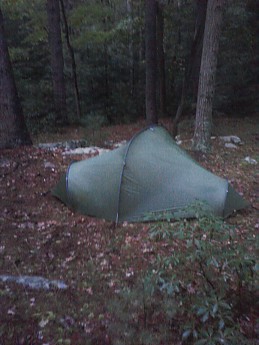 Opening the door can be a two-handed deal due to the mesh being a little loose/saggy.
I find setup to be very easy. I have it up, fully guyed out in about 5 minutes (+/-). Insert poles into sleeves (color coated), stake out each end and you are up. Now just finish staking the vestibule, other points and guy lines and your done. It's really that easy, unless you can't get stakes in the ground which will take a little time/effort, but doable. I have set it up using cord tied to rocks on bald mountains.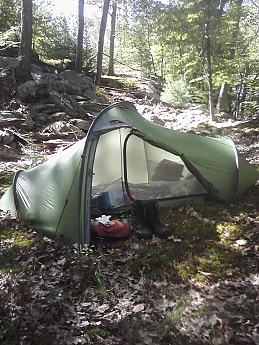 Unfortunately Golite stopped making this tent, but they are still around for sale.
If you are looking for a solo tent that can handle the worst of three-season weather, is easy to set up (though not freestanding), and are out in the rain a lot (I've set this tent up in major downpours and the inside stayed dry), look into this single wall, it does the job well.