Gregory
Baltoro 75
Specs
| | small | medium | large |
| --- | --- | --- | --- |
| Weight | 5 lb 10 oz | 5 lb 14 oz | 6 lb 2 oz |
Reviews
Supports heavy loads like no other, with the best…
Rating:


Source: REI

Summary
Supports heavy loads like no other, with the best accessibility of any pack I've seen to date.
Pros
Padding, comfort and suspension
Top, mid and bottom bag access
Removable brain for day hikes
Durable
Cons
Waist belt pockets are tiny
Heavy
The pack is my favorite for a few reasons. It distributes weight like no other, thanks to the suspension and excessive padding. I can easily carry 60lbs with zero shoulder pain, not that I need that much gear, but I had failures of a few Osprey packs at only 45lbs. The pack weighs more than most, but it's basically all in padding which actually ends up feeling lighter from start to finish.
I am a gear junkie who did my research online, and in the field. Tried every Osprey pack out there and have sold all of them while holding onto this Baltoro 75. The storage is perfect for my style, organization without overdoing it, and three access points allow you to get to anything without unpacking unnecessary items.
There is a rubberized lumbar pad that some said they had problems with rubbing etc. I find it to help put that weight down where you want it, and it also keeps your shirt from riding up. It is super strong in every area, but I have seen a few broken waist belts at the REI garage sales.
The only flaw is the tiny pockets on the waist belt. Barely fit a cliff bar.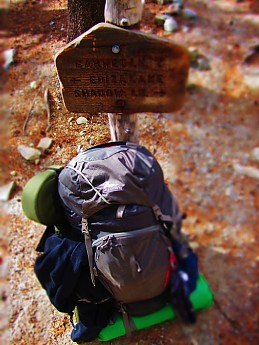 Everything but the kitchen sink. I had the Baltoro…
Rating:


Source: bought it new
Price Paid: $275

Summary
Everything but the kitchen sink.
Pros
Spacious
Sturdy
Comfortable
Cons
A lil heavy.
Hip pockets could be bigger.
I had the Baltoro 70 for a couple years in the wrong size before I got this one. Despite the fit of my old, everything else about it made me have to have the same pack, just in the right size. The 65/75 update had just come out and I went with the larger one since I do a lot of winter camping. 
This pack is tough as nails, fits like a glove, and allows me to easily organize everything for easy access. The suspension system is exceptionally supportive and fluid, which you certainly notice. I have a lightweight 58L pack, but I happily carry a little extra weight for the fit and comfort of this pack.
This is a workhorse for multiple day backpacking trips.
Rating:


Source: bought it new
Price Paid: $319

Summary
This is a workhorse for multiple day backpacking trips. Lots of storage, very rugged.
Pros
Easy access to all compartments
Rugged/sturdy
Very comfortable
Shoulder and hip straps don't cause hot spots
Cons
The pack is heavy at around 6 lbs
Needed to install extra cinch straps to hold trek poles
1 L water bottle can fall out of right side holder when bending forward
The Gregory Baltoro 75 is a workhorse. I load it with around 35-40 lbs of gear, food, and water. It does very well in supporting the load across varying terrain. The loads can be tightened down very snuggly to prevent shifting.
The main storage compartment easily accommodates all my gear and food. The top lid has great storage areas for items that need to be readily retrieved. The zipper compartment on the front stores all my rain gear and pack rain cover—easy in, easy out.
The hip belt and shoulder straps are very well padded and comfortable. This pack carries like a dream.
This is a very efficient pack with lots of room in…
Rating:


Source: bought it new
Price Paid: 182 US

Summary
This is a very efficient pack with lots of room in the pack and pockets. Also there are a lot of straps and clips to help carry things on the outside of the bag. Especially like the water bottle holder on the side. Difficulty fitting the pack and measuring like they want. Tough decision to get S, M or L pack.
Great pack for longer hikes. Will hold all the gear and food that's needed for 3- or 4-day hike. Longer if I pack it right. Lots of storage and hooks on the outside of the pak.
It doesn't get any better then this bombproof bag!
Rating:


Source: bought it new
Price Paid: 228.99 USD

Summary
It doesn't get any better then this bombproof bag!
Pros
Comfortable
Easy to load
Good padding
Good suspension
Highly adjustable
Large capacity
I bought this bag a year and a half ago and I've taken it on numerous trips, in total eight since having it. So I figured it was time to write a review on it. I have to say that this is hands down the best backpack on the market.
I have taken it on over night trips but also on multi day trips from in the woods, mountains, and coastline. My last epic trip was to the Olympic Coast range and it endured every type of environment I walked through and it performed well. I was loaded out with forty pounds but it didn't feel heavy, shoulders felt good, hips felt good, back felt great....By the time it was all said and done, I walked away like I carried twenty pounds the whole weekend.
I recommend this bag to any and everyone.
Gregory Baltoro 75
currently retails for:
$318.95 - $348.95