GSI Outdoors H2JO! Coffee Filter
Rating:


Source: bought it new
Price Paid: $10.66

Summary
Best backcountry coffee maker, so far.
Pros
Fits on Nalgene bottles
Takes up almost no space
Makes great coffee
Lightweight
No filters to pack out
Cons
Allows tiny amounts of grounds to leak through; less than a french press
So in my search for the ideal backcountry coffee maker I stumbled upon this one. My search had these criteria:
lightweight,
easy to use,
durable, 
packable,
inexpensive and
small. 
The H2JO fits all of these criteria. The H2JO screws in to the top of a standard Nalgene bottle and can be used two ways:
Infuser method:
Fill the filter with coarse ground coffee, pour hot water over it into the bottle, cap the bottle, invert the bottle and wait a few minutes for the coffee to brew. Then unscrew the H2JO, dispose of the grounds and drink the coffee. I liked this method best because it made cleanup very easy and the H2Jo doesn't leak; it's very well made. 
Cowboy Coffee method:
Put coarse ground coffee inside the water bottle, screw the H2JO into place and then pour in the hot water.  Shake the bottle, let it sit then pour the coffee into a mug, leaving the grinds behind in the bottle. This means you have to rinse the grounds out of the bottle later, but can make stronger coffee if you like it that way.
The instructions for each method came on a very durable plactic card, the H2JO had very little packaging (I appreciate minimalist packaging) and they were very easy to use. 
So to carry this thing in your pack you just leave it inside a Nalgene-type bottle. It takes up NO extra space and, how much safer could it be when it's inside an almost indestructible water bottle!! Using it requires no set up and the infuser method makes cleanup very easy. 
EXTRA BONUS! This company is based in Spokane, WA!! Two hours from me so I get to support local innovators and businessmen. The owner is an avid fisherman too, I like this guy. I can't say that about all the people who make my gear. 
I never thought I'd be so happy with such a minor product but maybe it's just the coffee talking. 
Now the pics can do some talking: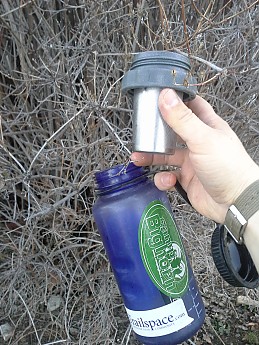 H2JO next to the bottle, notice the cool stainless steel basket. You can't see the tiny perforations in it very well, sorry.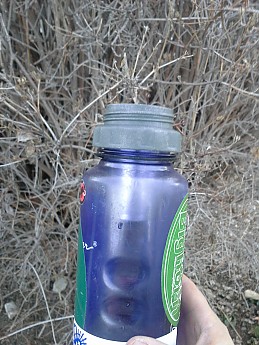 Ready for filling. The bottle's lid screws over the H2JO threads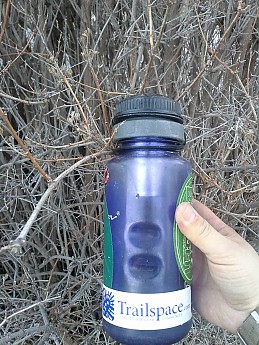 H2JO installed. It takes up almost no room and it's protected by the bottle, and the cool TS sticker.

Note: the hot water causes the plastic to expand. If you don't re-tighten the lid after filling with hot water it will leak.