GU
Roctane Ultra Endurance Energy Gel
1

review

5-star:

0

4-star:

0

3-star:

1

2-star:

0

1-star:

0
Reviews
Although I'm not an energy gel enthusiast, these gels…
Rating:


Source: received it as a sample, freebie, or prize (GU Rep.)

Summary
Although I'm not an energy gel enthusiast, these gels did a fine job at giving me a little boost when needed. The flavors were pleasing and the texture was thick, but very easy to manage.
Pros
Ease of use: Small, durable packets that easily rip open while on the move
Pleasing taste (blueberry pomegranate and cherry lime)
Cons
Filling: meaning it takes away a post-activity appetite. This could be a positive in some cases but was a drawback for me.
I've tried two different flavors during two different pursuits. The first being a 5.5 mile city run in hot weather (and I haven't run in a looong time), the second being a 5 mile hike on muddy hilly terrain. 
The energy gels were given to me by a GU representative at an urban 5.5-mile race that my brother-in-law convinced me to run with him. I haven't run in years, so I knew I was going to feel a bit sluggish and easily winded.  I thought maybe the GU energy gels would help me return to my glory days of running like a gazelle (okay, maybe not a gazelle).
The GU rep explained that it would be best if I consumed at least some of the gel prior to the race, and some during if need be. He assured me I wouldn't be sluggish. I'll admit, I was skeptical, but he was sort of right. I did no training for this run and barely had time to stretch beforehand. Essentially, I had no business running and had every reason to feel like crap once I started running. Instead, I felt great the whole time.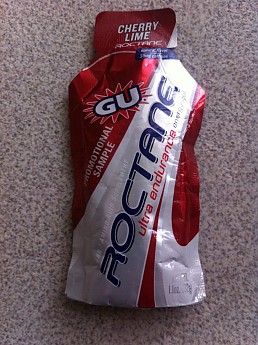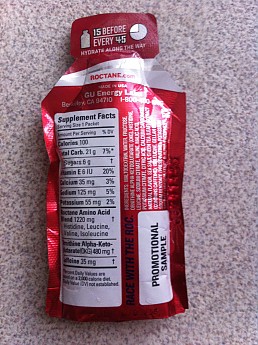 Post-race we grabbed a beer and found a great place for burgers. At the time, I couldn't understand why I wasn't all too hungry and didn't even feel like finishing my beer. More on that to come.
Fast forward a week, and my wife and I are taking our suburban-dwelling 13-year-old nephew on his first "hike" — a semi-hilly 5-mile out-and-back. It rained steadily the night before so we knew the conditions were going to be muddy, but we went for it anyways. After offering the second gel to my wife, who promptly refused because the texture "looked funny" I consumed half the gel about 15 minutes prior to the hike and the rest of it at the midway 2.5 mile point.
After a successful hike in which our nephew was caked in mud and loving every minute of it, both he and my wife were ready for a big dinner. I, on the other hand, recognized that I wasn't at all hungry. Typically at this point I would be very hungry and have a stash of food in the car for the drive home from the trailhead. 
So while the GU Roctane Energy Gels are great tasting and did give a boost to my endurance levels, I believe they were the reason I didn't have much of an appetite after both times using them. For me, this was a drawback, but I can see where this could be an asset to someone who wants to push a few more miles on the trail before setting up camp for the night. That extra bit of feeling full could do a lot of good for morale when slogging those extra miles, instead of dreaming of eating dinner.  
Where to Buy
sponsored links
Help support Trailspace by making your next purchase through one of the links above.
Manufacturer's Description
Visit GU's Roctane Ultra Endurance Energy Gel page.
Retailers' Descriptions
Here's what other sites are saying:
When you need an ideal supplement to keep your body pushing harder than ever trust Gu's Roctane Gel. The new Roctane Gel offers you an ideal carbohydrate ratio, more key electrolytes, and more branch amino acids to always keep your body ready for peak performance. Roctane Gel is found in many of the top athletes back pocket, why isn't in yours? PRODUCT FEATURES: Ideal carbohydrate ratio - A Blend of glucose to fructose can help your body use more of the carbohydrates you ingest during training or racing. Research shows that a combination of these two carbohydrates is better than glucose or fructose alone. More key electrolytes - Sodium and potassium help to properly maintain hydration More Branch Chain Amino Acids (Leucine, Valine, Isoleucine) - Shown to serve as a fuel source (when taken with carbohydrates), reduce muscle damage, enhance recovery and delay fatigue all critical during intense or long efforts More Histidine (Amino Acid) - Can promote muscle buffers to prevent accumulation of lactic acid in muscles during exercise More Caffeine Proven to stimulate the central nervous system and reduce pain perception leading to prolonged exercise and delayed fatigue Ornithine Alpha-Ketaglutarate (OKG) - included to support recovery by helping block the catabolic effects of various hormones that cause muscle trauma
- Appalachian Outdoors
It's GU to the next power! Roctane Ultra Endurance energy gel formula contains an amplified blend of nutrients to help you push it on multiple-hour endurance trials.
- REI
GU Roctane Ultra Endurance Energy Gel is a re-engineered formulation of the GU you already know and love. It's made for the extreme needs of elite athletes. How is it different' Roctane is GU, plus or minus some key ingredients. It packs the same calorie punch as GU and features their blend of complex and simple carbs for steady power production, electrolytes for proper water balance, and caffeine to tap into late-race muscle reserves. It lacks the vitamins C and E. Instead, what you'll get from Roctane is added amino acids to slow lactic acid production, serve as fuel, aid recovery from hard efforts, and mitigate fuzzy-headed weariness. Also, the addition of OKG, an amino acid complex that mitigates catabolic effects that break down muscle tissue, helps to minimize fatigue and muscle damage during repeated days of hard efforts. GU Roctane is available in Blueberry Pomegranate, Cherry Lime, Pineapple, and Vanilla Orange. Sold in a box with 24 individual packets. Gel provides a boost of energy during a workout to help sustain your endurance and refuels sugars and protein to your muscles to reduce crampingGel form means you don't have to deal with overly chewy or frozen barsSmall, stashable packages fit into small pockets on your running, biking, and hiking shirts and shortsSee technical specs for ingredients and allergen information
- Backcountry.com
From years of scientific testing comes GU Roctane Energy Gel. Formulas proven by thousands of elite athletes competing in the most physically-demanding sports in the world.
- EMS
GU Roctane Ultra Endurance Energy Gel
currently retails for:
$1.79 - $59.95

where to buy: