High Peak
Hyper Lite Extreme
2

reviews

5-star:

2

4-star:

0

3-star:

0

2-star:

0

1-star:

0
Rating:


Price Paid: $80 plus shipping...

GREAT TENT FOR THE PRICE!
I just bought this tent last year in January, planning to use it on minor winter camping trips. When I first bought the tent, I was a little nervous due to the size of the box, and the weight, but I was completely blown away as I was setting it up. It went up quickly and easily, with clips to attach the frame to the tent body.
Once the first layer was up, I was surprised at the sturdy frame, and the secure tightness of the tent fabric, without it even being staked into the ground yet. After that I placed the waterproof fly over the tent body, secured it, and staked in the main sides. Then I placed the stakes out on the vestibules, and secured the extra ropes.
The tent was exeptional. It was secure as I shook, hit, and pressed every side to ensure it was good. It stood firm. I was a little nervous about the vestibules, with there insecure design with no poles and a low angle, not really great for snow, I thought. 
After, i got my stuff and went inside. It was about 20 degrees F. outside, and inside it was spacious, yet quite warm. That night I slept out in it, with a light snow falling. The tent stood well, and was warm on the inside, while outside it reached ten.
Over the next summer the tent was used occasionally, but not much until this fall. In October, Maine was hit hard with a winter storm dumping a foot and a half of heavy snow. Seeking adventure, i decided to test out the tent, by sleeping out the night of the storm.
The snow started as a light snow, then switched to rain, as I drifted off to a warm, confortable sleep in the tent. By morning we had had about a foot of snow, and the tent was still standing, for the most part. When i woke up, a strong north wind was blowing at the side of the tent, the side i had failed to tie down with the guy lines, thinking they would be just something to trip on. But, the collapse wasn't bad at all, considering there was a foot of snow and a layer of ice on all sides of the unsecured tent. it only bent in a little bit to the side, not much at all considering the situation.
My worst fear, the vestibules, werent so good though. They are secured in to the ground with a stretchy cord material, and they sloped in very close to the rest of the tent. but, with just a few punches, the snow and ice slid off to the side, and alloud me to access the outer door with ease. (the tent was in an open field on a hill, so it wasnt sheltered at all from the weather)
So overall, it's a great tent, it holds up well in quite hostile conditions, and stays warm even in cold weather. Do not be discouraged by the mesh on the top of the tent, it is a lot smaller than it looks in the pictures, and does not any draft in at all. I'm not sure if it was just a mistake, but the Campingmaxx included an extra bag of stakes as well.
The tent is lightweight and easily packed, with a durable floor and fly. I would reccomend this to anyone attempting a winter trip, as long as you don't face winds faster than 40 MPH, because the tent sides do bend and flex under heavy winds. It was a great purchase overall. 
Rating:


Design: 4-Season Tent
Sleeps: 2
Ease of Setup: Set-up less than 2 minutes
Price Paid: $59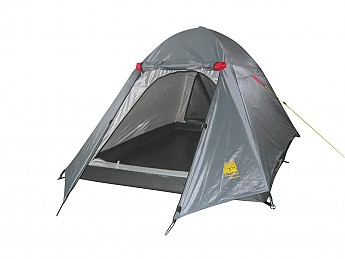 Just this past weekend I went backpacking with the new Hyperlite Extreme. This is one of the best, most economical two-person backpacking tents I have ever seen. I was surprised that it could have fit me and my brother; we are both over 6 feet tall.
It weighed less than 7 pounds, and measures 61" wide x 85" in length and 45" high. There are protected vestibules on both ends. Speed clip assembly for fast and easy set-up. I would suggest this to the serious backpacker.
Editor's Note: The reviewer represents an online retailer that carries this product and brand.
Where to Buy
sponsored links
The High Peak Hyper Lite Extreme is not available from the stores we monitor.
You may be able to find it new or used at one of these sites:
Or you may want to check for a dealer list or direct sales on the High Peak website.
Retailers: Do you sell this product? List your site here.
Help support Trailspace by making your next purchase through one of the links above.
Manufacturer's Description
The Hyper Lite Extreme is an economical dome shaped tent with two Aluminum poles and clips for easy setup. This 2-person tent features 2 mesh entry doors and PU coated tub floor. The rain fly is a PU coated polyester that drapes the tent and extends for exterior gear storage.
High Peak Hyper Lite Extreme
reviewers paid:
$59.00 - $80.00

The High Peak Hyper Lite Extreme is not available from the stores we monitor.
where to buy:
You may be able to find it new or used at one of these sites:
- eBay
Or check directly with High Peak.
Specs
Weight
6 lb 3 oz

Size
(21.7" + 84.7″ + 21.7″) x 61″ x 45.3″