High Sierra
Sentinel 65
1

review

5-star:

0

4-star:

0

3-star:

0

2-star:

1

1-star:

0
Reviews
This is a pretty simple internal frame pack that has…
Rating:


Source: received it as a personal gift

Summary
This is a pretty simple internal frame pack that has a couple of nice features. It's not as comfortable as other more expensive packs with better suspension systems; however, it gets the job done.
Pros
Durable Fabrics
Zippered Sleeping Bag Compartment/Partition
Large Exterior Pocket
Floating Lid
Hydration System Compatible
Cons
Poor back panel ventilation
Poor fit
This is a simple internal frame pack (2 aluminum stays) that has some good features; however, the fit of the pack and the poor back panel ventilation are significant drawbacks.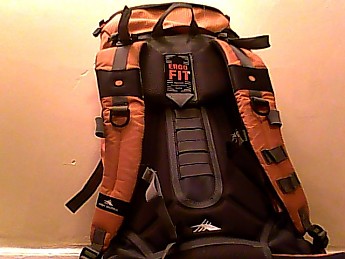 This pack has an adjustable shoulder straps that can be moved up and down by using a series of loops and a Velcro strap.  However, about 2/3 of the range of this adjustable shoulder strap system is useless. I'm 5'9'' with a torso fit range of about 17''-18'' and I have the shoulder straps adjusted almost as far up as they can go in order to get the proper fit.  
I cannot foresee anyone using lower end of this adjustable range unless they have a really small torso fit range.  Even if someone were short enough to use the lower end of this adjustable range, they probably would not be able to get the waist belt to fit comfortably.  I have a 30'' waist and when the waist belt is properly tightened the waist belt pads touch. This means that the belt caries the pack's load pretty well; however, someone with even a slightly smaller waist will probably have to tighten the belt to the point where the belt's pads overlap, causing an uncomfortable fit.
In addition to being very long, the waist belt is also very wide.  Again, this means that the belt carries the pack's load very well; however, because the belt is so wide and it wraps the whole way around my waist and it digs into my stomach and underneath my rib cage when climbing steep inclines.
The back panel of this pack leaves a lot to be desired.  It is a molded foam back panel that is rather stiff and has insufficient ventilation. This stiffness of the back panel keeps items inside the pack from creating uncomfortable lumps against the back. However, this back panel sits flat on the back, trapping a lot of moisture. The ventilation channels on the back panel are too small and too few to handle this kind of moisture buildup, causing the pack to be somewhat uncomfortable, especially on summer trips.  
Despite these issues, the pack still fairly comfortable in all but the warmest conditions. I've carried 20-40 lbs. in this pack without any issues in how the load is distributed. The pack does have a squeaking problem that occurs even when it is only lightly loaded, but this is only an annoyance and not a major problem.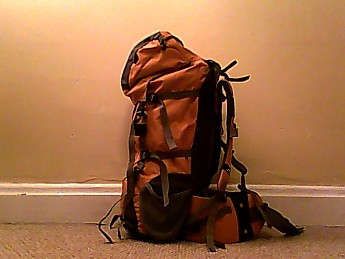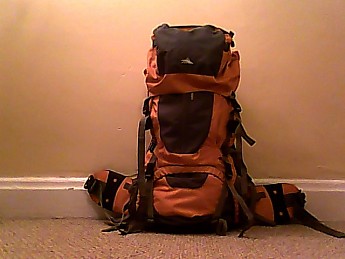 One of the nice features about this pack is that it is highly adjustable and versatile. It has one main compartment that has a zippered partition towards the bottom that can be closed of to create a separate sleeping bag compartment in the pack. This main compartment can be accessed through the top or through the a zippered opening towards the bottom of the pack.  When the partition is unzipped the main compartment is large enough to accommodate most normal sized closed cell foam mattress with room for additional gear.  
On the outside of the pack there is one zippered pocket large enough to carry medium sized items, such as maps, snacks, or gloves. Behind this zippered pocket is a large compressible pocket that is ideal for holding a rain jacket or items such as a ground cloth or camp shoes that you might not want to place inside the main compartment of the pack. The pack has a floating lid that can allow the main compartment of the pack to add about 5-10 liters to its capacity when expanded.
On each side of the pack there are two compression straps that provide sufficient compression for the pack's main compartment and that can be used to attach a sleeping mat to the side of the pack. The bottom of the pack has gear loops and there are two sets of daisy chains that run up both sides of the pack.
As an added bonus the pack also comes with its own cover that can be stored in a small compartment on the bottom of the bag.
This pack has held up pretty well after 3 years of use.  It has only needed one minor repair on lid's zipper after the stitching connecting the zipper to the fabric tore (probably because I overfilled the lid's compartment).  Other than this one minor issue, the pack is very durable. It has a very thick and burly fabric that I expect will hold up for quite some time.
While this pack has its draw backs, it is still a decent pack for those who are budget conscious and looking for a reliable and sturdy pack.
Where to Buy
sponsored links
Help support Trailspace by making your next purchase through one of the links above.
Manufacturer's Description
Visit High Sierra's Sentinel 65 page.
Retailers' Descriptions
Here's what other sites are saying:
High Sierra Sentinel 65 BackpackThe High Sierra Sentinel 65 Backpack is ideal for all backpackers and those who enjoy adventure trips. The massive 65 liter top load main compartment is ideal for maximum storage, with its drawstring closure, and adjustable top lid. If you plan to spend the night outdoors, this backpack has a front-load sleeping bag compartment. This backpack was designed with comfort in mind. It features an ERGO FIT shoulder harness, constructed with VAPEL mesh airflow, for the ultimate cooling effect. The dual aluminum frame bars can be adjusted to fit the shape of your back, while the molded foam back panel with airflow channels, keep your back cool and dry. The waist belt has a VapeI mesh airflow and extra high-density foam padding, for extra comfort. It also has adjustable side, sternum, and bottom compression straps, for your convenience. The hinged front pockets hold ropes, while the webbing daisy chain allows you to carry more specialized equipment. It features an internal hydration reservoir sleeve, with two exit ports. The dual mesh pockets allow you to carry two 1 liter bottles of water. The tuck-away rain cover is stored in a bottom pocket and can actually be used to cover and protect the bag, as added security when checked for air travel. If you need a durable, advanced, long-lasting bag for you adventures, you should buy the High Sierra Sentinel 65 Backpack.
- SunnySports
The Summer 2009 Outside Magazine Buyer's Guide named the High Sierra Sentinel 65 as a "Killer Value." For weekend trips or long-term adventures, the Sentinel 65 internal-frame pack delivers on gear space without adding on the weight. Just 4.8 pounds and boasting 65 liters of storage space, the Sentinel 65 features top and bottom pack access, a bottom sleeping bag compartment, and a hydration sleeve with port for easy on the move hydration. Like to keep you gear organized? The Sentinel 65 has a spacious top pocket, a large hinged front pocket that easily holds a rope, and dual side water bottle holders. A small pocket on the shoulder strap is perfect for camera or media player and ice axes and trekking poles can be easily attached to the outside of the pack.
- Rocky Mountain Trail
For day trips or long-term adventures, the High Sierra Sentinel 65 frame pack delivers on gear space without adding on the weight. Just 4.8 pounds and boasting 65 liters of main compartment storage space, the High Sierra Sentinel 65 features top and bottom pack access, a bottom sleeping bag compartment, a hydration ready design and plenty of accessories to hold gear like ice axes and hiking poles.65-liter, top-load main compartment with gusseted drawstring closure and adjustable top lid.Front-load sleeping bag compartment with divider.Ergo-Fit shoulder harness, with adjustable load-lifters, is constructed with Vapel mesh Airflow and high-density foam padding.Dual, contoured aluminum frame bars can be adjusted to fit the shape of your back.Molded foam back panel with Airflow channels to keep your back cool and dry.Waist belt, with Vapel mesh Airflow and high-density foam padding, wicks moisture.Hinged front pocket holds ropes.Webbing daisy chain on both sides.Internal hydration reservoir sleeve and dual exit ports for tube (reservoir not included).Removable media pocket is attached to the backpack strap.Adjustable side and bottom compression straps keep gear secure.Adjustable sternum strap stabilizes pack.Soft lashing hardware holds ice ax/hiking poles.Dual mesh pockets hold 1000 ml water bottles.Tuck-away rain cover, stored in a bottom pocket, also protects the pack when checked for air travel.Number of Pockets: 5 Materials: Grid-Weave Duralite, Mini weave Duralite.Size: 32 in. x 14.25 in. x 8.75 in.Wt. 5.51 lbs.Capacity: 3470 cu. in.
- Campmor
With 65 liters of internal space, the possibilities are endless when you're carrying the High Sierra Sentinel 65 Backpacking Backpack. Take this full size internal frame pack on a 2 week soul-searching journey in the Sierras or on a long weekend with the kiddos when you know you'll be carrying all the group gear. You can carry a heavy load with ease thanks to the contoured aluminum stays, padded shoulder straps, ergonomic waistbelt and the Airflow channels in the back panel keeping you cool and dry. The floating top lid accommodates an expanded collar and the divided sleeping bag compartment at the bottom has its own zipper to make staying organized easy. And with the made-for-travel stowaway pack cover, you can fly to the trailhead no matter what season it is at home.
- Altrec Outdoors
High Sierra Sentinel 65
currently retails for:
$89.95

where to buy: