Hilleberg
Kaitum 2
3

reviews

5-star:

3

4-star:

0

3-star:

0

2-star:

0

1-star:

0
Reviews
Hilleberg makes the best tents I've ever used, and…
Rating:


Design: Three/four-season tent
Sleeps: 2
Ease of Setup: Easy for one, a no brainer for two
Weight: 2.7 kilos (6 pounds)
Price Paid: US $1200!!!

Hilleberg makes the best tents I've ever used, and The Kaitum 2 is no exception. It's easy to set up, takes a beating like few others and for its weight it's huuuuuge!
I've owned quite a few tents over years, and a one thing has always annoyed me: all the wasted space in the foot end of the inner tent! If used to store any gear the inner tent gets pressed against the outer, and if there's any condensation, well, you know what I mean. The foot end of the sleeping bag will also brush up against the same slope.
Construction of tents here in Scandinavia is slightly different than in the US, where you consider the sleeping part as the tent, and then add a rain fly to it. Here we think of the rain fly as the tent, and then add an inner tent to it. This means that the fly goes all the way to the ground, and the poles are in the outer shell.
The Kauitum has three poles, that slides easily into place, the hopes are formed and with just four pegs the tent is of free standing. Then the rest of the pegs are used to make the fly taut, and since the inner tent is already attached the you're free to "move in" no matter what kind of weather you're facing. If you expect high winds, use the guy lines.
The inner tent is located in the middle of the outer, so that the end walls are straight instead of sloped, so that all the space is usable. The width of the the tent is just 6 inches narrower than my previous three person tent. In other words, you have tons of space! The vestibules, one in either end of the tent, are big enough to swallow all your gear in one end, and leaves room for cooking in the other. There are also huge vents in both vestibules, so air can flow easily through the tent without any condensation on the outer tent. The vents are adjustable of course The end walls of the inner tent can be adjusted from just mesh to completely sealed. Somewhere in between might be good, depending on the weather :)
Having two entry/exit points makes it easy to get in and out without rain blowing into the tent in case the wind turns overnight.
I have used the tent in well above the tree line pretty close to the Arctic Circle without any problems at all. Storms have come and gone, and besides the outer tent being a bit noisy, I've never felt afraid the tent might fail on me. Workmanship is as excellent as the design.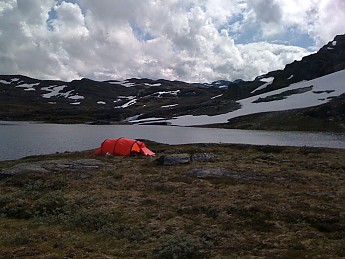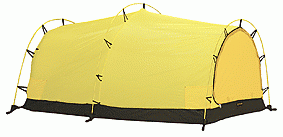 I used this tent for my 3 month solo mountain bike…
Rating:


Design: four season double wall tunnel
Sleeps: 2
Ease of Setup: very easy
Weight: 5.5 lbs
Price Paid: $675

I used this tent for my 3 month solo mountain bike tour of the great divide from Calgary, Canada to Columbus, New Mexico at the US Border. I slept in this tent nearly every night and used it primarily as a solo tent. Elevations used were from 3000 feet up to 10,800 feet, and temperatures ranging from the low 20's up to the 80's.
Over the course of the trip I used the Kaitum as shelter from hail, heavy wind and rain, and lots of mosquitoes. At one point I was riding with several other people, and because of a headwind we stopped far short of where we needed to get that day. I quickly threw up the tent and removed the inner section, and all five of us slept snugly out of the 45mph constant winds.
At 5.5 lbs this tent is heavy for solo use, but having the massive amount of room and enough vestibule space to store five bags plus cook is a tremendous comfort. I'm 6'4", and this tent is like a palace for me. I can sit comfortably anywhere inside of the tent, and I don't need to worry about my feet brushing up on the tent walls and getting my bag wet from condensation. Even though the tent isn't freestanding, there was never one instance where I couldn't stake it out.
If you are heading into unknown territory with possibly adverse conditions I would wholeheartedly recommend this tent. This is the third Hilleberg product I've owned (Akto, Nallo 3) and I've been extremely impressed with all of them
This is a tent suitable for tall people or for two…
Rating:


Design: 4-season, 2 vestibule, 3 pole tunnel,
Sleeps: 2
Ease of Setup: The easiest three pole tent I've ever owned!
Weight: 5.9lb 2.7kg
Price Paid: $595

This is a tent suitable for tall people or for two who wants huge amounts of room. The vestibules are very large that can cope with packs, boots, wet gear and cooking, plus ample room to move in. In warm weather they can be completely folded back to allow outstanding airflow. I used the tent in the Australian Snowy Mountains. It handled a good blizzard with a snow load of about 40cm one night. Another occassion it easily stood the 130kph (85mph) winds (we didn't get much sleep that night!).
It is one of the easiest tents to pitch (don't fold, but stuff it in its stuff sack). In windy wet weather, pull out one end, peg it down, then slowly pull out the remainder, putting each pole in as you go. Pull the tent as taut as you can the peg down the other end. The whole job might take 2 minutes!! The poles go in the fly sleeves and the inner is already hung.
Where to Buy
sponsored links
Help support Trailspace by making your next purchase through one of the links above.
Manufacturer's Description
A remarkable, two door/two vestibule tent that offers maximum usable space and remarkable strength in an incredibly lightweight package. The Kaitum is essentially the Ultralight version of our Keron, but with a bit more width and quite a bit less weight.
Available in both two- and three-person models, it is ideal for trips where light weight is a higher priority than total strength, but where true all-season, all-weather capability is still a requirement, and where extra comfort is important. The secret of the Kaitum is its combination of our Kerlon 1200 outer tent fabric and 9 mm poles – which keeps the weight to a minimum without sacrificing all-condition strength – and its two door/two vestibule design, which affords its tremendous degree of comfort and flexibility.
The Kaitum's Tunnel Tent design and ultra light weight make it ideal for mobile adventures, where you move your camp every day, and it is equally well-suited for both long and short adventures. Outstanding for use in protected terrain any time, the Kaitum is also easily stout enough to handle forays in exposed and/or above tree-line terrain in all but the worst conditions.
Minimum weight: 5 lbs 7 oz
Packed weight: 6 lbs 4 oz
Retailers' Descriptions
Here's what other sites are saying:
Free Shipping. Hilleberg Kaitum GT 2 Person Tent FEATURES of the Hilleberg Kaitum GT 2 Person Tent Kerlon 1200 outer tent fabric and 9 mm poles make for a supremely strong yet very lightweight tent Pitching requires only four pegs, yet additional peg and guy line points - 14 on the Kaitum and 18 on the Kaitum GT - provide a myriad of options for increasing stability. Remarkably strong Spectra guy lines are attached to each vestibule vent and at two points on all pole sleeves on both sides of the tent Both the Kaitum and the Kaitum GT models have impressively spacious interiors, thanks to their generous width, full sitting height in the entire inner tent (and a bit more height in the middle of the tent), the two vertical inner tent entrances, and the tunnel design itself, which creates near-vertical side walls. These tents' inner tent length also makes them our best Ultra light tent for tall users Dual entrances and vestibules ensure that one door can always be situated out of the wind and provide flexible entry/exit and storage options One standard and one extended vestibule in the Kaitum GT afford even more gear storage and comfort The Kaitum GT's extended vestibule has two entrances, one on the side and the other, up front, on the opposite side, thus providing maximum entry and exit flexibility The entire standard vestibule's and/or the front end of the extended GT vestibule can be rolled away for maximum viewing and superb warm weather venting The ventilation system in both the Kaitum and Kaitum GT function regardless of the weather conditions, thanks to their integrated components Highly breathable yet water repellent inner tent fabric Inner tent doors have a full no-see-um mesh panel covered with an equal sized, zipper-adjustable fabric panel for greater venting and weather protection options Large vents in each vestibule, placed high enough to keep air moving even if the tent is dug down into deep snow Vestibule vents are backed with no-see-um mesh and adjustable, air permeable snow-proof panels that are accessible from inside the vestibules SPECIFICATIONS of the Hilleberg Kaitum GT 2 Person Tent Capacity: 2 Minimum Weight: 6 lbs 6 oz / 2.9 kg Packed Weight: 7 lbs 11 oz / 3.5 kg Inner Height: 40in. / 100 cm Inner Tent Area: 31 square feet / 2.9 square meter Vestibule Area: 25 square feet + 13 square feet / 2.3 square meter + 1.2 square meter Pole (9 mm): 2 x 102.4, 2 x 120.1in. / 2 x 260, 2 x 305 cm Pegs: 22 V-Pegs Moosejaw CANNOT ship Hilleberg products to Japan, Hong-Kong, Korea, or any country in Europe. Sorry about everything. Moosejaw CANNOT ship this product outside of the United States or Canada. Sorry about everything.
- Moosejaw
While both the Hilleberg Kaitum and the extended vestibule Kaitum GT were conceived as Ultralight complements to the Keron and Keron GT, the Kaitum models easily stand on their own merits. Both the two- and three-person Kaitum versions and their GT counterparts are ideal for trips where light weight is a higher priority than maximum strength and where extra comfort is important, but where true all-season, all-weather capability is still a necessity. The Kaitum and Kaitum GTs ultralight Kerlon 1200 outer tent fabric and DAC Featherlite NSL 9 mm poles keeps total weight to a minimum while providing all-condition strength, and the proven two door/two vestibule tunnel tent design also provides outstanding comfort and flexibility. Both are ideal for mobile adventures that involve moving camp frequently, and both are equally well-suited for long and short adventures. The Kaitum and Kaitum GT are outstanding for use in protected terrain in any weather, and both are also easily robust enough to handle use in exposed and/or above tree-line terrain in all but the worst conditions. And both the Kaitum and Kaitum GT are excellent for warm weather endeavors, since the front section of both the standard and the extended vestibules can be completely rolled away for maximum air flow.
- CampSaver.com
The Hilleberg Kaitum 2 Tent is a remarkable two doortwo vestibule tents that offer maximum usable space outstanding comfort and excellent strength in incredibly lightweight packagesThe Kaitum ultralight Kerlon 1200 outer tent fabric and DAC Featherlite NSL 9 mm poles keeps total weight to a minimum while providing allcondition strength and the proven two doortwo vestibule tunnel tent design also provides outstanding comfort and flexibility Both are ideal for mobile adventures that involve moving camp frequently and both are equally wellsuited for long and short adventures Because of their two doortwo vestibule configuration and their ultralight materials and construction the Kaitum provides a stunning balance of super light weight overall comfort and high strength Features Tunnel design with its singleopening continuous pole sleeve construction and linked inner and outer tents makes the Kaitum quick and easy to set up Ultralight materials Kerlon 1200 outer tent fabric and 9 mm poles make for a supremely strong yet very lightweight tent Pitching requires only four pegs yet additional peg and guy line points provide a myriad of options for increasing stability Spacious interiors thanks to their generous width full sitting height in the entire inner tent and a bit more height in the middle of the tent the two vertical inner tent entrances and the tunnel design itself which creates nearvertical side walls These tents inner tent length also makes them our best Ultralight tent for tall users Two entrances and two vestibules afford tremendous convenience flexibility and comfort One entrance of the tent can always be situated out of the wind The Kaitum GTs extended vestibule has two entrances one on the side and the other up front on the opposite side thus providing maximum entry and exit flexibility The ventilation system in the Kaitum system functions regardless of the weather conditions since the inner tent fabric is highly breathable yet water repellent and each end has a large vent placed high enough to keep air moving even if the tent is dug down into deep snow The entire front end of each vestibule can be rolled away for maximum viewing and superb warmweather ventingNOTE This product only ships to North America
- Bentgate.com
Hilleberg Kaitum 2
currently retails for:
$834.95 - $984.95
MSRP: $715.00

where to buy: