Hydro Flask
21 oz Standard Mouth Bottle
Reviews
HYDRO FLASK Narrow Mouth Water Bottle, 21 oz. This…
Rating:


Source: bought it new
Price Paid: $22

Summary
HYDRO FLASK Narrow Mouth Water Bottle, 21 oz.
Pros
Insulates well
Fits in cupholder
Cons
Difficult to clean if used with other liquids
This is a doubled walled stainless steel with a vacuum between the two walls so it insulates really well. It has the standard narrow mouth and cap. Even though I had the other two Hydro Flask bottles, my wife talked me into getting this one too, as it was on sale.
It turns out I like it a lot more than I would have thought. My main concern was that the narrow mouth would make it too difficult to put ice in it, but I find that I can squeeze a few cubes in, and then because it is so well insulated, it stays cold a long time. In fact, that prevents me from putting too much ice in it. 
The bottle is a little sleeker, so it is easier to carry, and it fits in cupholders. It is really nice to be able to have ice water on a hot day. I don't use this one for adult beverages, or anything other than water, since I am concerned that the narrow mouth will make it difficult to clean. It is small enough to fit in some jacket pockets. The double wall construction does add some weight, but it is certainly worth it for the insulation.

Resting at home:

With the 18 oz wide mouth and the 40 oz wide mouth, and a Nalgene for comparison: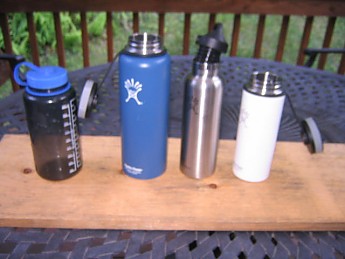 Should be six stars. I bought two of these, one for…
Rating:


Source: bought it new
Price Paid: $30

Summary
Should be six stars.
Pros
Maintains temp for at least 12 hours
Durable
I bought two of these, one for my wife and one for me. Unfortunately my daughter took one so I sort of missed out. She would fill her bottle with ice water before school and have ice water for cross country practice after school.  Water is great ice water is a luxury. My wife takes hot coffee to school and there it is still hot at the end of the day. Ice water will still have some ice in it after 24 hours and hot beverages will still be hot after 12.
Once you start using one of these you'll just keep coming up with more uses. Cold weather hike — hot broth, bag a special peak — cold beer.
Of all the water bottles we have these two are the only ones that don't ever get put away. We are always finding uses for them.
Really one of the best bottles I've used. It's made…
Rating:


Price Paid: $25

Really one of the best bottles I've used. It's made from stainless steel and is vacuum insulated. Unlike other bottles I've used, the Hydro Flask doesn't sweat or get cold when I put ice cold water in it. It keeps cold stuff cold and hot stuff hot like an old-school thermos. 
I use it for hiking, biking, and camping. And I use it for my cold water or hot coffee.
Hydro Flask 21 oz Standard Mouth Bottle
currently retails for:
$21.94 - $27.95