Ibex
Zepher Skull Cap
2

reviews

5-star:

1

4-star:

1

3-star:

0

2-star:

0

1-star:

0
Reviews
A comfortable merino wool hat that will become your…
Rating:


Source: received it as a sample, freebie, or prize (The awesome folks at Trailspace!)

Summary
A comfortable merino wool hat that will become your new favorite hat within a few minutes of wearing it. Definitely worth spending a few bucks on (though mine was a prize).
Pros
Comfortable
Warm
Looks good
Cons
The Trailspace logo pulled it slightly out of lay.
So I have a SERIOUS PROBLEM with this hat....pretty soon it's going to be too warm to wear it all the time.
This merino wool hat is phenomenally comfortable and comforting. I've been home sick all day today. The house has been cold, and I've been in my jammies and Ibex Zepher Skull Cap the entire time.
Aside from pulling nursing duty, the Zepher is a great piece of head gear to have in the outdoors. In mild temps or when I'm working up a sweat, this provides the right amount of warmth. When temps have fallen into single digits, I've layered this with my Black Rock Beanie for an unbeatable combo of warmth and comfort.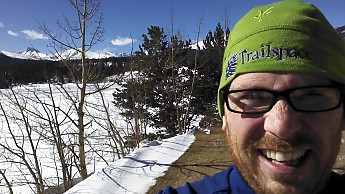 The fit is nice. It's not too tight (although, wearing glasses for an extended period does create those dreaded tender spots behind the ears). People have complimented me on the color.
The only con is when the Trailspace logo was sewn onto it, it pulled the lay of the hat just a bit. It's not a huge con. It's just enough to annoy me a tad. Since most people would be looking to buy this sans logo, it's not a big deal.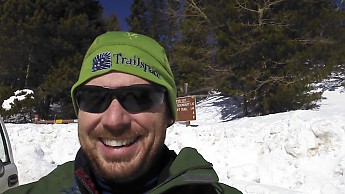 (Note the dimple in all 3 pics below and right of
the logo. That's a the pull I'm talking about.)
This Ibex Zepher Merino Wool Skull Cap that I received…
Rating:


Source: received it as a sample, freebie, or prize (Trailspace )

Summary
This Ibex Zepher Merino Wool Skull Cap that I received from TS has quickly become my go-to beanie. Highly recommended!!
Pros
Comfortable
Good fit
Warm
Versatile
Cons
Loosens a bit after a few uses
I really like this beanie. It was a gift from TS for posting a picture in Glacier Nat'l Park of my water bottle with a TS sticker.  Thanks again, TS!!  
It is very versatile in different weather conditions and has been great for hiking, jogging, outdoor sleeping and general use.  It looks good and fits very comfortably. It keeps my head warm and functions as it should. I noticed it doesn't make my head itch as bad as most of my other beanies.  That is a big plus.  
It does loosen a bit after a few uses but a quick wash and cycle through the dryer tighten it right back up.  
Manufacturer's Description
Visit Ibex's Zepher Skull Cap page.
Retailers' Descriptions
Here's what other sites are saying:
Don't leave your ears to face winter's worst all by their lonesomes--give them the same protection as the rest of your head with the Ibex Zepher Skull Cap. Your delicate protuberances will appreciate the Zepher's soft, insulating merino wool that doesn't itch and stays warm even when wet. Wear it alone on a high-powered skate ski; or, thanks to its form-fit, four-panel design and flat-lock seams, you can layer it under a helmet for extra warmth.
- Backcountry.com
Ibex Zepher Earflap Beanie DECENT FEATURES of the Ibex Zepher Earflap Beanie Form fit Ear protection Flatlock seams 4-panel construction Machine washable Made in USA The SPECS of the Ibex Zepher Earflap Beanie 100% ZQ New Zealand Merino Wool 18.5 micron High Performance Interlock 230g/m2
- Moosejaw
You won't forget to keep your noggin warm with the Ibex Zepher Skull Cap. Designed in wool, performance and beauty doesn't stop at your neck. Designed in 100% dense-knit New Zealand Merino wool with a wool blend lining, contrast stitch details and logo embroidered under visor/back highlight the hat.
- Altrec Outlet
Ibex Zepher Skull Cap
MSRP:
$25.00

The Ibex Zepher Skull Cap is not available from the stores we monitor. It was last seen June 5, 2014 at Backcountry.com.
If you're looking for a new winter hat, check out the best reviewed current models.