Jacks 'R' Better
Greylock 3
2

reviews

5-star:

2

4-star:

0

3-star:

0

2-star:

0

1-star:

0
Specs
Weight
16 oz / 0.45 kg

Length
52 in / 1.32 m

Width
42 in / 1.07 m

Loft
2.5 in 6.4 cm

Material
1.1 oz., 30 denier, ripstop nylon

Insulation
800 or 900 fill power goose down

Temperature Rating
20°-25° F / -7° C

Reviews
A high quality, 3/4-length, down UnderQuilt demonstrating…
Rating:


Source: bought it used
Price Paid: $130

Summary
A high quality, 3/4-length, down UnderQuilt demonstrating exceptional craftsmanship. Exceeds similar products I have tested. The Greylock 3 supports my premise that America's cottage industry providers exceed most items that are mass-produced.
Pros
Very well made
Made in the USA
Weight (16 oz)
True to temperature rating
Cons
3/4-length saves weight, but reduces coverage
Jacks 'R' Better (JRB) is a cottage industry manufacturer of hammocks and hammock products. Its reputation is well-known and, quite rightly, excellent. Having compared this product to the ENO Ember, JRB proves that many cottage industry companies provide better and lighter equipment.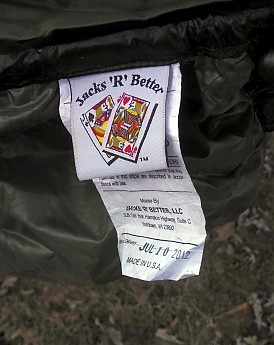 I purchased my Greylock 3 used off of eBay. The seller did not care for a 3/4-length (i.e. torso-length) UnderQuilt and was selling this in order to upgrade to a full-length UQ. While I could not pass up the $130 price tag, I will agree I would prefer a full-length UQ. This one criticism of the Greylock 3 would be a con of any shorter UQ, and does not speak to the quality of the product itself. It does what it is designed to do.
I have owned this UQ since February 2013, and I have lost count of how many nights I have slept in it. I have used it in a wide range of temperatures. Tending to be a "cold sleeper," I have only become uncomfortable at temperatures below 23°F, which is within the 20F-25°F comfort range established by the manufacturer.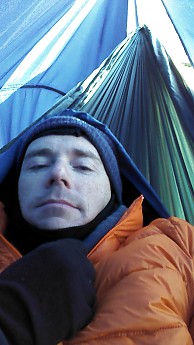 A sub-freezing night in the Garden of the Gods Wilderness Area.
The Greylock 3 uses 1.1oz, 30 Denier, rip stop nylon with 800-fill down. For an additional fee, the UQ can be purchased overstuffed or with 800-fill Activ-dri down, which is suppose to deal better in damp conditions. I have not tested these options.
The UQ is baffled to keep the down in place. Construction and stitching is exceptional. It is surprising that something so light and seemingly delicate can provide so much warm (In way of warning JRB's website does remind users that lightweight materials do not withstand much abuse. They also state that with proper care their products can last for a lifetime.).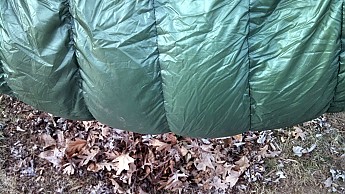 I have used the 42"x52" UQ with three different-sized hammocks. I have found it to work well with all of them, including my 132"x60" DangerBird. Because it is only a torso-length UQ, an additional pad or even a backpack is required for insulating the legs and feet.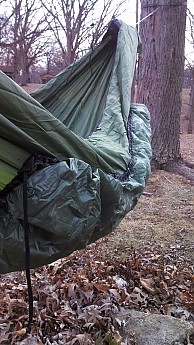 Fitted to my 60" wide DangerBird.

The Greylock 3 is fitted to the hammock using an adjustable shock cord that clips to each end of the hammock with micro-biners (included and part of the established 16oz weight). The UQ slides along this cord through sewn channels in order to place it where it is needed.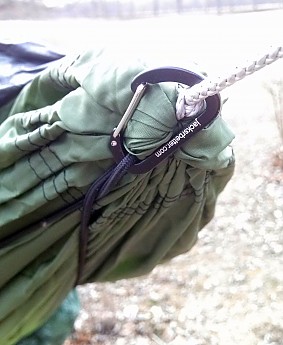 The cord is twisted in this pic to show the JRB logo.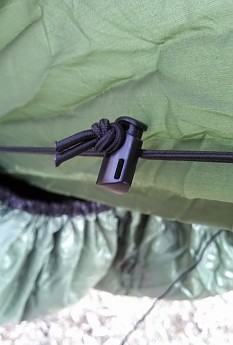 Adjustable draw cords are placed on each end to close the air gap and bring the insulation up against the hammock.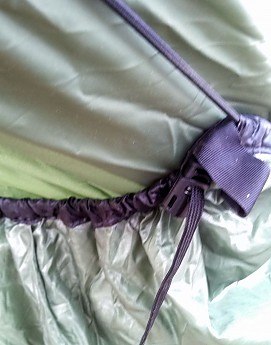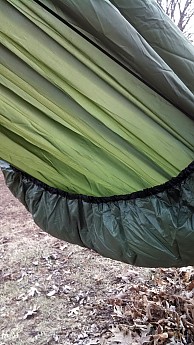 The UQ comes with its own compression sack. However, I prefer to simply stuff the UQ into the bottom of my pack.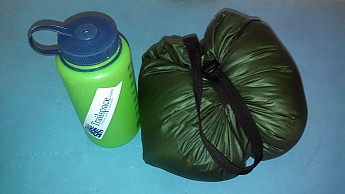 Summation: At only 16oz, the Greylock 3 is lighter than many pads and provides full coverage around the shoulders and hips. While I would prefer a full-length UQ, I have been immensely satisfied with the Greylock 3. The quality and craftsmanship make this product well worth the purchase.
As a lightweight bottom insulation this is great!
Rating:


Source: bought it new
Price Paid: $180

Summary
As a lightweight bottom insulation this is great! I purchased it because it was the 3/4 length and it works well for the way I hammock sleep. It's a quality product made by guys you can speak to directly and who stand by their craftsmanship.
Pros
Lightweight
Very well made
Made in the USA
Fast shipping
Great customer service
Cons
A bit more expensive than mass produced products
I use this paired with an ENO DoubleNest hammock. For my height the length of the underquilt covers from neck/shoulders to below my knees. It is in my opinion very wide wrapping up nicely around me.
Setup is very simple and intuitive once attached to the hammock the full channel suspension is adjustable from inside the hammock. Once adjusted properly it can simply be unclipped and packed away and left ready and nearly fully adjusted for the next use.
Overall packability is good. Can nearly be compressed down to the size of a soft ball. 
So far I have used this on one short backpacking trip, one BSA campout and a few nights of testing in my backyard. I use a sleeping bag for top insulation and add a small sit pad to the footbox area to complete the setup and have had great results.
I am very satisfied with my purchase and would definitely recommend this to others that want to hammock camp.
Jacks 'R' Better Greylock 3
MSRP:
$219.95

The Jacks 'R' Better Greylock 3 is not available from the stores we monitor.
If you're looking for a new under quilt, check out the best reviewed current models.