Kodiak Canvas
10x10 Flex-Bow Canvas Tent Deluxe
Reviews
This tent ended up being more of a palace than a tent.
Rating:


Source: bought it new
Price Paid: $479

Summary
This tent ended up being more of a palace than a tent. You won't backpack with it (unless you have a pack mule), but it is an amazing upgrade from regular tent camping. It held its own in heavy rain, and completely changed how I look at base camp living.
Pros
Spacious
Sturdy
Waterproofing that works
Visually appealing
Easy to set up
Cons
Gear loft gets in the way if you're tall.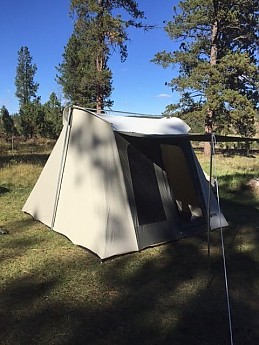 The 10x10 Kodiak Canvas Tent ended up being one of the best tent purchases I have ever made. I must admit that I was nervous. There had been some reviews about how difficult it was to set up, how it didn't prevent leakage in the rain, mold issues, and so on. My luck is such that when there are a few complaints like that, my purchase ends up on that side of the fence.
I was concerned that it was expensive compared to other tents I was looking at but, in the end, I rolled the dice and took a chance.
I am happy to report that I am so glad that I did. This tent is a palace. It was on sale and came with a gear loft and free ground tarp. The loft was OK, but the ground tarp was amazing.
Setup was a breeze (well, maybe two breezes). You stake down all the loops, and then assemble the poles. It did take a little muscle to get the second side up, but I like the tent fabric tight. I could have gone an inch or so less and it would have been fine, and easier. It's a good flex bow pole system, and the design is so simple. If you have any questions on it, there are good videos out there showing a woman setting up the tent by herself.
I didn't have a good concept of how much room I'd have, but it ended up being a lot. I had a cot, heater, clothes, assorted stuff, and a makeshift table inside and I was not cramped at all.
There are two sets of doors with screen windows on them. I bought the Deluxe model which is the middle version. It has two additional windows in the doors. The basic has one on each door while the Deluxe VX has windows on the sides as well. There was plenty of ventilation with the mid-line version.
This model also has an awning with poles and additional guy lines. It was funny in a Benny Hill sort of way trying to get it set up alone, but once tied down, it held up fine in wind and rain.
The gear loft is large, but it didn't set up vert tightly, and when I put a few clothing items in there, it sagged enough to be annoying. I'm 6 foot tall and the loft got in my way. Where it wasn't hanging, I could stand up straight. I ended up folding the loft in half and hanging it against the wall. It held what I wanted to and I had nothing in my way as I moved through the tent. It also comes with a gear organizer. It's made of mesh and has several different size pockets. It was very handy. This tent also came with a bonus ground tarp. It was heavy duty and worked well.
This tent is heavy, so it's great if you are driving to your campsite or packing in on an animal. The only cautionary note is that you must make sure that the tent is dry when you pack it up. Any moisture will turn into mold and ruin the tent while it is packed.
There were a few rainstorms during my two weeks camping, and there was no leakage at any time. There was a little bit of interior condensation, probably from my breath because it was cold at night. When I ran the heater, that disappeared.
I am looking forward to many years of use from this tent.
My wife, son, and I went on a month long camping trip…
Rating:


Design: four season flex-bow, not free standing
Sleeps: 6+
Ease of Setup: EXTREMELY EASY
Weight: 50-75 lbs?
Price Paid: $429

My wife, son, and I went on a month long camping trip across the country in 2008. We wanted a large-ish, quality tent that was easy to set up. This tent fit the bill.
It is EXTREMELY easy to set up, VERY good quality, and roomy as all get out. Just follow the directions on pre-use, and care, as well as get a tarp to go underneath it, and you will be one happy camper.
We were hoping for torrential downpours, so that we could see how well it stood up, but that didn't happen, however other reviewers had that experience with great results. Just google the reviews and you'll see.
Get it!!! It is WELL WORTH YOUR MONEY!!!
If you are looking for a premium rugged tent that…
Rating:


Design: All season, Flex-bow. Not Freestanding.
Sleeps: 6+
Ease of Setup: About as easy as it gets
Weight: 65 lbs
Price Paid: $429

If you are looking for a premium rugged tent that will stand up to the elements, this is it.
What I like: 1) Very rugged. Withstands fierce winds. 2) Easy to set up. After the stakes are in it goes up in a few minutes. 3) Comfortable. High ceilings even in the corners. Breathable canvas eliminates mugginess. 4) Openness—with the single wall design, open the large windows and look outdoors. That's what we are there for right. Really well made. I highly recommend it.
The cons: Yes, it's heavy duty, and yes, it's heavy.
Thank you, Kodiak Canvas.
Where to Buy
sponsored links
Help support this site by making your next gear purchase through one of the links above. Click a link, buy what you need, and the seller will contribute a portion of the purchase price to support Trailspace's independent gear reviews.
Kodiak Canvas 10x10 Flex-Bow Canvas Tent Deluxe
currently retails for:
$549.99
MSRP: $569.99

Recently on Trailspace