L.L.Bean
Maine Hunting Shoe
Where to Buy
Reviews
Rain boots suitable for walking in wet and muddy trails.
Rating:


Source: received it as a personal gift

Summary
Rain boots suitable for walking in wet and muddy trails. not so good for hard core steeps and rocks. Comfortable and built to accommodate heavy socks. Love the bison leather and retro brick red sole.
Pros
Keep your feet dry
Comfortable to walk in
High-quality leather molds to your legs easily
Should have outstanding durability
Cons
Limited support
Limited protection for feet in rocky conditions
Soles are sticky for wet weather; unaggressive tread pattern
For really cold weather, uninsulated boots are not the best
Quite possible the ultimate wet weather shoe. the last time i bought a pair of Bean's maine hunting shoes (8 inch brown leather upper) was nearly twenty years ago.  the design hasn't changed much in the last fifty years, though.  rubber bottom is absolutely waterproof, leather uppers also keep your feet dry if properly treated.  comfortable if you don't need lots of support or foot protection.
i received these as a gift because the soles on my old pair are well-worn, and because the insides are (a) pretty smashed up and (b) not roomy enough to use with really warm socks.  these new ones are great, having done some flat trail-hiking in wet weather, and after plowing 3 inches of wet snow off my parents' driveway and walkways for a few hours this morning.  why?
-bison leather uppers - appreciably softer than the leather on my older pair.  too new to need waterproofing yet, but very supple and form-fitting.
-rubber bottoms on these have a mild shank, which provides more support than my older pair.
-rubber bottoms built to fit with very thick socks, increases the temperature range quite a bit.  i wore them with expedition-weigth Bridgedale socks today while sloshing around in inches of snow and slush, and my feet were peachy.
-the just plain cool factor of the bricky-red soles, which Bean apparently offered early in the company's life, according to stock photos that were unearthed as the company approached its 100th anniversary.
if you need traction, not ideal, get something with a real lug sole.  if you need true cold weather shoes, get ones insulated with felt or some kind of synthetic like primaloft.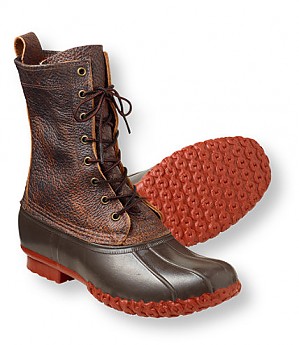 Where to Buy
L.L.Bean Men's Maine Hunting Shoe
currently retails for:
$129.00 - $199.00