Lafuma
Extreme 600
3

reviews

5-star:

1

4-star:

2

3-star:

0

2-star:

0

1-star:

0
Specs
spring 2010

Weight
1 lb 4 oz / 570 g

Temperature rating
45 F / 7.2 C

EN comfort
54 F / 12 C

EN lower limit
45 F / 7.2 C

EN extreme
23 F / -5 C

Fill
Synthetic

Shape
Semi-rectangular

Reviews
I haven't even slept in this bag yet and I love it!
Rating:


Design: mummy
Fill: synthetic
Temperature Rating: 45 F
Weight: 1 1/4 pounds
Price Paid: $34.98

I haven't even slept in this bag yet and I love it! 20 ounces! That's right 20 ounces! The thing rolls down to a miniscule size; I can just about fit it in to my jacket pocket!
I'm a warm sleeper, so 45 degree rating isn't a problem. Besides, you buy this for warm weather, not for the 100 Mile Wilderness in April. Be sure that you use a sleeping pad, because obviously there isn't much insulation in this thing. And like one of the other reviewers mentioned, throw in a microfiber or silk liner and you've got a 35 degree bag that weighs under 2 pounds! How sick is that?
If I need warmer digs, I'll just pack my Lafuma Warm n' Light 1600 with its 10 degree rating (at just north of 3 pounds). Hey maybe I can use this as a liner in the 1600 and have a really killer cold weather combo!
Update: February 10, 2010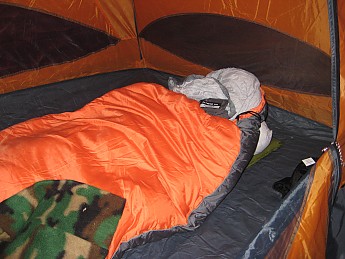 I wanted to submit a follow-up review on this bag: in addition to being a great little warm weather bag, I've been using this as a winter bag liner for my LaFuma Warm n' Light 1600G. This combination has allowed me to sleep quite comfortably at 5 degrees F with a -15 degree windchill.
The added bonus is that it only weighs a buck-and-a-quarter and easily stuffs inside the 1600G in the bag compartment on my Osprey Atmos 65. So, I have a killer sub-zero sleeping system that weighs less than 5 pounds.
If there is one complaint I have, it's that the LaFuma bags seem to have a very slim cut (performance mummy) and can be a little snug on my type of physique. However, when the mercury dips, that snugness is appreciated. Oh well, I guess I should just shed a couple extra lbs.
Overall a steal of a warm weather bag. First of all…
Rating:


Design: Mummy
Temperature Rating: 45F
Weight: 20 oz
Price Paid: $64

Overall a steal of a warm weather bag. First of all it is 20 ounces. That's right, 20 ounces. It packs to the size of a Nalgene bottle. Functionally everything is fine. No zipper snags, shell is durable enough, etc...
Why did I ding it half a star? Typical Lafuma liberal temp rating. I knew it going in and so should you. This bag is rated to 45F. I'm a warm sleeper and i start to get chilly around 55F. But hey, it's a warm weather bag right? I mean c'mon, it's only twenty ounces. I throw a liner in there for an additional 5 degrees and voila, a 50 degree bag.
I wonder what would result if you bought two of them and put one inside the other??? At only 2lbs-8oz, I think you'd have a sweet set-up.
This bag is just what it says it is, ultralight. I…
Rating:


Design: Mummy
Temperature Rating: 45 f or 7c
Weight: 1lb 4oz
Price Paid: $35

This bag is just what it says it is, ultralight. I would highly recommend a sleeping pad with this bag. Also it could come with a better stuff sack. It is about 6" round by 12" long. Still, a nice bag for the price.
Retailers' Descriptions
Here's what other sites are saying:
Very light and compact sleeping bag providing effective and comfortable insulation. The Extreme 600 is perfect for summer months. A lightweight, extremely compact bag is perfect for travel.
- SunnySports
Free Shipping. Lafuma Extreme 600 Sleeping Bag DECENT FEATURES of the Lafuma Extreme 600 54 Degree Sleeping Bag Extremely lightweight construction with one layer of filling. Thanks to the in.seamless sidein. technique, more air can be captured between the layers,thus increasing the bag's calorific efficiency Zipper Guards anti-jamming construction: Prevents the lining of the sleeping bag from getting jammed in the zip Pairable: Available in left and right zipped versions to allow easy assembly of both bags Interior Velcro pocket Phosphorescent zip pull Double cursor The SPECS Weight: 1 lb 4 oz Comfort: 54deg F Transition: 45deg F Risk: 23deg F Filling: 1.5 D + 3 D fiber 50g/m2 Outer Envelope: Water-repellent treated, Ripstop 40 D 260 T polyamide Lining: Ripstop 40 D 240 T Polyamide
- Moosejaw
This is a great lightweight, affordable, choice bag for all your summer or emergency camping needs | Comfortable down to about 40 - 45 degrees, the Lafuma X 600 can fit in your bike panniers, under your motorcycle seat, or at the bottom of your small weekend pack | 32 in. wide at the head, 20 in. wide at the feet, and 6 ft. 11 in. from top of the bag to bottom, this bag can fit just about anybody | A great choice for any summer activity or as an emergency blanket to stow away in your vehicle | Choice of a left or right zip in the Grey color
- Tahoe Mountain Sports
Lighten your load with the airy Lafuma Extreme 600 +45 sleeping bag. Polyester fiber fill provides excellent warmth for its weight and remains extremely breathable; synthetic fill continues to insulate when wet. Shell and lining are made of micro-ripstop nylon, which is soft, incredibly lightweight and durable. Shell is treated with a water repellent finish to keep moisture at bay. Insulated hood features a drawcord, making quick adjustments and improving thermal efficiency a cinch. Full-length, antisnag locking zipper allows bag to be joined to another Lafuma bag so two people can sleep under the same cover. Internal rip-and-stick pocket keeps essentials close and easy to find at night. Special buy.
- REI
At a weight of only 1lb 4oz, the Lafuma Extreme 600 45-Degree Sleeping Bag is perfect for anyone who wants an ultralight bag without down insulation. Filled with highly breathable Super Fine Fiber insulation inside its water-resistant 40D nylon shell, the Extreme 600 takes a soaking and keeps on going. Insulated zipper guards assure that no cold air sneaks in, and an internal pocket gives you a place to stash your watch for a pre-dawn wakeup call.
- Backcountry.com
Lafuma Extreme 600
Discontinued
The Extreme 600 has been discontinued.
previously retailed for:
$29.93 - $79.49
The Lafuma Extreme 600 is not available from the stores we monitor. It was last seen November 26, 2012 at SunnySports.
If you're looking for a new warm weather synthetic sleeping bag, check out the best reviewed current models.