Reviews
Best all leather boots I've ever owned! Due to a crush…
Rating:


Source: bought it new
Price Paid: $25

Summary
Best all leather boots I've ever owned!
Pros
The quality feel of the leather
Stiff, waterproof, excellent grip
Lacing system, overall fit, the quality feel when you slide your feet into this boot
Cons
Not available in camouflage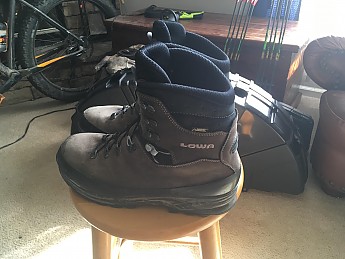 Due to a crush injury to my right lower leg I have an extremely hard time finding boots/shoes that help with the pain from crushed nerves.
That being said! I found this pair of boots at a resale shop new in the box and unworn, for $25! They fit perfectly! The owner had received them as a gift and never tried them on. 
I started wearing them everyday to my hunting lease, rain or shine. I've never had a pair of boots that compare! I mean, I've worn Rockys exclusively due to two styles that fit. I've worn these boots everyday for the last six months for an average of ten hours a day. I'm in East Tennessee and our climate tests the best of boots, and these boots still look nearly as good as the day I pulled them from the box.
The lacing system totally allows for support of my lower leg, ankle, and foot. Nothing else can compare.
I have ordered another pair for myself as well as a pair for a hunting buddy that got his leg messed up in the Middle East from an IED. 
Best boot I have ever placed my feet into. As the…
Rating:


Source: bought it new
Price Paid: $350

Summary
Best boot I have ever placed my feet into.
Pros
Comfort
Best for backpacking
As the song says "simply the best." if you find a better boot buy it! I know you won't, these bad boys will keep your feet dry and comfortable while backpacking or hiking.
The first pair of Lowa boots I purchased were the…
Rating:


Price Paid: over 3

The first pair of Lowa boots I purchased were the GTX Mountain Hunter.  However, this boot being insulated proved to be too warm for the bow season. So I found a pair of Tibets and purchased them. 
After about 3 years they developed a leak. I took them to a Lowa retailer, not the one i purchased them at, and they helped me send them to Lowa to see if it was a durabilty issue. It was, and i got replacement boots.  :) 
However, I decided to purchase another pair also. These are my go-to boots down to 20* F 
Stiff, comfortable, great support, great company. I have two pairs of Lowa Tibets gtx and one gtx Hunter. Great boots!
I bought these boots as a semi-rigid boot for general…
Rating:


Materials: leather, gore-tex
Use: dayhikes, via ferrata, off trail
Break-in Period: 1 week city walking + 2 hours hike
Price Paid: 200 EUR

I bought these boots as a semi-rigid boot for general alpine use. After a week walking around town, I took them for an easy 2 hour hike. That was enough to break them in sufficiently for a 9 hour T4 hike on mixed rocky ground including VF in the range A-C and some grade I climbing. The boots felt good, comfortable and though the temperature was more than 30C, and we were approaching the peak from the SE with the blazing sun being mercilessly bright, my feet never felt too hot. I always felt quite comfortable with respect to balance and grip on both the rock and the metal studs and ladders.

Finally, the boot is quite sturdy and inflexible. It only bends slightly when you put your full weight on one foot, but on the other hand they are not too uncomfortable to run in should you want to. Finally, they can take a crampon, so they should be usable on glaciers as well.

I cannot say anything about their durability at the moment, though the rubber outsole seems to have already been visibly worn somewhat.


Update: May 9, 2008
(A year update) One of the most excellent boots I've had in a while, which I bought as a tougher replacement to my Scarpa ZG20.
Fit and Stiffness: These are supposed to be backpacking books, so they are pretty stiff - just a notch softer than mountaineering boots. They are nevertheless even sufficiently comfortable for brief runs if necessary. The lacing system is superb, allowing you to tune the tightness of the upper and lower parts separately.
The upper part feels comfortable when you let it loose.
The width of the toebox is average.
Temperatures: I wore them in temperatures up to 30C with no major discomfort - the boot really breathes well. They feel warm in temperatures down to around freezing - I haven't used them in lower temperatures.
Terrain: The boots feel secure in trails, on rocks, on scree, on snow (ankle-deep), on via ferrata and grassy slopes. Haven't really tested their waterproof capacity.
Durability: I have only had them for a year, but they still look great. Outsole is holding up.
These boots work great! I have had them almost two…
Rating:


Materials: leather, Gore-tex
Use: backpacking
Break-in Period: 100 miles
Price Paid: $225

These boots work great! I have had them almost two years and probably have put 800 dry and comfortable miles on them. They are the first boot I've had that has kept my feet dry from tromping through wet slush all day!
Pro's
-good under foot cushioning, thank god!
-stiff sole is great for off-trail exploration, but still very comfy to walk lots of miles in.
-somewhat narrow fit, which is good for me
-great waterproofness
-Super tough build
Cons
-Heavy, so they won't be your first choice for day hikes
-They can be hot in the summer, but any all leather boot will be, Gore-tex or not
I'm a large format (4x5)landscape photographer, and I usually carry about 60-65 pounds for 4-5 day trips, maybe a bit lighter in the summer, and lighter yet if i can find someone to go with me and i can make them carry the tent, cooking stuff, and other crap, but most of the time it's just me. Anyways, I put a lot of stress on boots, and these have held up the best, and I see myself using them for another year or more. I would not get them resoled, only because I have had bad experiences in the past with resoling my boots.
To date I have put roughly 200 miles on these boots…
Rating:


Materials: All Leather/Gore-Tex
Use: Rough Trail with Heavy Packs
Break-in Period: Almost out of the box - surprising for their stiffness.
Weight: 4 lb. 6 oz (size 11 Medium)
Price Paid: $215/$270

To date I have put roughly 200 miles on these boots from moderate trail hikes to bushwacking/mountain climbing in British Columbia and they have performed superbly. I have a wide, lower volume forefoot and a narrow heel and they fit great (the European lasts are reputed to fit a wider variety of feet than the U.S. lasts tend to).
The downside is that they are a stiff boot and a bit on the heavy side (4 lb. 6 oz./pr in size 11M) due to their contruction, but for carrying a heavy pack in rough terrain/off-trail travel they are excellent. As such, some folks might not care for them as an all around boot.
I liked them well enough that I bought a second pair just in case Lowa changes/discontinues the model.
Where to Buy
sponsored links
Help support this site by making your next gear purchase through one of the links above. Click a link, buy what you need, and the seller will contribute a portion of the purchase price to support Trailspace's independent gear reviews.
Lowa Tibet GTX
currently retails for:
$299.94 - $385.00

Recently on Trailspace