Maui Jim
Kapalua
1

review

5-star:

1

4-star:

0

3-star:

0

2-star:

0

1-star:

0
Reviews
I don't think sunglasses can be made any better than…
Rating:


Source: bought it new
Price Paid: $300

Summary
I don't think sunglasses can be made any better than this. They are so lightweight, you forget that you're wearing them. Not only do they protect your eyes from all forms of UV, but they're a hardened acrylic that has protected my eyes from bushwhacking twigs, shell casings, and high speed flying pebbles. Fantastic!
Pros
Ridiculous light weight at only 0.39 ounces — I can hardly tell I'm wearing them
Polarized finish is AMAZING — colors pop, especially with the Maui Rose lens finish
Did I mention I really appreciate the Maui Rose colored lenses? They are a joy to wear.
Cons
Requires two hands to put it on.
Does not stow away easily without special case.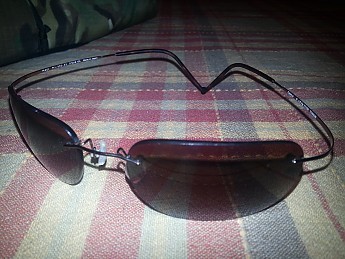 Choices choices... it seems that getting good performance is always a tradeoff; there's always some downside, right? That said, I really don't think sunglasses can be made any better than these.
The only downside I see to these glasses stems from the fact that the titanium frame is thin, has no hinges and is designed to hold on to your head and face using a light spring-like pressure. As such, you can't fold these glasses into your pocket without risk of damage. So, storage requires the Maui Jim special case which is annoyingly big.
The second downside is that since the frame has no hinges, and since the frame is build a bit like a spring to hold on to your face / head, you really do need two hands to put them on your eyes or over the top of your head for storage. Taking them off is easily done with one hand from the bridge of the glasses.
Really ... that's all I can say that's negative. That's it and nothing more. Why? The designs that create issues for these glasses are also part of the designs that make these things nothing short of amazing. The springy nature of the frame means they hold onto your face in many situations when other glasses just won't stay on. Yet, it's not too tight. The thin Titanium frame is what gives the form, strength and ultra light weight to these performers. In other words, if you want the incredible upside to these things, you have to take the annoyance of how to store them and how to put them on. I'll take it! In fact, I bought three I love them so much!
I wear them in the ocean, hiking, shooting as eye protection (they're tough), swimming in pools, as driving glasses, and while skiing. While they don't do everything, they sure do work perfectly in 99% of the situations I put them in. I'm impressed.
My three pair have the Maui Rose lens finish, the Neutral Grey finish and the HCL Bronze finish. I love and wear the Maui Rose version the most because I get the most clarity, distinction of shape and explosion of color while also protecting my eyes with the Maui Jim PolarizedPlus2 finish (they all are Polarized). I reach for the Neutral Grey (it's pretty dark) when the sun is really beating down, and I almost never want to use the HCL Bronze finish.  Maybe I should sell those because they never get used.
I recently realized these may not be my favorite piece of gear, but I probably rely on them the most.
I hope that's helpful. Happy Adventuring!
Where to Buy
sponsored links
Help support Trailspace by making your next purchase through one of the links above.
Manufacturer's Description
Visit Maui Jim's Kapalua page.
Retailers' Descriptions
Here's what other sites are saying:
The Maui Jim Kapalua is the pinnacle of Maui Jim's ultra-light sport designs. The Kapalua is part of the Maui Jim Titanium Sport line of sunglasses. Fashioned from a strong, flexible beta-titanium alloy and combined with impact-resistant polycarbonate lenses, the Kapaluas weigh a mere eleven grams. Maui Jim's exclusive CLEARSHELL coating resists scratches and scuffs, and like all Jims, PolarizedPlus Technology eliminates glare and UV rays. A polarized lens' primary function is to reduce glare--that is, light reflected from a flat surface which greatly diminishes color and contrast. A body of water, a windshield, and even an asphalt road are all notorious producers of polarized light. Polarized lenses are most useful when trying to see through these reflecting surfaces, like when fishing, boating, or driving. Maui Jim sunglasses feature one of the most effective polarized lenses on the market. They are lightweight, tough, and very stylish.
- Backcountry.com
Sleek and lightweight, these hingeless wrap-around Maui Jim Kapalua sunglasses eliminate glare and keep the sun out with the Maui Jim PolarizedPlus2(R) technology. Polarized lenses reduce 99% of visible glare from water, snow, sand and pavement for increased visual acuity and decreased eye strain. Lightweight and virtually shatterproof, polycarbonate lenses are 20 times more impact resistant than glass and one-third the weight. Front and back of lenses feature a Clearshell(R) hard coating that provides excellent scratch resistance. Ultralight titanium alloy frames are engineered for comfort and durability with flexible temples to hug face for relaxed fit. Mid-size frame with a soft rectangular shape is ideal for medium face sizes. Adjustable, silicone nose pads prevent slippage. Maui Jim Kapalua sunglasses come with a semi-rigid case and a soft pouch for cleaning and storage.
- REI
The Maui Jim Kapalua has a Titanium Frame that flexes to fit with no hinges. The frame weighs nearly nothing, but is still durable. The polarized polycarbonate lenses block 100%UV (ABC) and are gently curved to provide good coverage and great style.Appeal: Unisex.Frame Shape: Rectangle, Wrap.Face Shape: Round, Oval, Triangular.Lens Material: Polarized polycarbonate.Spring Hinge: No - frame is a springy titanium.
- Campmor
Maui Jim Kapalua
currently retails for:
$279.00
MSRP: $269.00

where to buy: