Merrell
Mix Master Tuff Mid Waterproof
1

review

5-star:

0

4-star:

1

3-star:

0

2-star:

0

1-star:

0
Reviews
UPDATED: This is great entry-level footwear for ultralight…
Rating:


Source: bought it new
Price Paid: $59.97

Summary
UPDATED: This is great entry-level footwear for ultralight and minimalist beginners. I've had the time to review this alongside a pair of inov-8 shoes and I've really come to appreciate Merrell's design here. This one, if you're interested in a lightweight hiker that gives a bit of support, is worth your consideration.
Pros
Very lightweight
More support than I expected
Sized accurately
Waterproofing is good - even in snow
Cons
The construction of the shoe is more like a moccasin fit since there isn't the hard-side structure that you'll find in many other alpine boots
Just be aware that these boots are not for people carrying 40+ pound packs
The Mix Master Tuff Mid Waterproof is one of Merrell's first attempts, if not their first serious attempt, at meeting the needs of the ultralight and minimalist markets. In some ways, it's neither fully ultralight or minimalist by today's top tier standards.
For example, a typical minimalist would not like that the overall sole thickness of this shoe is too thick by their standards. While that's a bad thing for that person, it's probably a good thing for someone that is just starting with ultralight / minimalist hiking. So, don't let that sway you away.  
If you're new to either ultralight or minimalist hiking then you might consider this as a shoe / boot that helps your transition. Personally, that's where I think this boot really shines.  I've had a chance to put these up against a pair of inov-8 minimalist hikers and I have to say, there's a big difference between them. The inov-8 sole is so thin, you really will feel every single rock on the trail.
That's not the case with these Merrell boots. While the mid-sole does not have a rock-plate, it is firm and rigid enough to get you on your way without the pains of feeling every little bump in the trail. So to be clear, this is VERY different than the construction of the inov-8 shoe I was testing.  If the inov-8 qualifies as a minimalist shoe, then these are somewhere between minimalist and fully supportive.  I like them a lot.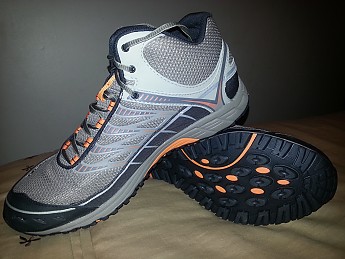 The 3.5mm lugs on the bottom are smartly angled for best traction at the different parts of the outsole. This is a good design.  That said, I have slipped more than once on roots and rocks, so footing awareness is key with these guys.  What I'm saying is, these are not the grippiest soles I've used, but they're not dangerously slippery either.  They are good quality.
Here are some details:
Size: I usually wear 11W for my shoe size. For boots, I order 11.5W to accommodate thick socks and that turned out perfect. There is even a little extra room, which I'm sure my feet will fill as they swell during longer hikes.  Long story short, these seem "true to size".  As a part of my update to this review, I'll add that the sizing and fit are designed well to support athletic movement on the trail.  Further, I rarely jam my toes in the footbox, so I think Merrell gets points for this too (you don't want to be the hiker that gets their toes jacked up in the backwoods if you can help it).
Weight: The Merrell website says these shoes are 22 ounces per pair. I'm sure that's for a smaller size. My size 11.5 shoes weighed in at 29.21 ounces on my digital postal scale (for the pair). That's not quite the 22 ounces (or less) that typifies the ultralight / minimalist category, but they certainly are not heavy by any stretch. My last pair was over 47 ounces, so I'm pretty happy with 29!
Break-in period: They arrive ready to go. No break-in necessary.
Outer design: These are small shoes compared to typical hiking shoes. Here are a few pics to compare how the Merrell is a fraction of the size of the boots they are replacing.

Inner design: Merrell has certainly earned their reputation for making outstanding footwear. Rest assured, this boot is no exception. Please note that you can't expect this boot to wear the same way that a more fortified boot does. For example, there's minimal arch support which likely plays into reduced weight. If you don't need a lot of arch support, then no worries. If you do, then you'd likely use inserts anyway. No loss for either buyer.
Otherwise the support is sure-footed, and the inner mid-sole provides a basic pivot point for when you're hiking with a load. This earns top marks, provided you're not trying to carry a 40lb+ pack.  So, they're designed for "fast and light", but they won't hold up to heavy loads.
As for the question of how they hold up under distance and trail rigor, I've put just under 50 miles on these in 6 trips with about 12,000 feet of ascent and they're holding up fine. On the longer mileage days I don't think these boots add or detract from the fatigue. Honestly I don't remember owning a hiking boot that could take away fatigue, but I've used plenty that have poor design and that can make a hiking day worse.  These most definitely do not make a hiking day worse.
Insulation: These boots have nearly no insulation. They certainly provide more protection than sandals, but don't expect a whole lot more insulating support compared to a pair of tennis shoes.  Your thick wool socks will be your friend.  However, because the boot does have a waterproof barrier (which works well, I'll add), this also creates a bit of a vapor barrier effect which adds to the insulative qualities.  I had these in some alpine snow and my feet never once felt cold.
Good luck and happy adventuring!
Retailers' Descriptions
Here's what other sites are saying:
Hit the trails this season in men's athletic shoes that keep your feet cool on hot days, deflect debris and evenly distribute pressure for a more natural, healthier stride. Designed to fall midway between traditional and barefoot trail runners, these shoes are ideal for those just entering the minimalist scene. Plus, the low profile of the Float midsole, versatile design, sticky Vibram lugs and an upper that's built to last give you better control on any surface. Waterproof upper. USA.
- L.L.Bean
Although the Merrell Men's Mix Master Tuff Mid Waterproof Shoe might look imposing, its low heel offset and lightweight midsole materials will make you feel light on your feet when you're out on the trail. A burlier version of Merrell's popular Mix Master, this shoe features high ankle support and a waterproof membrane added to the same, nimble chassis. Run across dry creek beds and over loose trails and let the 12mm of cushioning soak up foot strikes and the impact of rough surfaces. This shoe works for an intermediate or advanced trail runner who prefers the natural feeling of a low-drop shoe combined with thicker cushioning and added weather and ankle protection, and this shoe also does wonders for the fast-paced hiker who's looking for a minimal, lightweight hiking shoe.
- Backcountry.com
The lightweight Merrell Mix Master Tuff Mid Waterproof Hiking Boots stay true to minimalist design but give you extra protection where you need it so you can hit the trails and have fun rain or shine. Mesh and synthetic leather uppers have waterproof membranes to keep your feet dry when you're caught in the rain. Tongues are bellowed to keep debris out. Footbeds are treated with Aegis Microbe Shield(R) antimicrobial treatment to deter odors from developing. 4mm heel-to-toe drop encourages a natural midfoot or forefoot strike to promote forward momentum and reduce the impact of heel striking. Low-profile Merrell Float(TM) EVA midsole is a touch thinner than previous Merrell midsoles for enhanced feel and responsiveness; Air Cushion heel pockets help absorb shock. 3.5mm deep lugs provide good feel and traction on streets and trails. Reflective hits increase visibility in low light. Overstock.
- REI
With extra ankle support, a waterproof membrane to keep feet dry, and a pared-down profile, Merrell's Mix Master Tuff Mid is a superlightweight minimalist hiker that delivers an agile ride with a 4 mm drop for better ground feel. Sticky outsole lugs propel you on pavement and packed trails.
- EMS
Merrell Mix Master Tuff Mid Waterproof
previously retailed for:
$69.97 - $140.00

The Merrell Mix Master Tuff Mid Waterproof is not available from the stores we monitor. It was last seen July 25, 2014 at L.L.Bean.
If you're looking for a new trail shoe, check out the best reviewed current models.