Reviews
Can't beat the price for what you get! Very sharp…
Rating:


Source: bought it new
Price Paid: $13, Amazon

Summary
Can't beat the price for what you get! Very sharp right from the start, it's a great multi-purpose carbon steel knife, very functional drop point blade. From prepping camp food to cutting rope, I'd recommend for anyone's pack.

Pros
Inexpensive
Sharp, very sharp!
Sheath secures knife tightly
Multi-functional
Handle grips well when wet
Cons
Carbon steel prone to rust/tarnish
I've had this knife for a little over three months and it has become my go-to knife both on and off the trail. From opening and breaking down cardboard boxes, to cutting lengths of rope, and even cutting some pepperoni while car camping it has performed awesome!
Costing just a little over $13 from Amazon the following is what is included and its attributes:
Carbon steel knife (see "Maintenance") - Made in Sweden
Rubberized handle
Plastic sheath
8.5 inches from handle end to blade tip
Knife is 4 ounces (I do not have a digital scale, unconfirmed)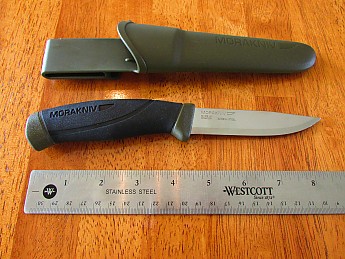 You can see the comparison of its total 8.5" length and the blade height when next to a steak knife.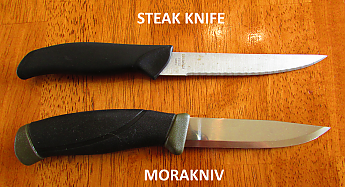 Uses
Multi-purpose is the best way that I've come to describe this. While it does not have a serrated edge, I have used it to cut pepperoni logs, cut up shirts into rags, cut back rose bushes, and 5mm rope (takes just two firm pushes to completely cut) for DIY projects. I was apprehensive at first after I purchased it due to the cheap cost and plastic sheath, but found myself wanting to use it for everything, even cutting open our mail.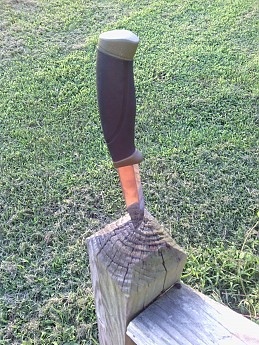 Sharpness
I was very surprised at how sharp this blade was from the very start and how sharp is has maintained. That was one of the reasons I decided to buy it and it hasn't let me down.  I'd put it right up against any middle-end chef's knife.  I have also maintained its edge using my Lansky Blademedic ceramic joint after cutting through some thick rose branches, though it hasn't really been necessary. 
Handling
The knife feels great in the hand.  The curvature of the handle is unlike the steak knife. Slightly wider at the top (what is held in the crook of your palm, next to your thumb) and has that slight triangular design.; more of an ergonomic grip per se.  The grip is gummy, yet not overly so.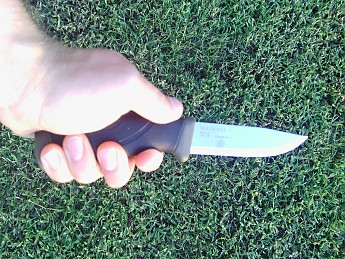 The important factors for me when it comes to safety were two-fold: (1) how does it handle when wet and (2) how secure is the knife in the sheath.  Since May it has been the wet weather.  The grip is rubberized and does not feel too slick when it is wet or my had has been soaked. 
Note the tapered edge which is what secures the knife when sheathed, mentioned below.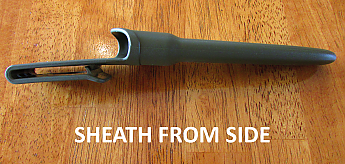 The hip clip is very stiff and tight against the waistline. Typically I hold it or pack it, not using the buckle much, but it is well made. Unless stressed, I don't see it breaking off any time soon.  Keep in mind it is a thick plastic, so it is possible.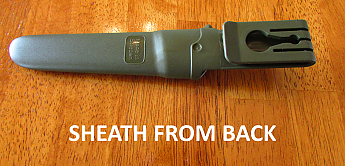 The plastic sheath holds the knife securely by its design, tapering on the sheath at the point where the knife handle begins. As I mentioned, I do not want any knife to loosen from its position when not needed.  I have shaken the knife while it is the sheath (holding the sheath's tipped-end) and it hasn't budged yet.When putting this knife away, there is a click of the handle against the plastic when it is secure. 
One concern of mine is the longevity of this method. Instead of having any tie down, this is the only way to keep the knife in the sheath. After time, if the handle end (where blade meets the grip) becomes worn, then the knife may be too loose in the sheath. If this were to happen it'll be so long in the future, I'd probably just buy another $13 knife or make a DIY method to secure it.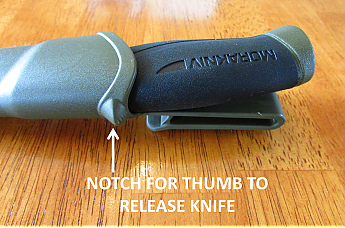 Maintenance
With this being made from carbon steel instead of stainless steel or having a protecting coating, this knife can be susceptible to rust or tarnishing. Something I've read in the past was to oil it down with mineral oil.  Personally I've used synthetic motor oil one time so far, only a few drops are needed.  This came from reading about someone who used synthetic motor oil for the katanas he makes and sells for several grand; if it's good enough for him, it'll be good enough for me!
There is a hole at the end of the sheath. I'd think this would be to drain any water or dirt which may be lodged in the sheath.  A good point because of the carbon steel to not have it potentially tucked away with water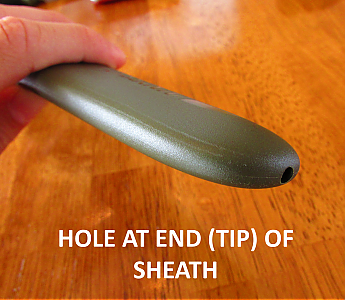 Untested Items
I'd like to see how this blade or spine does with striking a flint. Not having one at the moment, I was unable to test this capability. 
Overall
I'm not a guy who has a ton of experience with knives. I've had pocket knives a-plenty and a handful of 4-6 inch blade knives. It also comes in several different colors from black, green, and even bright orange. If the carbon steel isn't an option for you, there are also options of stainless steel and carbon steel with an anti-corrosive layer.
For $13, you can't go wrong  using this for any type of outdoor activity or having as a household multipurpose knife. Having never heard of it until a few months ago, I'll recommend it from now on.
An extremely sharp, durable, carbon steel knife for…
Rating:


Source: bought it new
Price Paid: $13

Summary
An extremely sharp, durable, carbon steel knife for $15?? Yes, please!
Pros
Very sharp
Durable
Nice rubber grip
Sheath included
Made in Sweden
Cons
Not a full tang knife
Spine of blade cannot produce sparks with a flint striker
Carbon steel tarnishes easily
This is by far the best knife under 20 bucks that I have found. (If anyone has found a better one, or has a suggestion, comment below because I'd like to check it out!)
Simply put, it is durable, sharp, easy to hold, and light weight. It has become my trusty companion — no pun intended — on many hikes and camping adventures.
The fixed blade is a little over 4 inches long (spine is 2.5mm, or .10in) with a drop point edge and straight from the factory it is really sharp. I was able to cut paper with only the weight of the knife by sliding it back and forth on the paper's edge. With some bigger stuff, it can easily cut through quarter inch sticks.
The carbon steel is really strong. There's no give to it, and I've been able to use it for batoning thicker branches and such. I don't use it for that, but if I had to, I know I could.
Even the edge of the blade is durable. When I first got it, I was sitting by a campfire preparing a stick to roast some sausage and hot dogs. Used to a knife that isn't as sharp, I cut straight through the stick and hit the sharp edge right across a rock. When I looked at the blade, there was just one small ding in it, which I was able to get out later.
There is nothing super special about the sheath, but there really isn't anything bad about it either. It's one piece of molded plastic, and it's quite durable. The knife snaps right in, and it holds the knife well. There is a small hole in the sheath where the point of the knife is. I'm guessing that's to allow water do drain if it gets wet.
There are really only two things that disappointed me about the knife. One is that it's not a full tang knife. It's a 3/4 tang knife, which means that the steel does not entirely part of the handle. That usually means it's less durable, but I've had no durability issues yet.
The biggest letdown for me about this knife is that when I struck the spine against my flint, it did not create sparks. I fixed that problem by filing down part of the spine to make a sharp enough edge to create sparks.
So far this knife has been well worth the money. The Swedish-made carbon steel is sturdy and very sharp. The rubber grip feels really good in my hands, and I clip the sheath either to my backpack or my belt. It's light enough that I don't feel it there, and I was able to make it create sparks.
For $15 dollars, you can do just about anything with it and not feel guilty about ruining it, and you can use it for lots of different jobs. My dad likes to use his for basic wood working and one of my buddies takes his fishing.
I would highly recommend this knife. I've yet to find a better quality-for-the-price ratio. And they make great gifts!
Perfect for anyone who needs a sharp fixed blade knife…
Rating:


Source: bought it new
Price Paid: $14.95

Summary
Perfect for anyone who needs a sharp fixed blade knife for basic camp kitchen and basic bushcraft chores. Backpackers will especially enjoy how lightweight this knife is.
Pros
Ergonomic non-slip handle
Sharp right out of the box
Made in Sweden with a limited lifetime warranty
Weighs only 3.9 oz./110 gram including the useful sheath
Cons
Not full tang construction
Too many people want to borrow it
After collecting all manner of knives I have fallen in love with the Mora for basic outdoor chores. The 4.1" carbon blade is a very usefull size without being too short for many tasks or too long and too awkward to carry. Folding knives have their place but a fixed blade will always be easier to deploy and use. A fixed blade knife does not depend on locking mechanisms that tend to loosen or even fail with repeated use.
Besides being a great blade, the Companion also offers a very ergonomic, hand filling, non-slip grip which greatly increases the comfort and the safety level when using this knife. Cold, wet hands and a slippery knife handle are a bad combination.
The plastic sheath is a real surprise in that it securly holds the knife but allows easy one handed deployment and one handed holstering. The self locking sheath eliminates fumbling with snaps and straps. The heavy duty belt clip accomodates belts up to 1 3/4" wide. The belt clip also atttaches easily to pack webbing and loops.
Two essential hacks for the Morakniv Companion:
The back of the 4.1" blade is slightly rounded and will not work well with a fire steel. I used a fine grit belt sander to create a sharp edge on the back side of the blade. It didn't take much, go slow.

Carbon steel is easier to sharpen to a fine edge in the field than a stainless steel blade. Carbon steel does stain and will rust if neglected. Mine was all gooped up with pine sap. After cleaning the blade I boiled some apple cider vinegar and let the blade rest vertically in a glass to soak for 15 minutes in the hot vinegar. Rinse well in water and polish the blade with soft scrub or brasso to get an even finish. Reboil the apple cider vinegar and repeat this process two more times. The result is a a darkened non-reflective blade with a gun metal finish that will resist staining.
Especially for backpackers, this is the one knife you need above all others in my opinion.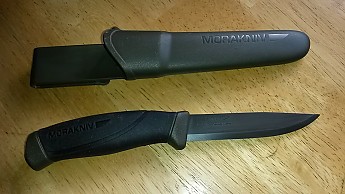 I really didn't know what to expect, but was and continue…
Rating:


Source: bought it new
Price Paid: $15

Summary
I really didn't know what to expect, but was and continue to be very impressed!
Pros
Ergonomic handle
Lightweight
Razor sharp factory edge
Good sheath
Easy to resharpen
Good edge retention
Cons
Does not have a full tang
No hardened handle butt for hammering
I read quite a bit about this brand of knife, but was still skeptical because of the low cost. I finally bought one and have been becoming more impressed with it at every use.
This knife is lighter than any knife I've taken hiking, but is as tough as any other. This has got to be the best value for any hiking/hunting/bushcraft knife on the market. It's made every task I've taken on easier. These would include: fine whittling, feather sticks, splitting wood (yes, I battoned with it), notching, etc. Basically if you want to cut something it will do it and usually with ease.
After months of use (and abuse for those apposed to battoning) I finally decided it might need some sharpening. The Scandinavian grind on the blade made that extremely easy. After a few minutes an edge as good or better than original was on the blade.
This has become my go-to knife when I'm outdoors (even indoors, but that's another topic). I would buy and have bought more of these knives.
Awesome inexpensive, lightweight knife for hiking.
Rating:


Source: bought it new
Price Paid: Under $20

Summary
Awesome inexpensive, lightweight knife for hiking. Holds a good edge and is a great camp knife.
Pros
Very lightweight, but durable
Holds good edge
Cons
Easy to break tip
Feels cheap
Poorly balanced
The Mora is a great knife for hiking. I used to carry around a knife capable of being struck with a rock through a tree that weighs several pounds. I had carried it 15 years and never needed the sturdiness it provided.
The Mora Companion does all the cutting of twine, meat, or whatever needs doing flawlessly. I had a buddy pry with his and snap the tip. But at under $20 it's fine to break a tip or lose it.
I do feel that the knife is very blade heavy due to trying to cut weight. It's going to be more weight than a little neck knife, but I want a more useable sized knife. I won't ever go back to a heavy knife.
Where to Buy
sponsored links
Help support this site by making your next gear purchase through one of the links above. Click a link, buy what you need, and the seller will contribute a portion of the purchase price to support Trailspace's independent gear reviews.
Morakniv Companion
currently retails for:
$14.99 - $21.95

Recently on Trailspace