Mountain Hardwear
Elkommando Kilt
Where to Buy
Reviews
The only thing I have missed since I left my pants…
Rating:


Source: received it as a personal gift

Summary
The only thing I have missed since I left my pants behind and started hiking in kilts? A kilt made of fast-drying, brush-resistant nylon. The Elkommando kilt brings technical excellence to the convenience and comfort of hiking in a kilt. Added bonus: side pockets, which traditional kilts lack.
Pros
Lightweight
Comfortable
Fast-drying
Tough fabric
Doesn't show dirt
Modesty snap is a plus
Pockets are good-sized and well-placed
Fits well with a backpack hipbelt
Cons
Tends to be a bit tight in the hips
Hip snaps, unsnapped, chafe
A bit shorter than I would prefer
Waist not very adjustable.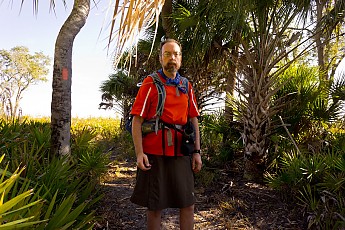 The Elkommando has the comfort factor of a kilt. But the fit leaves a little to be desired. Most kilts are about six inches wider in the hips than the waist, and that fits the majority of men. But the Elkommando seems to have less of a difference, meaning that a kilt that fits across the waist is a bit tight across the hips. I thought I had solved that by not snapping the snaps at the hips, only to end up with an abrasion on my left hip from the open snap. Snapping just the left one solved the problem.
Then there's the length. At 21-22 inches, I need to wear it lower than I would prefer in order to have it come to just above my knees, which is where a traditional kilt falls and where I feel comfortable with it. That's about normal for a modern kilt; it's just a bit shorter than I would prefer.
It would help if the kilt was adjustable across the waist. Many modern kiltmakers use velcro on the waist to provide some adjustability. But the Elkommando has a snap and a belt. If it's just right or a bit loose, that's great. But if you're just a tad larger than the high end of the waist measurement, you need to go up a size.
When it got wet in a rainstorm, it was still comfortable to wear and dried quickly. I have found it to be refreshingly cool in hot weather, and the waistband wicks well. I have not used it in cold weather.
Because the waist is basically non-adjustable, it layers well only when adding layers on top.
Pockets are well-placed and generous, and close securely with snaps.
After five days of backpacking, it looked clean and brand new. It is nice enough to wear casually around town. So far, I have only one trip and one wearing-out on it, so I would expect it to be holding up well, and it is.
Much more comfortable and cooler than hiking in shorts.
Rating:


Source: bought it new
Price Paid: $75

Summary
Much more comfortable and cooler than hiking in shorts.
I'm 6'3" 240 lbs with a 44 waist. XXL fit fine. XL was a bit too snug, although it could be worn.  
I ran water over the kilt right out of the box and it pooled on the material without soaking any up. I haven't used it in the rain yet, but it seems to be very water resistant. 
Worked great in the field, except for the snaps on the pockets. If you try to pull open a pocket with one hand you'll end up revealing the secret of what is beneath your kilt. A zippered pocket closure would work better and be more secure.
I didn't think I would ever use the privacy snap on the hem of the under apron and pleats, but after a hike we went immediately to a post hike picnic and it was nice to be able to snap it up and avoid any inadvertent exposure.
Good enough product that I sent back the XL and ordered a second XXL. Now I can't imagine ever hiking in anything but a kilt where I would otherwise have hiked in shorts. Makes no sense to be torturing my boys on the trail when there is a better option.
This is a great product for summer hiking and unrestricted…
Rating:


Source: bought it new
Price Paid: $75

Summary
This is a great product for summer hiking and unrestricted movement. I wore this on the AT this weekend and loved it. However, you do get a few looks and some comments. Do not worry and come up with some snappy comebacks.
Pros
Nice pockets
FREEDOM
No more tight hiking pants
Cons
None, but people always want to ask you about it.
As for the fit, I ordered a large and my waist is a 35-36 and it fit just right. However, if I gain any more weight they will be really tight. It has an adjustable belt but there is not much adjustment in the waist.
It appears waterproof/resistant but I have not worn it in the rain to test it out. Appears well made and durable with sun protection built into the material.
I have only worn this once hiking but I wear it everyday around the house. Love it and plan to buy another one.
Very comfortable, but takes a while to "get comfortable"…
Rating:


Price Paid: $60

Very comfortable, but takes a while to "get comfortable" with wearing it. I'm 5'11" and 175lbs., the medium fits me well in the waist, but I feel like the "skirt" portion of the garment is a bit snug around the buttocks and thighs.
Where to Buy
Mountain Hardwear Elkommando Kilt
currently retails for:
$56.21 - $75.00