Mountain Hardwear
Hooded Phantom Jacket
2

reviews

5-star:

1

4-star:

1

3-star:

0

2-star:

0

1-star:

0
Reviews
A puffy heater of a jacket. This is a very warm, very…
Rating:


Source: bought it new
Price Paid: $164

Summary
A puffy heater of a jacket. This is a very warm, very light down jacket with just enough functionality to make it supremely useful for cold weather backpacking and other sports. The extremely light shell fabric has been great so far but isn't bushwhacking material. To get this much warmth with this little weight is almost unfair; I love it.
Pros
Warmth-to-weight is ridiculous
Thoughtful features
Great fit for a warm jacket — room to layer
Super-puffy sleeves
Outer shell can handle a drizzle
Nicely designed and fitted hood
Cons
Some might find forearms a little confining
This jacket lives somewhere between where my down sweater ceases to keep me warm and where my expedition-weight parka becomes necessary in relentless sub-zero weather. It fills that gap tremendously well.
IN GENERAL
This is a size XL that weighs 16 ounces on my digital hand scale.  roughly 6.5 ounces of 850 fill power down are packed into a very light shell fabric, including an integral hood (not removable).   first and foremost, this is a really warm jacket.  forget about walking around in this for any length of time; it's a wear-in-camp, put on when you are stopped and chilly solution.  
Note the way the shell is stitched down to keep the insulation from shifting around.  the only thing i have found after a couple of months is that you occasionally have to work some down back around to the front of the sleeves - after a fair bit of wear, down tends to slide away from the inside of your elbow, like with most jackets.  Note, this jacket is not 'baffled,' it does not have separate pieces of fabric between the inner and outer shell.  thicker and puffier jackets tend to be baffled.  
One concern i had is that with all this stitching, a stern cold wind would make this feel like a chilly sieve.  not so...more on that later.    
Though the back has a slightly different stitched pattern, the result is the same.  no obvious cold spots, and the down stays where it is supposed to be.  even the hood does that well.  another thing these photos kind of show is how light the outer shell is.  it has a DWR coating, which i'll talk about below when I talk about how I have worn it.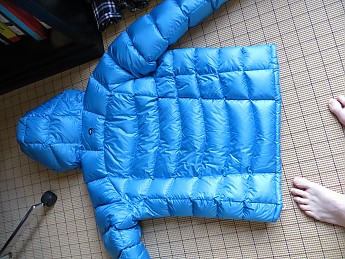 How much loft does this jacket have? here is a comparison with a patagonia down sweater.  it's a much thicker, warmer jacket, yet it weighs only 4 ounces more.  i'm not the most artful photographer, but this is a shoulder-to-shoulder comparison with the sleeves sticking out.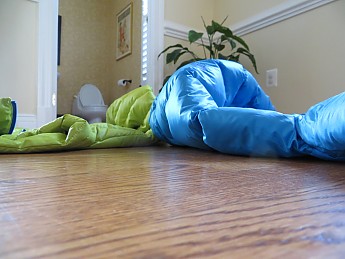 FEATURES
This is not a jacket full of bells and whistles, but it's worth talking about some of the things that make it great.  the zippers are all very lightweight, and the pulls all look the one below.  that one is on one of the handwarmer pockets.  the zippers run very smoothly, and the pulls are easy to use with gloves on.  a plus.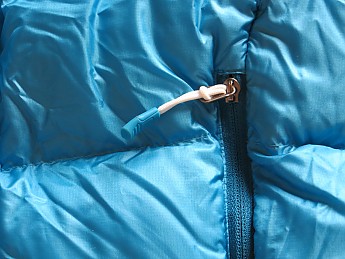 In keeping with the streamlined design, the only hood adjustments are the two side pulls.  now how the pulls are channeled to the inside of the jacket - they won't flap in your face.  better yet, the part of the jacket that fronts your face is lined with a soft, fleecy material, which is excellent.  the toggles for the hood pulls are interesting; i couldn't photograph them because they are inside the jacket; you can feel them with your hand and squeeze them to use the side hood pulls, but they are fully hidden.  i like that; they won't ice up or flap in the wind.  otherwise, i didn't miss other hood adjustments but love that hood; it's a great shape, it is very warm, and it does not block my side vision.  the brim is a little stiffened to keep it out of your eyes.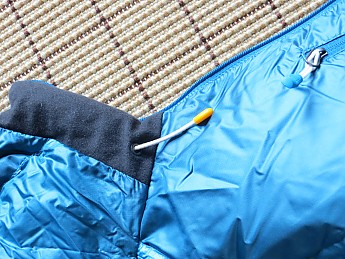 The hem has an elastic cord with toggles on either side.  they do the job.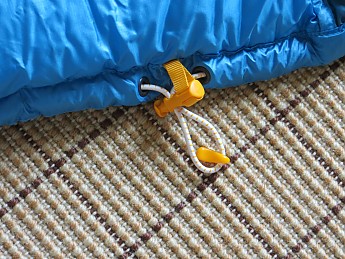 Cuffs are minimalist - just a little elastic, no velcro or tabs.  they keep the weather out.  the sleeves are well-sized but feel just a hair tight on my forearms, mostly because they are so fluffy.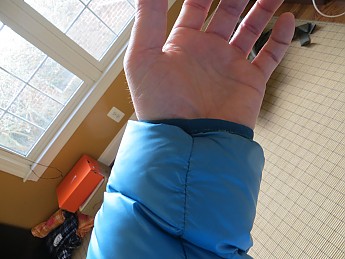 The two handwarmer pockets are large - i can put my hands in while wearing gloves, but not heavy mitts.  you could put a lot of stuff in those pockets if needed.  the jacket has one zippered interior pocket that's smaller, good for a wallet, a folded map, a compass, things of that size.  the other inside pocket is pictured below - stretchy mesh that can hold a water bottle, with a top edge that's more elastic to keep the bottle from falling out.  that's a one-liter camelbak bottle.  
FIT
I wear a 46 jacket and usually wear an extra large.  I think this runs true to size.  it is sized to layer underneath, particularly the torso area; i can wear a very puffy down vest underneath it without feeling confined.  as you can see, the hem is right around my hips (i'm 5 foot 10).  not a waist-length jacket but not a full thigh-length parka, either.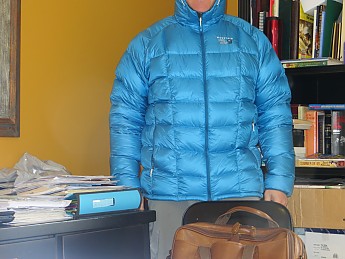 This shows how the hood fits - the pulls are drawn in quite a bit in this photo.  I'm confident the hood can accommodate all but the largest helmets, if that is an issue.  note how puffy that hood is; it contributes a lot to the warmth of the jacket.  note, the hood is not removable and doesn't have any way to make it disappear, so if you want the ability to remove or hide the hood, this probably isn't your jacket.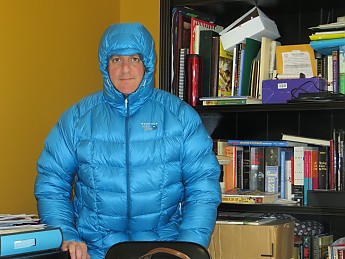 ACTUALLY WEARING IT
I haven't had an opportunity to photograph myself wearing the jacket.  on a number of cold hikes, i put the jacket on when i stopped for lunch or a break.  some of those days, it was pretty windy, and on two lovely afternoons, freezing drizzle.  i have also put the jacket on for some evenings stargazing.  
Because the jacket is so puffy, you really can't feel the wind, even with all that stitching.  the outer shell does a very nice job with light rain; water beads up and runs off.  it isn't waterproof, so i wouldn't wear it in a steady/hard rain unless under a shell.  
The hood is great. it doesn't block your peripheral vision, it fits well, and it is very, very warm.  so is the jacket, by the way.  can't believe how warm and light this is.  you want one? go buy your own, i'll fight for this.  it's awesome.
I had mixed emotions with this coat. I bought the…
Rating:


Source: bought it new
Price Paid: $260

Summary
I had mixed emotions with this coat.
Pros
Warm
Lightweight for size
Great color
Cons
Can feel air through stitching
I bought the Blue in a Large. I'm 5'10" 180 lbs. 42" chest. The fit was good for me. I could fit layers under it no problem.
I bought this to replace a TNF that doesn't have a hood. I found that I didn't find the coat to be any warmer, actually less. I felt like I was feeling air go through a little more in the stitching then my old coat. I decided that I just need to get a more burley coat for below zero temps. I returned it, but if I didn't already have that TNF, I probably would have kept it. 
The blue color is nice and not too bright IMO. The forearms are sort of tight, like I had read before, but nothing to cause concern.
Mountain Hardwear Men's Hooded Phantom Jacket
currently retails for:
$274.94 - $299.96