Mountain Hardwear
Masherbrum Mitt
1

review

5-star:

1

4-star:

0

3-star:

0

2-star:

0

1-star:

0
Specs
Weight
15.9 oz / 450 g

Body Fabric
Nylon Taslan™

Laminate Material
OutDry® Waterproof Technology

Lining Fabric
Brushed Tricot

Insulation
Thermic Micro™

Palm Material
Water-resistant Goatskin Leather

Reviews
I found the Masherbrum Mitten excellent for the Winter…
Rating:


Source: bought it new
Price Paid: $89.99

Summary
I found the Masherbrum Mitten excellent for the Winter Camping course I originated and still help teach, as well as during rest stops and snow and ice sample gathering at high altitudes during our American Climber Science Program and during our dog sledding trip in the Alaskan bush in late March at temperatures of -20° to -30°F. The mitt is well made and seems quite durable for the hard use I put it to. It may be too warm for some people.
Pros
Waterproof
Removeable inner mitten
Plenty warm in -40°C/F conditions
Cons
Cannot wash (per instructions)
May be too warm for some conditions
Checking the grip — mittens often are too insulated to have good enough grip for hanging on ice tools.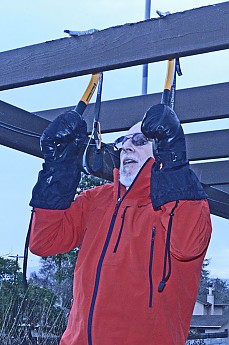 Snowshoeing with the Masherbrum mittens in the Wasatch.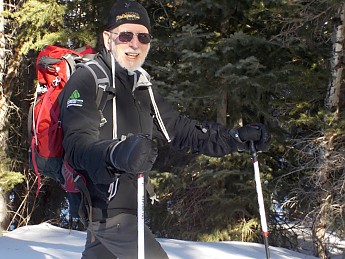 Weight: 343 g/12 oz
Warranty: Lifetime guarantee to "materials and workmanship to stand up to the use for which it is designed."
Background:  Many of the same things that apply to mittens apply as well to gloves, as discussed in my review of Mountain Hardwear's Epic gloves. The exceptions are that mittens are generally used in colder weather, meaning more insulation and less dexterity, plus less grip when handling ice tools, for example.
When preparing for an excursion in the outdoors, many people overlook one of the most critical pieces of clothing for backcountry and climbing activities, protection for your hands. In extreme cold conditions, the penalty could be as severe as frostbite to the point of losing fingers. Since most people are used to wearing shoes or other footwear, they usually give some passing thought to their feet while neglecting to get equal protection for their hands.
Sometimes people are aware that mittens are much warmer than gloves with compartments for individual fingers. But too often, they settle for "any old mitten", without giving much thought to the functionality of the handwear, failing to recognize that mittens, like gloves and footwear, needs to be tailored to the activity and the environment in which they are used. The requirements are much more extensive in many ways than for other clothing except for footwear and head wear.
A mitten has to do most of the same things as the rest of your clothing, plus a few more tailored to the task at hand and conditions:
 Wicking — so it stays dry on your hand

Insulation appropriate to the weather - keep the hands warm enough, yet not sweaty or overheating

Windproof and waterproof — hands, being extremities, can chill quickly, leading to frostbite, and even loss of fingers

Assist the grip when using climbing gear, ski poles, or dogsled bar

Cushion the hand and fingers against bumps and abrasion

Allow plenty of blood circulation

Durable enough to survive the rough handling that inevitably happens during an expedition.

They have

 

to be easily removed, "parked", and retrieved for changing conditions or those moments when only bare fingers will do (small pockets on a parka or black mittens

 

in a black pack are a problem)

The final question is "Do I really need gloves/mittens this expensive?"
Over the years, I have used a wide variety of hand coverings from knitted "Ragg" mittens to leather and  synthetic mittens with wicking glove or mitten liners, "lobster" mitts,  "fingerless" glove-mitts with a foldback cover for the fingertips, and mittens which were completely waterproof.
Completely waterproof mitts tend to pool water inside, while using wicking liners inside completely waterproof (or even waterproof/breathable) outer shells tend to produce soggy liners during vigorous activities (with the solution being carrying multiple liners and swapping them often).
So it was with great curiosity that I spotted the new line of OutDry handwear in Mountain Hardwear's employee store during a break in the Annual Meeting of the American Alpine Club a year or so ago, hosted in the meeting rooms of Mountain Hardwear's company headquarters.
When they allowed attendees a short window of opportunity to buy gear at bargain prices, I grabbed a pair of their Masherbrum Mitts and a pair of their Epic gloves. Over the years, I have found that Mountain Hardwear's gear is well-made, though expensive, ranking among my 10 or so top gear companies when I need gear.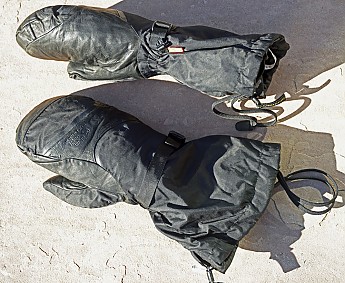 Details:  The right-hand mitten and left-hand inner mitten liner each had two 4.5 inch long information strips, printed on both sides describing the care and materials in 6 languages (English, French, German, Spanish, Portuguese, Italian), 4 of which I can read (but barely speak) and hobble through the other 2 (the tags on the Epic gloves added Russian to the list of instructions and materials).
The long tags are a nuisance and not very durable. My solution was to cut them out and save them in a safe place for reference. The mittens (both the outer shell and the inner mitten liner) were made in Sri Lanka.
I was a bit surprised to read the note to "do not wash, do not iron, do not bleach, do not dry clean", but allowing "hand wipe with damp cloth, line dry in shade". Since I have found over the years that mittens and mitten liners can get quite smelly inside (especially waterproof and insulated mittens), there does need to be a way to clean them. With many other mittens, the liners can be removed for cleaning, or they can be turned inside out for washing. Since the inner mitts are removable, I suspect that it is ok to wash the liner mitts separately, although at this point, I am reluctant to try this, in case it voids the warranty.
The shell is listed as 74% nylon, 25% leather, and 1% Spandex, with the palm being 100% leather (described on the display card as goatskin). There is a bladder sealed to the inner side of the shell that is 100% polyurethane (probably non-breathable). Although the directions do not say so, I suspect the leather does need occasional treatment. The removable inner mitten liner has a shell of 100% nylon, with a palm of 100% polyester. The palm of the inner mitten is covered with what appear to be plastic dots to help with grip (not described on the tags). The insulation is 100% polyester (probably similar to Primaloft).
The cuff of the outer shell can be tightened by pulling on the plastic end cap on the elastic cord, and loosened by grasping the pull tab on the clamp and simply pulling it outward. This is a feature that more mitten and glove makers need to add (especially mittens, where you have to fight against the bulky, no-feel thickness of a lot of insulation). An additional strap over the back of the hand at the base of the palm allows extra sealing of the warm pocket of the mitten, though I never felt the need to tighten that part.
I accidentally discovered an undocumented small loop on the distal end of the mittens at the approximate tip of the ring finger (circled in the photo below). Since there is no mention of this on the hang tag or on the Mountain Hardwear website, I am guessing that it is intended for hanging the mittens to dry.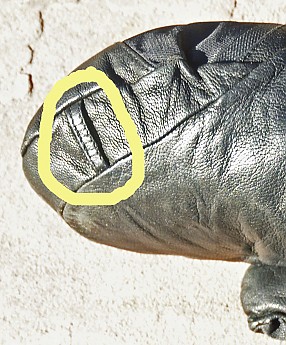 The pull-on loop at the cuff of each inner mitt makes it very easy to get them on and off. The system has several means of blocking loose snow from the inside. The inner mitt has elastic at the wrist, while the outer shell has a drawstring at the cuff plus an adjustable strap at the wrist with an elastic section on the inner side of the wrist. The outer shell does have a keeper cord that can be tightened around the wrist (unlike the Epic glove), which allows about 6 inches of slack to remove the mitt and let it dangle.
Many insulated gloves and mittens have this type of keeper cord. I personally find a dangling mitt or glove to be an annoyance.  So I did what I have done with other such keeper cords – tie a long cord to each keeper and hang the mitts around my neck (usually inside my parka hood – safer that way).  Although the mittens can be stuffed into my hard shell pockets (one to each side), I am happier when having them on a neck cord or in my pack.
The OutDry construction means that the gloves are designed to be waterproof from outside and wicking for sweat inside. Although the labeling does not mention "PreCurve articulated" like the Epic gloves and my OR mitt shells and their liners have, the Masherbrum does have a slight curve, plus the palm-side of the liner is slightly thinner to provide more flex for gripping poles or a dogsled bar.
Because of the thick insulation, these mittens are not expected to be particularly flexible or dexterous. I got the men's large, my normal hand size, the same as most of my other insulated gloves and mittens (Black Diamond, OR, Cloudveil). There is still some room for a thin wicking liner, so I can have some skin protection when needing to remove my hand from the mitten to work on something (such as adjusting a zipper).
Details of Testing: Since a major part of my outdoor activity is in winter or at high altitude, and mostly involves vigorous activity (climbing, skiing, snowshoeing, and more recently dog sledding) I am always looking for the perfect glove and mitten combination. I have concluded that this search has to be modified to "perfect mitten for the conditions, and perfect mitten for somewhat different conditions".
I did very little preliminary "dry land" testing, just used the Masherbrum mitts in real situations in the field. Shortly after getting them, we had the in-snow weekend of the winter camping course I help teach, then headed off to Alaska for a week of dog sledding at temperatures well below 0°F. I normally do some deliberate "abusive" tests before heading out into the field, where a failure could be critical. Over the next 3 months, I used the mitts during backcountry skiing, ice climbing, and mountaineering.
The photo below shows how the mitt fits while grasping an ice tool with the little finger (inside the mitten) resting on the lower hook. You can see there that the mitten fits within the curve of the hook (click on the image to see a larger version, and then on the "see original" for the greatest magnification).
I did one deliberate test of the waterproofness by holding my hands under a water faucet for about 10 minutes (in addition to having my mittened hands in wet snow numerous times). The mitts proved to keep my hands completely dry. Despite a lot of hard usage handling the packs and ice tools, the mitts show little wear. So the durability test is passed. I did not use the light wicking liner gloves I usually do with mittens, instead switching to the Epic gloves when I needed more dexterity during sample gathering in the Cordillera Blanca.
Since I did use the mitts for some of the ice climbing sections during the Andes expedition and expect to do so on extremely cold days on waterfall ice, I decided to add a test of their grip by doing pull-ups on a pair of my ice tools using the 2x6 lattice boards on our balcony (the photo at the top of the review - none of the photos of my using the mittens in the field show the mittens clearly, plus we have had no snow in the Sierra so far this winter except for artificial snow at the resorts - so I will be taking suitable photos during in the next 3 weeks during my excursion into the Wasatch and adding them here).
I can hook the picks of the tools over the boards by standing on my toes and extending my arms fully. Even though the mittens are heavily insulated, I was able to grip the tools (leashless, of course) well enough to do several sets of 10 with a 15 second shakeout between to a total of 30 pullups. There was some slippage, limited by the stub at the bottom of the handle (there is no hook on the BD Rage tools as there is on the BD Cobras). The photo below shows a closeup of the mitten holding one of my Cobras with the mittens on at the lower hook.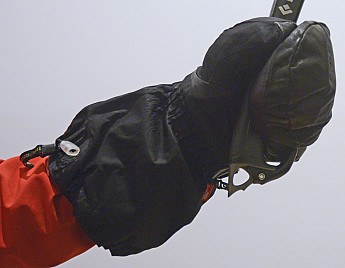 Conclusions: Overall I found that the Masherbrum mittens worked very well and performed as advertised. I never got condensation inside the mittens, though sometimes during vigorous exercise, I felt they were a bit too warm. On the other hand, riding at speed on the dog sled at temperatures of -20 to-30°F made me grateful to have so much warmth in the mittens. Water from the outside stayed out, whether a stream, wet snow, or rain.
Like all mittens, you have to take the mitts off to do certain tasks, such as taking photos or adjusting zippers. But that is the tradeoff for getting superior warmth compared to gloves.
Where to Buy
sponsored links
Help support Trailspace by making your next purchase through one of the links above.
Manufacturer's Description
Visit Mountain Hardwear's Masherbrum Mitt page.
Retailers' Descriptions
Here's what other sites are saying:
Free Shipping. Mountain Hardwear Masherbrum Mitt FEATURES of the Mountain Hardwear Masherbrum Mitt Our warmest mountaineering mitt OutDry Waterproof Technology: Extremely waterproof, totally windproof The OutDry membrane is directly bonded to the glove's outer shell, eliminating the ability for wind and water to penetrate through the sewn seams of the shell, keeping hands warmer Removable liner mitt with warm, soft Thermic Micro insulation and a water resistant shell Durable water-resistant goatskin palm and fingers Extra long gauntlet fits over bulky jacket sleeves Simple Cinch one-handed gauntlet closure with Cyberian cordlock seals out snow SPECIFICATIONS of the Mountain Hardwear Masherbrum Mitt Average Weight: 15.9 oz / 450 g Body: Nylon Taslan (100% nylon) Laminate: OutDry Waterproof Technology Lining: Brushed Tricot (100% Polyester) Palm: Water-resistant Goatskin Leather Insulation: Thermic Micro
- Moosejaw
The Mountain Hardwear Masherbrum Mitt is an extremely warm, flexible and breathable mitt for high-altitude mountaineering. Insulated with ThermicMicro(tm), the Masherbrum's nylon shell is lightweight and highly breathable, with Conduit laminate. Leather palms for durability.Masherbrum Features:Articulated cutExtra long gauntlet fits over bulky jacket sleevesExtremely breathableSimpleCinch one-handed gauntlet closureRemovable leashPittards- Atacama leather palm and fingersThermic Micro fill is soft, lofty, compressible and durableWebbing and ladder lock cinch at wristBrushed Tricot Poly liningNut logo pull on tab at gauntletCarabiner loop on sidewall to clip and hang mitts2 layer Conduit ripstop polyester shell Specifications:Gender: MensUsage: Alpine Climbing / MountaineeringBody: 2L Conduit Ripstop NylonInsulation: Thermic Micro Weight: 0 lbs, 11 oz / 315.00 gLining: Brushed TricotPalm Material: Pittard's- Atacama Leather
- Mountain Hideaway
Mountain Hardwear: Men's Masherbrum Mitt: An extremely warm system mitt designed for mountaineering and high altitude pursuits, with OutDry Waterproof Technology. We bond the waterproof, breathable OutDry membrane to the glove's high-tenacity nylon shell, to fully seal out water, wind, and cold. Leather palms for durability. The removable liner mitt has an excellent fit with snug elastic at the wrist to hold in heat and can be worn on its own. UPDATED: Now with OutDry Waterproof Technology UPDATED: Removable liner mitt with warm, soft Thermic Micro insulation and a water resistant shell UPDATED: New SimpleCinch one-handed guantlet closure with Cyberian cordlock seals out snow Our warmest mountaineering mitt OutDry Waterproof Technology: extremely waterproof, totally windproof. The OutDry membrane is directly bonded to the glove's outer shell, eliminating the ability for wind and water to penetrate through the sewn seams of the shell, keeping hands warmer. Durable water-resistant goatskin palm and fingers Extra long gauntlet fits over bulky jacket sleeves
- Mountain Hardwear
Mountain Hardwear's warmest mitt is built for high altitude living. The Masherbrum Mitt uses Thermic Micro synthetic insulation to keep your hands warm and usable in the harshes conditions on earth. Goatskin palms add durability and great fit and feel. Extra long adjustable gauntlets lock out snow and drafts so you stay protected no matter how bad the terrain and weather get.
- Mountain Gear
Mountain Hardwear Masherbrum Mitt
currently retails for:
$179.95
MSRP: $180.00

where to buy: