MSR
BlackLite Classic Cookset
3

reviews

5-star:

0

4-star:

2

3-star:

1

2-star:

0

1-star:

0
Reviews
The MSR BlackLite cookset is a low priced entry model…
Rating:


Source: received it as a personal gift

Summary
The MSR BlackLite cookset is a low priced entry model cook-set that does not disappoint. This cook-set includes:
1.5- and 2-liter pots, fitted lid, PanHandler pot lifter, reusable stuff sack and Packtowl to separate pots.
Total weight is just over 1 pound and packs to 7.75" x 3.6".
Great for two- to three-person backpack trips.
Great beginner cook-set
Pros
Lightweight
Non-stick
Packs well
2 Pack towels included
Cons
Scratches easily
Warps
Teflon burns off
No fry pan
Pot lifter use damages paint and Teflon
I received this cookset from my father when I first got into backpacking. At the time all I had was a collection of random old school aluminum pots and pans that had been handed down from my father's early backpacking days.
The first use the cookset got was at Eightmile Lake in the Washington Enchantments. In one pot frying up some canned chicken in olive oil and in another cooking rice and butter.
The first thing I noticed was that I had to devote a lot of attention when frying anything as to not burn the Teflon. Another thing I found right off the bat was that the pot lifter was scratching the pots. After all cooking was done for the night cleanup was a breeze and the included pack towels were very useful.
I have been using these pots for about 2 1/2 years now and still love them, yes they are starting to look a bit haggard but with proper care they will last a while longer.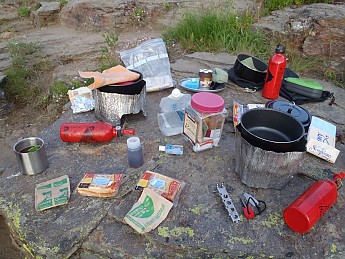 I got this set for my birthday. I really liked it,…
Rating:

I got this set for my birthday. I really liked it, they are light and easy to use! The only prob is the non stick surface, easy to scratch. But I use plastic spoons and haven't had a problem.
It is an aluminum pot, there is not much else to say.
Rating:


Price Paid: $40

It is an aluminum pot, there is not much else to say. The not stick coating is easily scratched and has bubbled up all over my pot. The pot lifter leaves large scratches in the coating if you are lifting your pot with more than a cup of water in it. I am in the process of looking for a lighter pot, and probably will be looking at Titanium and something uncoated because I'm tired of eating it.
Retailers' Descriptions
Here's what other sites are saying:
When weight reduction is priority one, take this minimalist cookset that includes 1.
- GearX.com
The MSR BlackLite Classic Cookset is perfect for when you need to cook for two and don't want to spend all day cleaning up. The MSR BlackLite Classic set features a fuel-saving black exterior, with good heat dispersal and a nonstick coating for easy cleanup. Nonstick coated set includes 1.5- and 2-liter pots, PanHandler, fitted lid, stuff sack and a PackTowl dishcloth.
- CampSaver.com
The BlackLite Classic Cookset by MSR is a super lightweight cookset that is perfect for ultra-light backpackers or anyone who is weight conscious in the backcountry. Constructed with a nonstick coating making cleaning up a snap and grooved bottoms keeps the pans on the stove even with a slight tilt or uneven ground.The black exterior is great for speeding up the heat absorption, which improves cooking time and saves fuel. Comes with 1.5- and 2-liter pots, a lid that fits either pot, PanHandler, stuff sack and a Packtowl to separate the pots. Helpful hints for your cookware: -Wooden or plastic utensils are better for this cookset. -Never put cookset on heat when it is totally dry. -Add water to pan first when melting snow. -Compatible with MSR's XPD HeatExchanger and all Alpine Kitchen accessories.
- RockCreek
MSR Blacklite Classic CooksetEvery trip demands a different cache of cookware, that's why we offer the BlackLite nonstick aluminum cookset. Use plastic or wooden utensils to prevent scratches and prolong non-stick performance.Lightweight and Compact:Non-stick aluminum nesting pots are ultra lightweight and easy to packNon-Stick:Durable non-stick surface allows for easy cooking and clean-upBlack Exterior:boosts heat absorption, which improves cooking times and saves fuelGrooved Bottom:keeps pan from slipping and allows for even heat distributionIncludes 1.5 and 2 liter pots, fitted lid, PanHandler(TM) pot lifter, reusable stuff sack and Packtowel(R) to separate potsSpecificationsWeight: 1 lb 2 ozDimensions: 7.75 x 3.62 inMaterial: Aluminum
- River Sports Outfitters
MSR knows that every good foodie appreciates a good dinner, no matter where you are - so they created the BlackLite Classic Cookset. Made of the lightest nonstick aluminum on the market, this cookware can be used to whip up a good curry or stew even in the backcountry.
- Mountain Gear
MSR BlackLite Classic Cookset
Discontinued
The BlackLite Classic Cookset has been discontinued.
previously retailed for:
$21.65 - $44.95
The MSR BlackLite Classic Cookset is not available from the stores we monitor. It was last seen January 15, 2013 at Mountain Gear.
If you're looking for a new pot/pan, check out the best reviewed current models.