MSR
Deploy TR-3
1

review

5-star:

0

4-star:

1

3-star:

0

2-star:

0

1-star:

0
Reviews
MSR has consistently made rock solid products, and…
Rating:


Source: received for testing via the Trailspace Review Corps (Sample provided by MSR for testing and review)

Summary
MSR has consistently made rock solid products, and this is no exception. The overall design may become the industry standard. The pole never slipped in height adjustment. The aircraft grade aluminum offered consistent stability. The pole offers a simple way to adjust height without fussing with clips, locks, and twists. The no catch triangular basket, solid construction, and ease of use will make these my go-to poles for my winter hiking and snowshoeing.
Pros
Solid construction
One trigger adjustment
Well made
Carbide tip
Basket never hangs up on debris
Cons
Straps are hard to use while wearing mittens
Hard to use trigger while wearing mittens
Solid hard plastic does not help shuck moisture off handles
Handles are not offered for women-specific design/size
Reach to trigger is kind of big for women's hands
Height adjustments are predetermined.
Trigger mech wants to freeze up when snowing below freezing.
The TR-3 at first blush to me while attractive, seemed gimmicky. As I used these poles in various conditions on Mt. Rainier, the more I have come to find they are more than just a niche, cute product.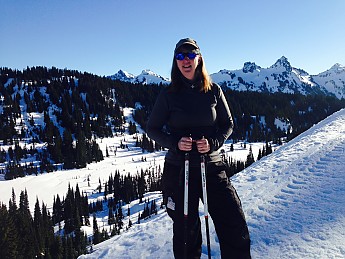 First, I was impressed with how the minimalist packaging packed a ton of information onto the product card, plus, it stowed the instruction sheet neatly into the sandwich board.
Features:
These poles are actually quite feature rich:
What especially sets these poles apart is the adjustment system. Just below the handle is a pull trigger designed to be operated with just one gloved hand while trapping the basket under the foot.
The poles include other great features as well:
Because of the three segment design, the regular poles close down into just 22.4 inches, and extend to 51 inches.
The listed weight is 21.1 ounces for the pair.
The poles are made with airplane grade 7000 aluminum for strength and durability.
They use a breakaway winter strap for safety in a fall.
The swing is comfortable, in part to the high center of gravity of the locking system working in balance with the triangular, replaceable snowbaskets. (Powder baskets are available, sold separately)
The handles have a naturally shaped, egonomic grip, with forefinger grip bump. It even includes a catch for raising AT and snowshoe heel lifts without having to bend over.
A feature MSR does not even mention is the hexagon shape of the top portion of the shaft, which significantly improves strength of the pole over traditional round poles.
Ease of Use:
The whole point of MSR's poles is making pole height adjustments easy.
Well, I found that my answer is yes and no to that design.
I like the idea of the one handed adjustment.  But, the handle is not really designed for the one size fits all – that "center point" is truly never "average."  While the handle fit my hand fine, I found that I still had to wrestle with the strap, hold the snow basket with my foot (which it is designed to do), then pull up on the trigger, and then pull up on the pole.
That whole process, because it's a bit too big for my woman-sized hands, was futzy. I don't typically change pole lengths anyway when I am hiking. I just choke up on really steep parts, or lean on the top of the handles on downhill. But, for those who like to adjust, the process was not as on the fly as it might have been for my medium-sized women's hands.
Saying that, I COULD adjust them better with my lighter gloves on.The handle was not slippery, and I did have enough grip to manage the trigger, which is made of a clear plastic.  I could not manage the trigger one handed with my mittens on, but I could manage it with both hands with the mittens on.
The straps were perhaps the part of the poles I disliked the most. Barehanded, I could manage the straps fine. I snugged the straps up so  the heels of my palm rested in the flat to comfortably pendulum the poles while moving. I could still manage the straps while wearing my lightweight gloves – although the adjustments became a little more unwieldy with the gloves.
Using my heavy mittens, adjustments were not going to happen, and I had to loosen the straps to even fit my mittens through. I had no hope of adjust the straps. The only way to make adjustments was to put my bare hand through the strap, sort of guesstimate where the straps would feel right, then put my mittens on.
The height of each position is predetermined. For me, it was fine, because the predetermined sizes were comfortable to me.  For those who like the exact precision sameness of each pole, those users will love the feature. However, if your pole height preference falls in-between a size, you will have to deal with that feel.
 Construction & Durability:
According to my scale, each pole weighed 11 ounces, coming in at  just over the listed 21 ounces.  Overall, though, the poles barely weigh  over other 3 season poles, which average 18-19 ounces a pair. 
I find them a hair heavy, but I have used old-school style one piece poles for years, which weigh in at 8 ounces a piece.  But, when I used them on some extensive hikes,  I really didn't notice the nominal extra weight.
One idiosyncrasy I noticed immediately is the top joint flexes or hinges when I leaned on the pole.  I was really nervous that the pole was going to slip or collapse under pressure. I absolutely must have poles on big steps. With extra pack weight and leg length, I put my full trust on my poles. Even with the flex at the joint, the poles stayed put.   So, when I really had a chance to run them through their paces, the poles were rock solid.
The release trigger was also sticky when snowing and below freezing. I had a hard time getting one pole in particular to release to adjust the height.
Conditions:
I started using these poles in the fall, when I just wanted to really get to know them before the snows hit.I have used them several times out in the snow on Mt.  Rainier. To be fair, the snow has been VERY slow in coming this year. In such, I cannot speak as proficiently to how these poles behave in powder as I would like.
But I can speak to how they performed in more consolidated snow and ice.
These poles were champs.  The carbide tips did a great job of providing all kinds of bite into the ice and frozen ground.  The snow basket, when I did traverse snow, did a fine job of floating the pole in consolidated snow. 
*Addendum*  I finally got to take the poles out in serious powder. The smaller triangular baskets did sink some in the powder. As I was snowshoeing, the rutted trail dropped down to 12" to 14". I just shortened the poles, the sinking really became a non-issue.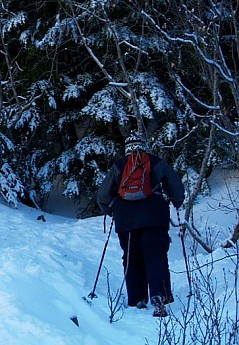 I went to Mt. Rainier in a pouring rainstorm.  The rain essentially turned snow patches into ice.  I have included a video showing the stability of the poles as I descended a fairly steep stretch of trail that would have been foolhardy to do without poles. These MSR's were absolutely up to the task.
After really putting through the best paces I could for the winter conditions so far, these pole really did what they said they would do. They did pack small for easy storage in my pack, and hid away safely in the back of vehicle so they would not get banged up or bent. 
They were incredibly sturdy.  I never once felt a slip or a give that made me nervous, and I encountered places where I truly put my whole trust on the pole. 
Impressions:
My concerns are three fold:
the hard plastic handle did nothing to shuck moisture (which became a problem in the downpour);

the straps were very difficult to fiddle with while wearing mittens. The handles were ok while bare handed or in thin liner gloves, but really made my hands hurt while wearing bulky mittens;

I still had to use two hands most of the time to adjust the height of the poles because of my mid-sized women's hands were too small and the trigger spring is very stiff.
Bottom line: Overall, these are really quite nice poles. They are sturdy. With their solid construction and high grade materials, I believe they will be long term reliable.  
Where to Buy
sponsored links
Help support Trailspace by making your next purchase through one of the links above.
Manufacturer's Description
The ultimate tools for winter travel across constantly changing terrain, the three-section Deploy™ TR-3 poles feature Trigger Release, our exclusive one-handed length-adjustment system. This revolutionary mechanism offers unique on-the-fly adjustability, perfect when sidehilling, switchbacking and on approaches. Built around our zero-slip SureLock™ System, Deploy TR-3 poles collapse to a pack-friendly size, ideal for those who stow their poles while in technical terrain or riding down.
Retailers' Descriptions
Here's what other sites are saying:
The MSR Deploy TR-3 snowshoe poles deliver rock-solid performance to mountaineers, backcountry snowboarders and winter travelers who require compactness and quick adjustments for summit approaches.
- REI
MSR Deploy TR-3 Adjustable Winter Poles LongThe MSR Deploy TR-3 Adjustable Winter Poles Long, are the ideal choice for the winter explorer. The unique trigger release one-handed adjustment system, allows you to change the length with ease, even with your gloves on. The SureLock System is a freeze-resistant, positive-locking mechanism, that ensures you a no-slip performance, so you can go forth with confidence and peace of mind. The shafts of the poles are built using reliable 7000-series aerospace-grade aluminum, which is not only super-strong, but also light so that you are not weighed down. The poles are extremely travel friendly and portable, as they fold in compactly and can be packed away neatly. The MSR Deploy TR-3 Adjustable Winter Poles Long definitely come in handy as you travel across constantly changing winter terrain!
- SunnySports
Beat-up aluminum poles are totally cool, and even give you some street cred if you're more of an in-bounds skier, but you need a bit more than a simple pole-planting stick when you spend most of your time outside the resort boundaries. If an adjustable, collapsible, tricked-out backcountry pole is more up your alley, the MSR Deploy TR-3 is worth a gander. Unlike most poles, the TR-3 has a glove-friendly one-handed Trigger Release adjustment system, allowing you to easily adjust your poles to the terrain--anyone who's skinned up more than three switchbacks in their life knows that stopping on every one to adjust your poles just isn't worth it, but the TR-3 is so easy to use that you might start rethinking your system. It also has a freeze-resistant SureLock System that won't slip at the most critical time, or become impossible to adjust in icy conditions. Even the grip is thoughtful and well-designed, with a easy-adjust Breakaway Winter Strap that force-releases if the pole gets lodged, saving your shoulder and your gear from inopportune destruction. MSR also gave the grip a small hook, making it easy to adjust tech bindings and climbing bails, or to scrape heavy snow off your skis. Throw in a light and strong shaft made of aerospace-grade aluminum, and you've got a pole that's more useful than you are, and probably tougher too.
- Backcountry.com
Free Shipping. MSR Deploy TR-3 Trekking Pole FEATURES of the MSR Deploy TR-3 Trekking Pole SureLock(TM) adjustment system prevents loosening and slipping during use Efficient, glove-friendly, one-handed length adjustments at the grips Breakaway straps and ergonomic dual-density polyurethane grips 7000-series aluminum is lightweight and very strong Poles collapse into 3 short sections quickly and easily when not in use Include a catch for raising heel lifts on your snowshoes so you don't have to bend over to do it Sold in pairs
- Moosejaw
MSR Deploy TR-3
currently retails for:
$119.93 - $159.95
MSRP: $159.95

where to buy: