MSR
Elixir 2
Specs
Weight
2.10 kg / 4 lb 10 oz

Reviews
Unique architecture, palatial for one, livable for…
Rating:


Source: borrowed it (Returned it.)

Summary
Unique architecture, palatial for one, livable for two, sturdy 3-season tent for car camping or non-SL/UL backpacking.
Pros
Strong architecture
Well-ventilated
Spacious
Cons
Finicky setup
Heavy
Sagging wall pockets
I took this tent out on an eight-day road trip through four national parks, and it performed very well. From Rocky Mountain to Great Sand Dunes, it stood up to mountain rain and desert sand. A unique geometry and spacious interior made for a comfortable road trip. 
Setup
My first stop was Wind Cave. I arrived as the sun was setting over the Black Hills, and I had to rush to pitch the tent before it got too dark. The architecture is listed as 2 poles — it has one pole primary pole (two poles attached together with swiveling hubs) and a brow pole. The primary pole when tensioned on the tent body creates two parabolas with two intersections created by the swiveling aluminum hubs as shown in the first photo.
There is a particular way to position the poles, and it can be tricky to figure out which way is correct. If you try to do it wrong, it is almost impossible to get the poles to seat correctly in the body grommets. After a few minutes and a couple failed attempts, I was able to get the pole attached to the body. After several setups in different parks I was still struggling a bit to pitch quickly.
This is definitely a body you want to stake down before adding the poles otherwise it may become airborn. The brow pole rests atop this configuration and seats easily in the top grommets but with very nice tension.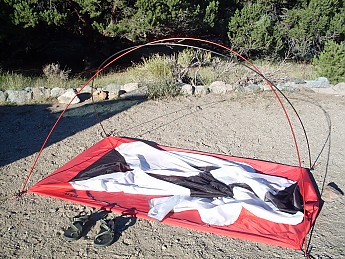 The brow pole creates nearly vertical side walls making for a very spacious geometry. With the vestibules staked out, the pitch is very taut. I used the included guy lines at the short ends to increase ventilation and improve stability in the wind. It didn't flap a bit.
Internal Space
Running solo, I had plenty of room for my sleep system (20in wide Thermarest NeoAir XTherm pictured below), my clothing duffel, and the usual explosion of road trip maps and other ephemera. With a 50" wide floor, I would be comfortable with a friendly tent mate. The length was more than adequate. I'm only 5'8" so the 84" long floor was lounge-worthy.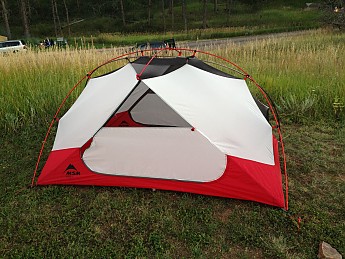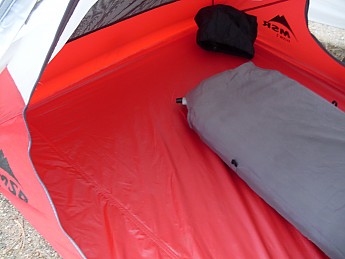 Fly

The polyester fly seems very durable and did not snag on juniper branches in Great Sand Dunes NP. The gray-beige color is actually appealing and lights up with the rising sun. I typically go for green or grey tents when possible, but I liked the red and it is understated when covered by the fly.
Weather Resistance
The weather during the trip was cool to cold (35°F-55°F) during the duration of the trip. The mostly-solid side walls kept out most of the chilling effect of the wind, while the strategically-placed mesh and vents allowed for condensation-busting ventilation. I slept with the vents open on cool drizzly nights - dry as a bone! Even on humid nights in Rocky Mountain NP, there was negligible condensation on the walls and no internal rain. It may be different in torrential downpours with the limited mesh. 
The "StayDry" doors actually lived up to their name. I was able to have the doors open in light rain with no water dropping in on me as I got ready for the day. The rain gutters above the fly door zipper are a nice touch, though I am not sure how much they really did.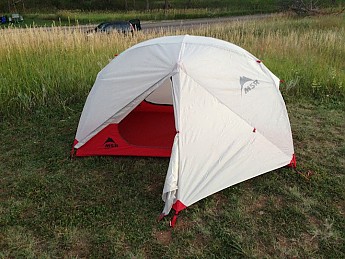 Storage
The vestibules are quite spacious and accommodate a lot of gear. I was able to put my pack under the protection of the fly, and still stick my feet out to remove my boots before bed. The short ends of the body have large mesh pockets for small essentials. They are convenient, but the top hem is just doubled-over, stitched mesh. They tend to sag greatly when you have anything more than a couple small items in them.
It would be nice to have a nylon or elastic strip along the top edge to hold the shape of the pocket better when there are more items in it.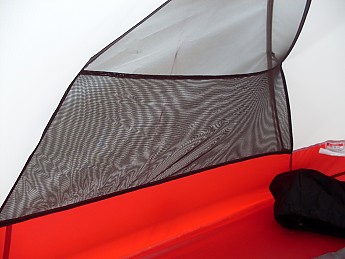 Packability/Weight
The included storage sac is pretty large. With a compression sac, one could pack it up for backpacking. The poles are a bit long when folded. The weight is high for super- or ultra-light backpacking, but not unfeasible for two who aren't especially concerned with minimizing weight or just on a short overnight/weekend. For car camping, it was great.
Overall
I enjoyed using this tent. The setup was a bit finicky, but very stable and reliable while in use. I would definitely recommend for value-conscious car-campers or beginning backpackers. Solid tent.
*I am the general manager of Whole Earth Provision Co. in Southlake, Texas. My views do not necessarily represent the views of Whole Earth Provision Co., its representatives, or its vendors. I pride myself in providing unbiased reviews of products I purchase for my personal use. NOTE: I borrowed this tent from an MSR field technical representative. I received no compensation for this unsolicited review.
MSR Elixir 2
currently retails for:
$199.95 - $249.95