MSR
MicroRocket
Reviews
I'd love to tell you something bad about this stove,…
Rating:


Source: bought it new
Price Paid: $39.95

Summary
I'd love to tell you something bad about this stove, but I can't.
Pros
Tiny
Boils fast
Very lightweight
Nice striker
Compact
This spring/summer I have been using the Micro Rocket as my go-to stove in an effort to lighten my gear load. 
Several companies make a stove like this and I chose the MSR because I have experience with the brand. 
I have used this stove in temps from 35° to 95°F and in elevations up to about 5,000 feet. 
Setup
Fold out the legs, screw it to your gas canister, and light it.  Simple and easy.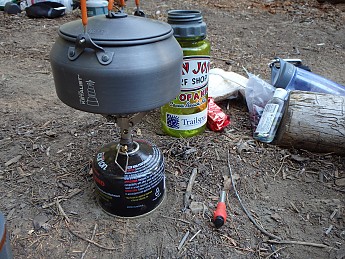 Boil times
I didn't time them, but they were around a minute or two for two cups of water. I walked away from it a few times and was surprised that it was boiling only after being gone a short while. It actually boiled fast enough to make hot water for me and my five kids to have dinner, but I would recommend it for no more than three adults. 
Wind Resistance
Conventional wind screens are not to be used with this stove type but the new ones that clip to the canister show promise, I may have to give one a try. Otherwise, the burner puts out so much flame that it resists 10-ish mph wind very well. Much windier and I'd cook in my tent (carefully) or behind a barrier.  
The burner puts out so much heat that elevation and temp swings seem to not affect it like other canister stoves.
It is pretty loud. It's called a rocket for good reason. This much heating causes lots of noise. If silence is your thing then use an alcohol stove. Just understand that heating power and noise go hand in hand. 
Stability
The fold-out legs are fine for the size of pots that you use when you are hiking light. This is not designed for 2-quart horse camping pots. It sits on a gas canister so that limits its tip-resistance, but that's an inherent feature of these types of stoves. The parts that the pot sits on glow red during use but don't show any damage after cooling off. 
Easy
There is no easier stove; no priming, no training required, just open the valve and light with the handy striker. 
Who needs this stove?
If you want the lightest stove that will actually boil in a reasonable amount of time and can also simmer water try this stove. Alpinists and others who need to cook in their tents and keep pack weight down to a minimum will like this stove as well. For big groups or car camping, maybe not, but when you need hot water right now for yourself and a buddy without overloading your pack this is the stove to reach for. 
A great little stove. Recommended for backpackers!
Rating:


Source: received it as a personal gift

Summary
A great little stove. Recommended for backpackers!
Pros
Durable
SMALL/lightweight
Easy to use
Boils water quickly
Cons
Pans don't always sit well on stove — needs to be perfectly flat and still
Fuel canisters are a bit bulky
I've had this stove for the past two years and have yet to have a problem with it. Aside from my backpack, it's my favorite piece of gear! This little guy has been with me through rain and snow, along with plenty of nice days in between, and it's performed exactly the same every time.
I'll start with some of the drawbacks of this stove...
Because the stove is small and compact, you can really only put small pots on it. Don't try putting a pan on it, because the weight of the handle could make it topple. Also, the ground needs to be pretty level so your cookware doesn't slide off. The metal struts keep the pot in place, but if you stir too vigorously, it could slide around because the struts are small.
And while the stove is lightweight, it requires fuel, which is potentially a drawback for those who want to go as lightweight as possible. The canisters, while reasonable, do take up extra space and add weight.
Another drawback to this stove is that it would be difficult to cook a meal on it. The stove gets hot enough, and the fuel canister lasts long enough, but since you can't really put a skillet or big pot on it — it's hard to make that work. It's possible, but you may need an extra hand or two. Cook the chili or stew with a different heat source.
But to me, for what I like to do, those are not really issues or deal breakers for me. Like I said before, this thing gets really hot, and I got it to boil water on about a medium setting (full tilt, this thing really is like a rocket!) in about 2 minutes, which is great. I could do it faster, but I don't want flames shooting up the sides of my little 1 liter pot. And since it's little, I even stick my enamel mug on it to heat up my tea in the mornings
The burner is really easy to adjust. There's a little dial that you can turn to make the flame larger or smaller, and just a touch to it changes the flame. I like that it is so responsive. It makes it seem more fuel efficient, which is another thing I like about this stove: a single fuel canister will last you a long time. Now I've mostly used it to just boil water to add to my dehydrated food. One canister has lasted me 7-8 weekend trips and have fuel left over. I am pretty stingy with what I use, so that might be different for other people.
I think MSR did a really good job paying attention to detail with the design. It folds down into something that fits in the palm of your hand, and since there are only a couple moving parts (the folding struts and the flame adjustment knob — I call it the throttle), it is really solid and durable.  
The piezo starter creates just a spark and the stove ignites right away. It's hard to explain through text, but the burner has a little wind guard on it. It basically divides the burner into thirds, so if there is wind, 2/3 of the burner is making a flame and heating your cookware. This is not a full wind blocker...it's just on the burner. I'll try to post a picture so that you can visualize it better.
Lastly, everything fits nicely into a plastic case. Some people don't want the extra ounces, but I'm not that extreme and I like to take good care of my stuff — I want it to last as long as possible!
Overall, this is a good backpacking stove. It's great for boiling water and reconstituting dehydrated food. It's possible to cook with it, but being such a small stove, there are better camp stoves out there for that. Lightweight, compact, durable, and powerful, I'd recommend this to anyone who wants a good clean flame for food while backpacking. Well worth the money.
MSR MicroRocket is simply the best lightweight stove…
Rating:


Source: bought it new
Price Paid: Too little

Summary
MSR MicroRocket is simply the best lightweight stove bar none!
Pros
Ultra light
Foolproof operation
Excellent stowage
I have had this stove for over one year and it lives in my trout fishing bag, not the best of places to be but out it comes 3 or 4 times a day and performs faultlessly every time. It is just so easy to set up and rapid boil or gentle simmer it does with tweak of the key control. Most day trips it is just tea and a dish of 2 minute noodles, but longer wilderness trips it does all meals too.
I have made a aluminum foil wind break which folds out when needed going over a windy pass for instance. For a week of wilderness travel I use one large 225 g tank of propane/butane gas for one person with two cooked one-pot meals a day plus hot drinks.
WELL DONE, MSR.
Good stove. Would recommend to anyone. This stove…
Rating:


Source: bought it new
Price Paid: $55

Summary
Good stove. Would recommend to anyone.
Pros
Small and lightweight
Simmer
Easy to use
Cons
Can be a little unstable
A little expensive
This stove is perfect if you are looking to lighten your load, but still want a good stove. It is easy to use and boils water quick. I love how it folds up.
The only downside is that it can be a little unstable if you don't pay attention to what you are doing.
Overall I love my MicroRocket stove!!
5 stars for small, lightweight, durable, great adjustability.
Rating:


Source: bought it new
Price Paid: $55

Summary
5 stars for small, lightweight, durable, great adjustability.
Pros
Small
Lightweight
Adjustable
Clean design
Great stove. I use it with the GSI MicroDualist — great combo! Had a tough time deciding between this setup and JetBoil — glad I chose the MSR MicroRocket/ GSI setup. No offense to JetBoil— it looks like a great product as well but no regrets in this purchase.
Worth the price. Packs tiny, lighter included has not failed me (added a few waterproof matches to container just in case), fairly durable, great adjustability. I have used it in snow, rain, wind, hot weather — no problems. I've used tiny to large fuel tanks and all have worked great.
I highly recommend the MSR MicroRocket!
This stove is compact and light. When folded up it…
Rating:


Source: bought it new
Price Paid: $59

Summary
This stove is compact and light. When folded up it fits into a container about half the size of a beer can. With the spark lighter no matches are needed!
Pros
Fast to set up
Compact and light
Comes with ignighter
Uses any screw-on canister
Cons
Storage case cheap plastic.
A little slow in cold weather
The smallest MSR branded canisters are kinda big compared to the Giga Power small canisters
Setting up the stove is a simple matter of removing it from its storage case, unfolding the pot supports, screwing the stove into the canister and lighting it. The burner separator allows it to stay lit in windy conditions. The flame can be reduced quite low to keep things simmering.
The fuel efficiency is lower in cold conditions because the stove is less efficient. The stove is fairly stable but one must watch the pot position on the supports. It's easy to get it off to one side. The canister forms frost on the sides while in-use. Be careful to dry this off before storing to avoid getting things in your pack wet.
The Giga Power cartridges are smaller that the smallest MSR cartridge and I opted for those. Heated over a gallon of water with one cartridge with fuel still remaining.
On its maiden voyage it performed quite well. Although a little slower and less efficient in the cold, the size and ease of use make it more desirable than liquid fuel stoves I've used in the past.
It's compact, easy to use, lightweight, and a great…
Rating:


Source: bought it new
Price Paid: $50

Summary
It's compact, easy to use, lightweight, and a great improvement over the A-standard MSR PocketRocket.
Pros
Compact size
Weight
Flame control
Cons
Spent canisters create more waste
I used the MSR PocketRocket for 10 years, gave it to a friend, and switched to using the MicroRocket because of its more compact size.
It has as excellent of flame control as the previous model and functions just as well, if not better. It also fits inside my pot, along with the fuel canister. It is very easy to set up and boils water fast.
I am very pleased.
MSR MicroRocket
currently retails for:
$47.96 - $59.95