MSR
Titan Kettle
6

reviews

5-star:

5

4-star:

1

3-star:

0

2-star:

0

1-star:

0
Rating:


Source: bought it new
Price Paid: $60

Summary
The only pot I have ever owned. It's durable and easy to clean. The wide body of the pot makes it great for staying balanced on an alcohol stove.
Pros
Durable
Great structure
Snap on lid
I have had this pot for 7 years and it has been in my backpack for 3000 miles. It's the only pot I have ever owned. The lid is great, snaps on and does not fall of in case it gets tipped over.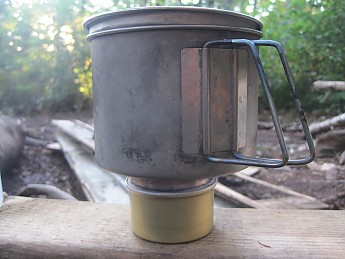 Rating:


Source: bought it new
Price Paid: $50

Summary
Great, lightweight solo backpacking pot. Standard size fuel canisters nest perfectly inside to optimize storage.
Pros
Lightweight
Nests a fuel canister
Cons
Quantity markers would be a good addition.
I bought this fuel canister specifically because I was looking for a solo cook pot that would nest a standard size fuel canister. This makes for a very effeciently sized cook set. Titanium construction makes this pot super light. 
At 0.85 liters, it is the perfect size for a solo pot. It's large enough to cook a meal, yet small enough to use as a large mug. This is the only pot I take on trips. 
The top is wedged on tightly, which can pose a spill hazard if you attempt to take it off while cooking. I do appreciated the fact that the lid has a small plastic coated handle that can be left in an upright position. 
My one wish is that the kettle had liquid quantity markings scribed on the side. I plan to put a scratch on the inside, marking two cups. 
Overall, this is a great little kettle and would recommend it to anyone looking to lighten up their load.
Rating:


Source: bought it used
Price Paid: $50

Summary
This has been our main backpacking pot for 8 years.
Pros
0.85 liter
well made
lite
This pot can take care of our 3 man backpacking crew with 2 boils. One of the best pieces of backpacking gear I've bought, thanks
Rating:


Price Paid: $39

General Product Description:
This is a .8 liter one-person cook pot. It has a rigid wire handle, a short spout, and a tightly fitting lid.
Bottom Line:
All but the most fanatic backpackers cook something, so I count cookware amongst the "essentials" of backpacking. Of all the pots and pans I've used, none has impressed me more than the MSR Titan Kettle.
Best Uses:
This item is best used to cook simple meals for one person, or as a smaller accessory pot in groups.
Positive features
Size: At .8 liters, this pot holds a generous cup of tea or coffee. I haven't met many who need more than a liter of coffee in the morning, but if that's you, I suggest medical intervention rather than a larger pot. It holds a nearly perfect i person serving of couscous, pasta or rice, boils just enough water to rehydrate an dehydrated meal, and fits 2 ramen packs, or one Knoor Noodles pack perfectly.
Ductility: The titanium conducts heat very well, which means liquids boil very quickly in it.
Shape: The pot is just high enough and not so wide. It's narrow enough to slide in neatly into the most over-packed bags, and wide enough to stay stable on most stoves. The edges are round enough to allow a spoon to scrape it completely clean.
Cartridge Accommodation: It fits a standard size propane cartridge neatly inside! How cool is that!
Spout: The lit fits on neatly and leaves a little space, allowing liquid to flow out of the spout. This means you can strain pasta, and make a mean cup of cowboy coffee.
Lid fit: The lid fits on tightly, minimizing the chance of a total boilover.
Negative Features
Handle: The stiff wire handle is a bit short, giving it a tendency to get finger-scorchingly hot.
Bail: There is a little bail on the top of the lid, all coated in plastic. The second time I put the pot at the edge of the fie to keep warm, the plastic melted. Who coats anything on a backpacking cookpot with plastic?
Ductility: Because the titanium metal transmits heat so rapidly, food burns very quickly. If you're doing anything other than boiling water, stir constantly, or rick a thick coating of charred food.
Spout Length: The spout is about 3 millimeters shorter than it needs to be, and hence, if you're pouring anything out of the kettle, it tends to drip down the sides.
Update: November 26, 2011
500 or so miles more on this kettle and it's still going strong!
Rating:


Price Paid: $49.95

I've found this pot to be all that it is advertised to be. A fuel bottle can conveniently be stored in it. Water heats quickly but you need to remember to use some kind of pot holder as the handle gets scorching hot. Also, I find it pours better with the lid off with hot liquids. I would love to buy another larger one for cooking pasta, etc. for two as this one is a bit small for that but I manage by using less water.
Rating:


Price Paid: 50$

I use this pot with an alcohol stove in the summer. After maybe 200 meals and 4 years it still looks brand new! There's not a dent in it, the lid closes tightly and I'm confident it could survive a nuclear war. It's just too small for thru-hiker hunger, but it's a good investment for a solo hiker with a small appetite.
Where to Buy
sponsored links
Help support Trailspace by making your next purchase through one of the links above.
MSR Titan Kettle
currently retails for:
$59.95
MSRP: $59.95

where to buy: