Musuc
Selk'Bag 4G Patagon
1

review

5-star:

0

4-star:

0

3-star:

0

2-star:

1

1-star:

0
Specs
Temp Rating
Comfort 44°F / Limit 35°F / Extreme 9°F

Weight
4.0 lb (M) / 4.3 lb (L) / 4.7 lb (XL)

Dimensions
72 x 73 in (M) / 79 x 79 in (L) / 84 x 86 in (XL)

Shell
Nylon Rip-Stop, Water Resistant Finish

Insulation
Synthetic

Lining
Polyester

Reviews
A whimsical, innovative idea that falls short of its…
Rating:


Source: received for testing via the Trailspace Review Corps (Sample provided by Selk'Bag for testing and review)

Summary
A whimsical, innovative idea that falls short of its claims. Best suited for car camping and mild conditions, as the 5lb synthetic bag is quite heavy and does not perform to its stated temperature rating. Created a sense of claustrophobia/panic in this tester whenever he tried to sleep with his hands tucked in the sleeves.
Pros
Comfortable sitting and moving in it.
Removable feet allow you to walk around in your camp shoes.
Allowed me to "cuddle" my son while staying in my sleeping bag
Fits well.
Plenty of ventilation options.
Get up and out of the tent quickly
Cons
Very heavy
Did not perform to stated temperature ratings
No crotch zipper/easy way to urinate
No option for a bag liner (to keep it clean or add warmth)
Can create a sense of claustrophobia
Can create a sense of claustrophobia
Was nervous about wearing it near the campfire when adding wood
There is a lot I have to say about this bag. Much of it is subjective. So I'll start with some of the concrete facts about this "bag."
FACTS:
Weight: Selk' Bag's website lists the Extra-Large bag at 4.7 lbs. When the bag arrived, the stuff sack clearly lists the weight at 5.07 lbs. (see picture below). Placing it on an official postal scale, the bag weighed exactly 5 lbs. (pictured).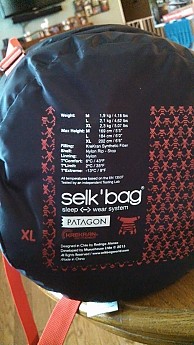 Click on pics for larger image.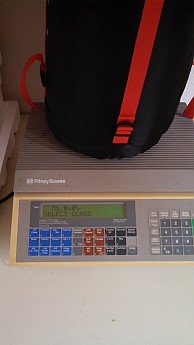 Fit & Comfort:
The Extra-Large bag is said to fit persons 6' 1" - 6' 6". There is no gender specific option. The bag fit my 6' 2" frame very well. I was able to move about comfortably when using it as part of the "wear" system.
Warmth:
The synthetic-insulated Patagon lists three temperature ratings on its stuff sack (picture under weight). It is comfort rated at 43°F. It has a lower limit rating of 35°F. An extreme survival rating of 9°F is listed. I tested the bag on three separate occasions.
The first test was in my hammock on a night that went down to 39°F. I was dressed in a lightweight, poly base layer, fleece pants, wool socks, fleece pullover, and fleece beanie. I used my standard, 30°F underquilt and added a reflective auto shade because of forecasted temps (An auto shade is a trick used by many hammock hangers to take temps lower. I don't usually use this with temps above freezing.) This fleece pullover was an extra layer above my standard cold weather sleepwear. At midnight I was too cold to continue with the test. I abandoned the Selk'Bag and switched over to a standard bag and slept warm the rest of the night.



At the conclusion of this test, I questioned whether or not I had been fair with it. Although I was wearing additional layers, I took it below stated comfort levels. I was also uncertain if the hammock test was fair. More air/wind moves through a tarp/hammock than through a tent. I was coldest when I slept on my side. On my back, only my chest was cold. With the hammock test possibly unfair, the remaining tests were conducted in a tent—the first time I have slept on the ground in two years.
On the second try, I tented with my 9-year old son a mile or so in the woods near my job. This was essentially car camping without utilities. We loaded up my ATV and drove out to the edge of a wetlands area I manage for my conference center. We went to bed with a temperature of 55°F. With temperatures forecasted to be above the bag's comfort rating, I dressed in a poly t-shirt, nylon pants, and wool socks. By midnight, the temperature had dropped to 50°F, and I woke up cold in the back and chest. I added a fleece pullover to my clothing. At 3:30, the temperature was 46°F, 3-degrees above the rated comfort level. I was very cold and pulled an extra sleeping bag over me as a blanket. I will point out that my son was sleeping comfortably in his

Kelty Little Dipper 40° Junior the entire time.
The third test was on a night with heavy, continuous rain. Again, I was in a tent. Temperatures hovered in the low-to-mid 50s. I started off wearing the fleece pullover to bed. I was not cold during the night. Neither was I overly warm—despite being dressed in extra layers and temps being ten-degrees above the stated comfort level. I slept fairly well (for being on the ground).
So in summary, I was unable to take the bag anywhere near its stated comfort rating.

Construction:
The Patagon is fairly-well made. I would compare it to an entry-level backcountry bag. It's definitely a better product than you would pick up at a sporting goods store, but I do not see it competing in quality with traditional $250 bags. Stitching is straight, with no loose threads. Zippers are wide and claim to be snag resistant (I did get a stuck zipper on a knee vent when I tried it the first time.) Draft tubes are located at all zipper locations.
The feet are detachable to allow the wearer to walk around in his camp shoes. For that quick trip to the bathroom, the soles are reinforced, a very nice feature. I suspect this would be the first part of the bag to wear out.
When the feet are detached a draw cord above the ankles allows the wearer to cinch up the legs. This closes off drafts and keeps the legs from dragging on the ground.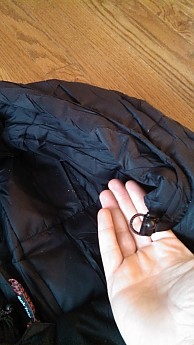 Ventilation is provided through 12" zipper vents at the knees and the right chest has a dual zipper to allow air in. The wearer can also vent the ankles if necessary.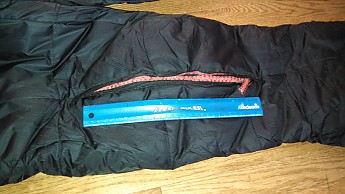 12" Knee vent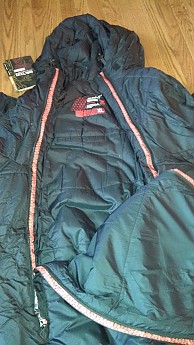 Zipper entry. Left zipper stops just below my rib cage. Right zipper comes down to the waist and has a dual zipper at the bottom for ventilation.


The sleeves provide full enclosure for the hands. The hands can be brought out of the bag through magnetically closed openings. Velcro straps allow the sleeves to be pinned up out of the way.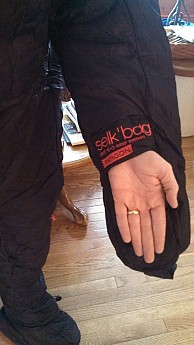 Moisture:
As I stated, my third test was a night with a hard, steady rain. While I remained, for the most part, sitting under the tarp by my tent, there was a mist of moisture on my legs and arms. This did not appear to soak into the bag.
SUBJECTIVE IMPRESSIONS
Poor First Impression:
Honestly, the Selk' Bag had a huge deficit to overcome. My wife continually called it the "Snuggie." My 10-year old daughter blurted out, "Dad, you really have to wear that thing?" My neighbor commented that a hunter might shoot me thinking I was Big Foot. I even skipped an opportunity to test it one night because I was going to be camping with a group of cavers I had never met before, and I did not want to explain why I was dressed that way.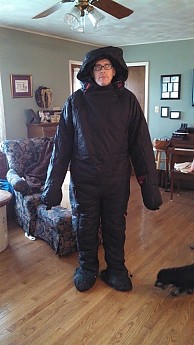 The company's marketing approach does not help. Their website states the Selk' Bag is for the outdoor enthusiast, but their promotional videos do not support that premise.
Once I gave up on the idea of the Selk' Bag being substantive backpacking gear, I enjoyed the bag a bit more. Camping with my 9-year old son allowed us to cuddle after we were both in bed, and when he had a bad dream in the middle of the night, I didn't have to work my way out of a mummy bag to comfort him.
Sense of Claustrophobia:
Selk' Bag's concept is to be a "Sleep – Wear System." Their motto is "You're not a mummy. Don't sleep like one." The description of the original Selk' Bag states:
...the uncommonly comfortable Selk'bag Original is an excellent solution for those who are uncomfortable in traditional mummy or rectangular sleeping bags. Perfect for a variety of adventures, the Selk'bag is used by outdoor enthusiasts the world over for camping in a tent, under the stars, at the lake, at the beach or even in the cabin. Use the Selk'bag Original indoors during the winter for immaculate comfort, or even in your RV, camper, SUV, or dorm room.
I sleep just fine in a traditional sleeping bag. However, the Selk'bag created in me an unusual sense of claustrophobia. On all three nights out, I woke up feeling "trapped" and enclosed. The first night was the worst and started with dreams of my arms being tied down. I quickly identified the cause as being that my hands were out of contact with the rest of my body. I do not know if I can convey this clearly, but by not being able to touch any other part of my body, it created a sort of sensory deprivation and a feeling of entrapment. On the first night, I briefly pulled my arms out of the sleeves and into the main unit of the bag—a very tight squeeze, but relieved the anxiety for a time. The second and third nights, when it was warmer, I simply stuck my hands out the sleeves for a few minutes every time I woke up.
Bathroom Limitations:
For being a system that you are suppose to be able to live in, the absence of a crotch zipper was a big deal. If a guy needs to pee, he is going to have to come most of the way out of the bag and AIM CAREFULLY—hard to do in the middle of the night when you are half asleep. A woman is going to have to climb out of the entire unit.  In a hammock, a guy can simply...er...hang over the side and pee into a bottle (or directly on the ground, if your sure your boots aren't sitting there). I understand some tent users use a pee bottle in their sleeping bag on cold night. There's no option for any of that with this bag.
Who's Feeding the Fire?:
I can't imagine anyone going over to feed a campfire in their $250 sleeping bag. Although I did continue to add logs to the fire while wearing the Selk'Bag, I was extremely wary of flying sparks and of the Velcro sleeve ends possibly coming undone and falling into the flames.
SUMMATION:
When five-toed Vibram shoes first came out, many people were put off by their appearance, but they ended up proving their worth to many in the market. Looking like a plastic bag, Platypus bottles proved they could compete with Nalgene.
Unfortunately the Patagon does not perform as well as a traditional 40-degree bag. So all the user is left with is a very expensive conversation piece to wear to their next pool party.
Where to Buy
sponsored links
Help support Trailspace by making your next purchase through one of the links above.
Manufacturer's Description
The most technical model ever created by Selk'bag, the Patagon enables the wearer to have even greater freedom and mobility, thanks to the detachable bootie system. In addition, wearers will enjoy improved temperature ratings, thanks to a more technical construction, an improved shell material, and a new insulation technology, Krekran. Part of the 4th generation family of the Selk'bag Sleepwear System, the Patagon is an excellent choice for a myriad of outdoor activities in multiple seasons.
Arguably the most versatile sleepwear system in the world thanks its innovative design, Selk'bag Patagon offers several upgrades over other Selk'bag models, including:
Removable booties that zip off and allow the wearer to use their own footwear. Booties zip together and may be used as a pillow

A more anatomical two-dimensional fit that greatly reduces dead air space and improves thermal performance as well as fit

An upgraded insulation material, Krekran®, that achieves greater thermal efficiency

Improved shell materials that are stronger, lighter and more thermally efficient

A redesigned quick-release hand closure system that uses magnets for even faster hand exit and entry

New Velcro straps that serve to 'roll-up' the Patagon's sleeves, allowing the wearer to work with their hands, be it cooking, preparing a fire, playing a guitar or other activities

Also included are great Selk'bag features developed for better overall performance, including:

Baffled construction helps to eliminate cold spots

Double front entry-zippers and a right hip zipper make for quick entry while granting access to pants pockets

An insulated hood for added warmth

A convenient carry sack for compact portability

Thermal collar around the head and neck to prevent drafts

Exaggerated draft tubes to stop heat loss around zippers

Wide zipper tape prevents snags

Leg vents to help regulate temperature inside the bag
Visit Musuc's Selk'Bag 4G Patagon page.
Retailers' Descriptions
Here's what other sites are saying:
The most technical model ever created by Selkbag, the Patagon Sleepwear System enables the wearer to have even greater freedom and mobility, thanks to the detachable bootie system. In addition, wearers will enjoy improved temperature ratings, thanks to a more technical construction, an improved shell material, and a new insulation technology, Krekran. Part of the 4th generation family of the Selk'bag Sleepwear System, the Patagon is an excellent choice for a myriad of outdoor activities in multiple seasons.
- CampSaver.com
Selk'bags made its Patagon Sleeping Bag with an anatomical design and removable booties to make it more mobile than other one-piece sleeping bags. That means you can slip on your hiking boots, climbing shoes, or flip-flops and enjoy the outdoors while wrapped in cozy warmth. Stuffed with an upgraded synthetic insulation called Krekran, the Patagon achieves greater thermal efficiency with less bulk so you can still get a good night sleep in chilly temperatures. The durable ripstop shell has a PU coating for water-resistance. The Patagon also features waist and foot grip tabs for a secure fit, magnetic closures at the hands for quick exit and entry, roll-up sleeves with hook-and-loop straps for cooking, dual front zippers for simple donning, draft tubes to block unwanted gusts, and an included compression sack so you can get this one-piece sleeping bag ... or shall we say, suit ... from home to the campsite without a problem.
- Backcountry.com
It's walk & wear season with Musuc's Selk'Bag 4G Patagon Synthetic Sleeping Bag is perfect for people who feel restricted by traditional sleeping bags or for a cozy alternative to wrapping up in a blanket around camp. Removable booties that zip off and allow the wearer to use their own footwear. Krekran insulation improves thermal efficiency. Velcro on the waist, wrists, and ankles prevents bag movement and excess bulk from impeding you from getting things done. Quick release closure on the sleeves allow you to easily free your hands so you can cook, play cards, or do other chores around camp while staying warm.
- Mountain Gear
Musuc Selk'Bag 4G Patagon
currently retails for:
$181.26 - $259.00
MSRP: $259.00

where to buy: