Native Watercraft
Ultimate 12
1

review

5-star:

0

4-star:

0

3-star:

1

2-star:

0

1-star:

0
Reviews
Lightweight, stable hybrid kayak with a comfortable…
Rating:


Source: received it as a personal gift

Summary
Lightweight, stable hybrid kayak with a comfortable seat that can be used in lakes, rivers, or oceans. Great kayak for a female who may not otherwise be able to lift a kayak onto a car on her own. Can hold a lot of gear but also has a lot of leg room.
Pros
Stability - very hard to tip
Comfortable seat
Lightweight - around 40 lbs without seat
Cons
Not self-bailing
Wide which makes it semi-difficult to paddle
Seat hard to remove and put back in
I received this kayak a few years ago as a birthday gift from my husband. We had researched kayaks together and I wanted something that I would be able to lift onto my car on my own so that I could go kayaking whenever I wanted. With the seat removed, the kayak is around 40 lbs which is a reasonable weight to lift.  
The first time I used it I was amazed at how comfortable the seat was. It can also be removed and used as a beach chair! It has tracks that it slides in and out of and they can be a bit tricky but not impossible. The seat is also adjustable so you can sit up or recline. There are also adjustable footrests inside the kayak for varying leg lengths.  
Because it is built sort of like a one-man canoe, you sit inside and closer to the water which, for me, made paddling a little harder as I kept hitting the paddle on the side of the boat. The interior is very spacious with more than enough room for gear and dry bags.  
The first placed I used the kayak was on rivers in South Carolina with very little current. Paddling this kayak on flat water is very easy.  However, its stability comes from the fact that it is wider than most touring kayaks which can make it easy to get caught in a current.
Paddling against the current in this kayak is slightly more difficult than in a longer, thinner kayak. I have also used this kayak in the ocean, which does not seem to be the best environment for it. There is no self-bailing feature. so if a wave comes over the side, you have to bail by hand.  
I have had this kayak for 5 years now and while it lives in my garage most of the time, it holds up very well.  It has no fading and hardly any scratches other than normal wear and tear. The seat also holds up very well and is just as comfortable as the day I got it.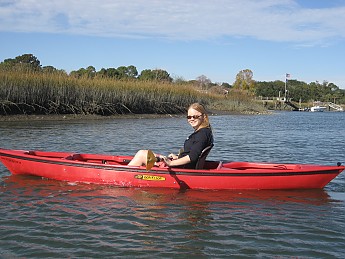 Where to Buy
sponsored links
Help support Trailspace by making your next purchase through one of the links above.
Retailers' Descriptions
Here's what other sites are saying:
Native Watercraft kept its design for the Ultimate 12 Basic Kayak simple so you could accessorize the boat for any outing whether it's a fishing trip, a soothing paddle across a lake, a photo or bird-watching day trip, or an adventure down a class II river. Its polyethylene hull is incredibly durable and handles the daily abuse that comes with the river life, and Native Watercraft gave the hull a unique shape with a tunneled center and two pontoon-like runners to give you a stable ride even if you choose to stand in the kayak to cast for fly fishing. Its Air Lite seat is super breathable so you can sit in it all day comfortably. Basic foot braces help you paddle through eddies and small currents with ease, and two carry handles help you take the kayak out of the water.
- Backcountry.com
With its removable First Class seat, wide standing platform, molded-in rod stays, and dual anchor trolleys, the Native Watercraft Ultimate FX 12 easily lives up to its name by being the ultimate in hybrid kayak fishing.For free shipping to over 50 of our stores, or to ask any questions, call Customer Service at 888-463-6367.
- EMS
The Native Watercraft Ultimate 12 Basic offers the friendly access of a sit-on-top kayak and the performance of a sit-inside kayak. The Native Watercraft Ultimate 12 Basic kayak is well-suited to fishing, photography and bird watching on lakes and slow moving water. Polyethylene construction offers performance and rugged durability. Part of what makes the Ultimate 12 Basic so friendly to any paddler is the double-concave, "tunnel" hull that enhances stability. Low profile sides resist high winds, and clutter-free area directly in front of seat won't snag your fishing line. Concave foot wells offer a place to stand that puts your center of gravity close to the waterline, and makes it easy to sight cast or pole the kayak in shallow water. Elevating you above the point where water might collect, the seat consists of a UV- and water-resistant mesh fabric stretched over an anodized aluminum frame. Native Watercraft calls out this seating using the term "Air-lite". Seat back adjusts backward and forward, and seat pan provides 3 different levels of thigh support. Footbraces are easily adjustable. Soft handles at bow and stern.
- REI
Native Watercraft Ultimate 12 Multi w/Volt With all the comfort and convenience of an Ultimate(TM) plus the versatility of a Multisport kayak, the Ultimate(TM) 12 Volt(TM) is perfect for anyone who wants a small, agile watercraft that can travel quickly but is still convenient for a soloist. Reach new distances and see unexplored areas without sacrificing the comfort of a personal watercraft. Specs * Length: 12' 1" / 368 cm * Width: 30" / 76 cm * Weight: 55 lbs / 25 kg
- River Sports Outfitters
GU2O?s five essential ingredients?electrolytes (sodium and potassium), carbohydrates (maltodextrin and fructose) and natural flavor?mixed with water keep the world?s hardest working athletes hydrated through the most intense training and competitions on the planet. GU?s sport drink is the result of over 5 years of testing among thousands of elite endurance athletes. They know it works, and so do athletes the world over who?ve come to the same conclusion. Drink it during any exercise, from yoga to a 100-mile run. It?ll keep you hydrated and that reduces fatigue, muscle cramps and lactic acid build-up. Put simply: staying hydrated with electrolyte-infused GU2O is vital to helping you go faster, longer. For a knock-out combination, use GU2O alongside a regular intake of GU Energy Gel and GU?s newest gel, Roctane. GU2O serves as the perfect hydration companion to both.
- RockCreek
Native Watercraft Ultimate 12
currently retails for:
$719.20

where to buy: