Optimus
Elektra FE
1

review

5-star:

0

4-star:

1

3-star:

0

2-star:

0

1-star:

0
Specs
Weight
16.05 oz / 455 g

Dimensions
4.9 x 6.5 in /124 x 165 mm

Average Boil Time
as little as 2.3 min/0.8 l water, depending on climate, altitude etc.

Average Burn Time
up to 90 min at maximum output (230 g canister)

Fuel type
Butane/propane gas canister (not included)

Output
10200 BTU / 3000 W

Reviews
This stove kit is really nice. It boils water very…
Rating:


Source: bought via a "pro deal"
Price Paid: $30

Summary
This stove kit is really nice. It boils water very quickly and with the included fry pan is a very versatile stove. It seems durable and includes a convenient wind screen.
Pros
Light
Versatile
Quick boil time
Cons
Adjustment valve
Lid/frypan handle
The Elektra FE is a very quick and efficient and versatile stove system. 
It is a pretty easy stove to light with the included piezo ignitor. It would be more convenient and a little bit lighter if it had an ignitor built into the stove. Another down side is that the control valve is a little bit finicky. Trying to adjust the flame with any precision is quite difficult but turning it all the way up for boiling water works great. 
The pot does not lock onto the stove but because of the wide burner and pot holders and the tightly fitted wind screen it does not feel like it will fall over easily. Because it does not lock on you can cook on this stove with other pots without any special attachments which I really enjoy. The lid of the pot can also be flipped over and used as a fry pan although it is a bit small to really cook anything significant. One other problem with the lid/fry pan is if you pull the fold able handle out all the way it gets stuck in the pot making the lid difficult to remove.
The wind screen is a very nice feature. It attaches on the ring of the fuel canister making it very sturdy and easy to slide around depending on the wind direction. I have not used the stove in high winds yet but the screen is well built and seems like it would work well. 
The stove, an 8oz canister of fuel and ignitor all fit into the the pot and that goes into a mesh bag. I find it is easier to put the bag on over the top so you cinch the bag down over the bottom of the pot. Other wise you deal with the lid falling off trying to get it in and out of the bag.
the stove seems quite durable. The pot is made of hard anodized aluminum and seems like it will last me a long time. 
All in all this stove is a great for backpacking and boiling water and with a little bit of patience in adjusting the flame can also be great for more gourmet back country cooking.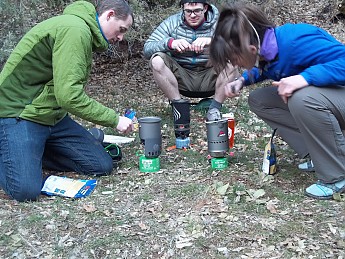 Where to Buy
sponsored links
Help support Trailspace by making your next purchase through one of the links above.
Manufacturer's Description
With 'fuel-efficient' in its name, the Elektra FE Cook System is the ultimate lightweight camp stove with high-powered cooking output. It's also extremely versatile. The modular system can be stripped down or used more fully featured, depending on the needs of the particular trip. It will also simmer, which is not a feature of many of the ultra-lightweight stoves in the same category. The Elektra FE weighing 16.5 ounces, combines the ultralight Crux Lite gas stove, a heat exchange pot with a lid, a clip-on windshield to reliably reduce gas consumption and boil time, and the Piezo ignitor.
Visit Optimus's Elektra FE page.
Retailers' Descriptions
Here's what other sites are saying:
Fire up the Optimus Elektra FE Cook System for quick and convenient backcountry cooking and boiling. An ultra-lightweight Crux Lite stove features Heat Exchange Technology and 10,200 BTU of heat output for fast and effortless boiling. A handheld Piezo igniter reliably sparks the Crux Lite stove, and the included hard-anodized, aluminum clip-on windshield shelters the cooking flame from mountain breezes and blustery conditions. A saucepan and fry pan/lid are bundled within this cooking system for making savory trailside meals. Isobutane/butane/propane fuel compatible, this stove runs off separately sold 230g fuel canisters. A stuff bag comfortably fits the Crux Lite stove for maximum convenience.
- Backcountry.com
When it comes to the Optimus Elektra FE (Fuel Efficient) cook system, its all in the name: It uses less fuel and at the same time is more powerful than other systems. The Elektra FE cook system consists of the Crux Lite gas stove, a heat exchange pot with a lid, a convenient clip-on windshield (which reduces gas consumption and boil time) and a handheld piezo ignitor. Due to its compact size the Elektra FE cook system fits easily into a day pack and adds hardly any weight. Set includes: Crux Lite stove with handheld piezo ignitor, Terra Weekend HE Heat Exchange pot, clip-on windshield.
- CampSaver.com
On Sale. Free Shipping. Optimus Elektra FE Cook System FEATURES of the Optimus Elektra FE Cook System Fuel efficient and isimpressively more powerful than other breeds The clip-on windshieldreduces gas consumption and boil time Compact and lightweight,fits easily into a day pack SPECIFICATIONS of the Optimus Elektra FE Cook System Dimensions (in): 4.9 x 6.5 Dimensions (mm): 124 x 165 Output: 10200 (BTU) Output: 3000 (W) Technology: gas Fuel type: butane/propanegas canister, which is not included Weight: 455 g (16.05 oz) Average burn time: up to 90minutes at max output (230 g canister) Average boil time: 2.3min/0.8 l water, all depending on surroundings (for example:climate, altitude) INCLUDED with the Optimus Elektra FE Cook System Clip-on windshield Terra Weekend HE Heat Exchange pot Crux Lite stove with handheld piezo ignitor *The Butane/propane gas canister is NOT included. Please don't hate us.
- Moosejaw
The Elektra FE (Fuel Efficient) is exactly what it claims to be: fuel efficient and powerful. The cook system includes the Optimus Crux Lite gas stove, a heat exchange pot with lid, handheld ignitor, and clip on windshield to reduce gas consumption and boil time. Elektra FE s light weight and compact size make it a great option for any adventure. Set includes: Crux Lite stove with handheld piezo ignitor, Terra Weekend HE Heat Exchange pot, clip-on windshield. Set does not include gas! Average boil time: 2.3min/0.8L water at sea level (2.3min/27oz)Average burn time: 90min/230g canister at max output (90min/8.1oz)Dimensions: 124mm x 165mm (4.9in x 6.5in)Fuel type: butane or propane gas canisterWeight: 455g (16.05oz)
- Second Ascent
Optimus Elektra FE
currently retails for:
$94.95
MSRP: $94.95

where to buy: