Osprey
Kode 30
2

reviews

5-star:

1

4-star:

0

3-star:

1

2-star:

0

1-star:

0
Specs
| | small | medium | large |
| --- | --- | --- | --- |
| Weight | 3 lb 0 oz / 1.37 kg | 3 lb 3 oz / 1.44 kg | 3 lb 6 oz / 1.52 kg |
| Capacity | 1600 cu in / 27 L | 1800 cu in / 30 L | 2000 cu in / 33 L |
Reviews
A decent sidecountry pack, but a little too small…
Rating:


Source: bought it new
Price Paid: $139

Summary
A decent sidecountry pack, but a little too small for full-day backcountry tours.
Pros
Carefully thought out partitions for emergency equipment
Versatile carry system for skis or snowboard
Helmet carry and google pocket
Tough construction
Cons
A bit too small for full-day winter backcountry tours
Complicated access to some compartments
I have used this pack for a couple of seasons, mainly on backcountry ski tours as it is designed for, but also for some day hikes. It's at its best for spring tours when I don't need to carry a lot of extra bulky clothing, but is space-limited for winter tours, especially if I need to carry crampons.
I am tall with a long back, but the pack fits me well, and I like the minimally padded shoulder straps and belt, which are all you need for day trips even i you have to carry skis.
The main compartment is accessed by unzipping the back panel, and I assume it's designed this way so that you can lay the back on the snow and get access while carrying skis. That makes sense, but you have to quick-release one or both shoulders straps to open it up, and remember to re-clip them after you close it up, which is a bit fiddly for my taste.
The dedicated bladder pocket is great in the springtime, but even with an insulated hose I'm a bit dubious about using a hydration bladder in colder temps, and there are no external water bottle pockets so the only alternative is to use up some of the limited internal space for a water bottle.
The main compartment fills up pretty quickly if I am carrying a full down jacket, extra hat and mittens, water bottle, thermos, and lunch, with crampons being the real space-killer. Little or no room left over if I have to take a layer off, so I have to strap anything extra on the outside, which I don't like to do. It is not big enough for hut-to-hut ski trips, where I need to carry at least a sleeping sheet, some extra socks, at least a clean shirt, and maybe some extra snack food even if I am buying all meals along the way.
Here it is fully opened up with down jacket, water bottle, hat and mittens, and crampons.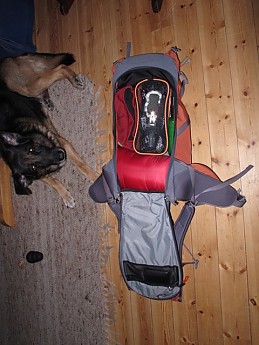 There is a zippered top pocket that is supposed to be for goggles, but since there are no other small pockets I tend to use it for small items and stash my goggles in my helmet. The pocket hangs down into the main compartment and can kind of get in the way when the pack is running really full.
The back compartment is designed for a shovel and probe with plenty of room for other gear, with slots for the shovel handle and probe. After trying various arrangements I have found I can fit my compass, emergency bivy, and small first aid kit in there, so it's mainly emergency gear that goes in there, but I will often put my skins in there as well if I'm tight for space in the main compartment.
It is not easily accessible when carrying skis and helmet, so it's best not to put lunch, water, etc. in there. To really open it up it is necessary to quick-release the compression straps. Here it open up as far as it will go, with shovel handle, a little bit of the shovel blade, skins, and probe showing. The emergency bivy and first aid kit are in the bottom, an there's a compass in a little pocket hidden by skins.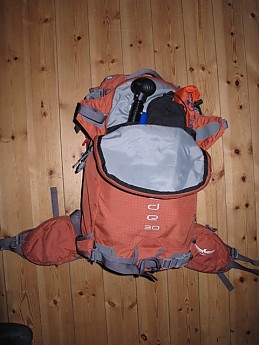 The belt pockets are a nice touch, good for a GPS, sunscreen, and a couple energy bars. My camera will fit in one, but it's not really a pocket camera (Canon G12) so it's too slow and fiddly to unzip and take it out, but a smaller camera would work nicely.
The elastic helmet-carry system is quite good, and I haven't any problems with the helmet popping out, which seems like a possibility. Having a separate, zippered compartment just for that seems like overkill -- a little velcro pocket might do just as well.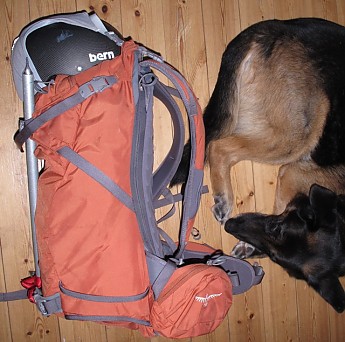 The compression system works fine, but is maybe a little complicated with cam-lock buckles and the central release. The same straps are part of the ski and snowboard carry system. The ski holsters at the bottom accommodate big skis and the whole system gives a good, stable A-frame carry. No comment on other carrying methods or snowboards.
The overall construction seems quite tough, so despite the volume and fiddle-factor limitations, I expect to be using this back on backcountry ski trips for many years to come.
I just received the Kode 30 pack. I have to say the…
Rating:


Price Paid: $110

I just received the Kode 30 pack. I have to say the quality is top notch. Osprey has thought of everything when designing this.
I loaded a whole bunch of gear, MSR stove, pots, pans, goggles, pillows and "stuff" just to see how it handled a load. Perfect. Tried on with a Gore-tex ski jacket and everything is perfect. It's very comfortable. Loaded a pair of Volkls on the back as well and they are tight and supported.
I see myself getting a lot of use from this pack. Unless it just self destructs in the near future I can't see anything that I would improve on. I can use this as an all around backpack in the summer as well.
Nice job, Osprey.
Manufacturer's Description
Retailers' Descriptions
Here's what other sites are saying:
Developed for a range of winter backcountry fun, the Osprey Kode 30 Backpack is ideal for skiers, snowboarders, telemark enthusiasts and snowshoeing adventurers who like to spend the mornings and afternoons in the back bowls surrounding their favorite mountain peaks. It's sized right for carrying extra clothing layers, snacks, lunches and hydration bladder, but the Osprey Kode 30 Backpack is also loaded with alpine-oriented features that will appeal to any backcountry explorer. Osprey configured their Kode 30 Backpack for a variety of ski-carrying options, including A-frame, diagonal and vertical ski setups. The V-straps on the Kobe 30 can also be extended to easily carry a snowboard vertically against the pack. Up top is a stretchy and stowable helmet panel that securely holds your snowboarding or skiing helmet in place. The dual articulated hipbelt pockets have zippered openings and offer easy one-hand access to energy bars and other small essentials.
- Altrec Outlet
Inbounds, out the gate, or full-on backcountry--the Osprey Kode 30 Backpack doesn't discriminate when it comes to a day out on the snow. This mid-sized ski pack holds your avy tools and other essential equipment for short tours or shredding the sidecountry.
- Backcountry.com
A great all around snowplay pack, the Kode 30 is great for a few hour to all-day side and backcountry tours. Unique features include front panel access to avy gear compartment, backpanel access to dry pocket, stowable helmet carry and a LightWire frame to support heavier loads with flex for dynamic movement.Features:A-frame ski carryAvalanche Gear Compartment - Kode 30Diagonal Ski CarryGoggle PocketHelmet CarryHipbelt PocketsIce-ax carryInsulated hydration sleeveSnowboard CarryVertical Ski Carry
- Second Ascent
The Osprey Kode 30 Backpack is a super versatile ski pack for skiing at the resort or in the backcountry. A 27- to 33-liter carrying capacity makes this Osprey pack ideal for both lift-served and backcountry riding. Features front access to avalanche gear pocket, a zippered main compartment and backpanel access to a dry pocket. Wet and dry gear division keeps wet and dry gear in its place. Diagonal, vertical and A-frame ski carrying options, as well as vertical snowboard carry capability with reinforced straps. Hip belt pockets for small essentials and one-hand access. HDPE framesheet and LightWire alloy frame combine with a thermo-sculpted SnowShed back panel and padded hip belt for a comfortable carry all day long. Separate hydration reservoir pocket and insulated hydration sleeve. Single tool loop and upper V-carry straps provide ice tool carry. Stowable helmet carry. Top zippered stash pocket. Microfleece-lined goggle pocket to keep your eyewear scratch free. Raincover add-on compatible. Backed by the Osprey All Mighty Guarantee, which offers free repairs good for any product, any reason, any era. The all-around Osprey Kode 30 ski backpack is just the right size for any winter adventure!. Colors: Black, Blue Smoke. Ski and Snowboard Carry. Sizes: Small, Medium, Large. S Torso Length: 16-18.5 in, or 41-47 cm. M Torso Length: 18-20.5 in, or 46-52 cm. L Torso Length: 20-22.5 in, or 51-57 cm. S Capacity: 1620 cubic in, or 27 L. M Capacity: 1800 cubic in, or 30 L. L Capacity: 1980 cubic in, or 33 L. S Weight: 3 lbs. M Weight: 3 lbs 3 oz. L Weight: 3 lbs 6 oz. Dimensions (in): 21.7 L x 11.8 W x 10.2 D. Material: 420 denier Nylon Pack Cloth, SnowShed Backpanel. Osprey All Mighty Guarantee
- Tahoe Mountain Sports
Osprey Kode 30
MSRP:
$139.00

The Osprey Kode 30 is not available from the stores we monitor. It was last seen June 4, 2014 at Backcountry.com.
If you're looking for a new winter pack, check out the best reviewed current models.