Aquaclip
1

review

5-star:

0

4-star:

1

3-star:

0

2-star:

0

1-star:

0
Reviews
The Aquaclip is a lightweight, flexible add-on to…
Rating:


Source: received it as a sample, freebie, or prize (briangreen.net)

Summary
The Aquaclip is a lightweight, flexible add-on to standard bottles that—when snapped into place—provides a way to hang the bottle to something else. Great for anyone who has been frustrated by the need to hand carry a bottle.
Pros
Lightweight
Easy to use
Low cost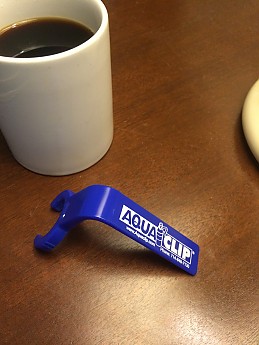 The Aquaclip is a simple device made of recyclable plastic (polycarbonate) that simply snaps onto the neck of a water bottle to provide the bottle with a means of attachment to other things.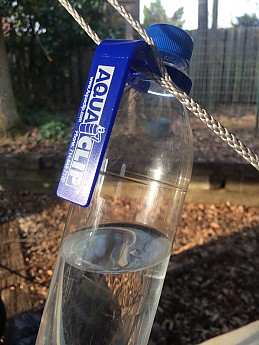 A slight twist while the Aquaclip is pressed against the neck of a bottle secures it into place. No, it won't come loose, at least mine didn't when I shook it with my bottle full of water, quite vigorously. Part of the reason is the flexible material used in the Aquaclip's construction; it gives, thereby avoiding a stiffness or brittleness that would result in the plastic snapping under such abuse. Once fastened, the Aquaclip is readily used—on a pack's sternum strap, on a belt, in a pouch, etc.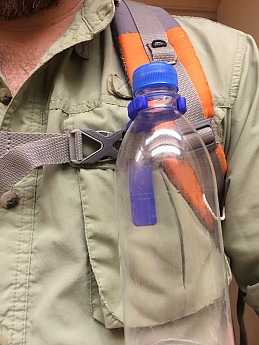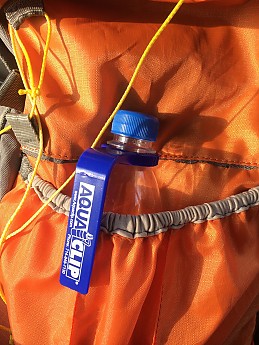 The Aquaclip is now a permanent fixture on the 20 oz. water bottle I carry with me daily. It clips into the strap of my shoulder bag easily. I've also tested it backpacking, using the Aquaclip to hold the bottle onto my sternum strap. It works equally well here.
My usual system for water bottle carrying on my pack involves a little clip connected to the water bottle that is then attached to a D-ring on my pack; the Aquaclip is definitely faster and easier to use, though a bit heavier. I have also found it convenient to slip into the band of my belt, where is rides beautifully with no problem.
The clip has always held my bottle secure in my daily use and in my backpacking experiences with it. I've tried to get the bottle to detach from the clip through various simulated maneuvers: not shaking it to the limits of my ability, but movements—shaking, twisting, etc.—that reflect the sort of movements I'd expect from the bottle when full and moving with my body. It remained secure.
The clip itself weighs 11g/.38 oz and measures about 3 inches in length on the portion meant to hook onto something else (the part emblazoned with the Aquaclip logo, above), while the portion that attaches to the bottle itself is about 1 1/4 inches--enough to accommodate a range of water bottle sizes.
Construction seems solid enough; this is plastic with some give, not cheap, hard brittle stuff. I don't anticipate this suddenly breaking, but then again I have no way of knowing how long it will last. At its price point, though, that may not be a huge concern.
The Aquaclip comes in sixteen different colors, in both solid and translucent colors. 

One feature mentioned on the aquaclip.com web site is a "built-in bottle cap wrench" that has "gripper 'teeth' to open stubborn beverage caps" (see image below).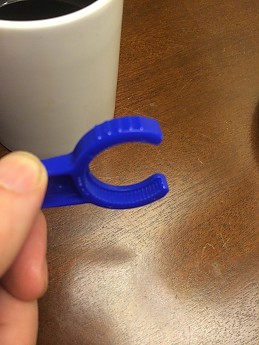 This is a nice idea, I suppose, but I found it pretty useless when I attempted to use it on a water bottle cap. There simply isn't enough gripping power. But maybe not wholly useless: the material cut away to accommodate the "wrench" is material one doesn't have to carry when weight is an issue. Always a positive way to spin something, right?
In any case, I am pleased with the price (especially since I won it from a blogger in a Facebook contest, but I'd pay $3 for one), design, quality, and utility of this nifty little gadget. Ultralighters may scoff at the added grams, but I find these 11 grams to be quite useful and worth their weight.
Update 4/14:
I played around a bit with my project backpack (a cheapie I use to experiment with backpack design), sewing flat strapping horizontally across my shoulder straps to provide a hook-in location for the Aquaclip. I already had shock cord loops to hold water bottles to my shoulder straps, but I had been using a somewhat difficult button hook arrangement to attach the bottles to my shoulder straps.
The Aquaclips worked well, slipping into the sleeve of strapping I created while the bottom of the bottle was held secure by the shock cord. I like this arrangement because it also allows be to drop by bag (at camp, for instance) and still carry a water bottle with the Aquaclip on my belt. If you compare the shots below to the one above of the Aquaclip in the sternum strap, you'll note that the method of attaching the clip to the back (below) offers greater security than merely slipping it into the sternum strap. You can see the strap I added in the image below.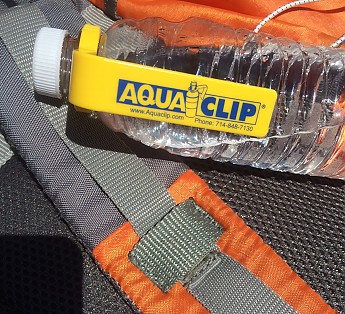 Here is how it rides when in use. Note the Aquaclip hooked through the strap and the shock cord cradling the bottom of the bottle. It rides in stable fashion.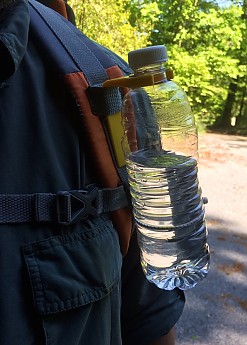 I contacted Aquaclip creator Brian Cizek to pass on G00SE's question about whether or not the Aquaclip fit Platy bottles. He sent the follow image of an Aquaclip on one particular Platy bottle (picture courtesy of Brian Cizek; used with permission). I plan to continue testing the Aquaclip, and I will update this review from time to time if noteworthy findings emerge.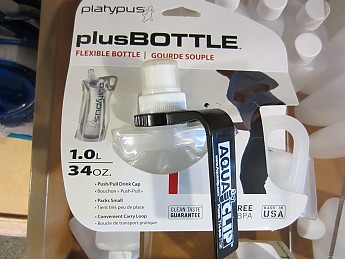 Manufacturer's Description
Aquaclip water bottle holder. The new beverage bottle carrier converts your bottle into a canteen. Keeping your hands free! Aquaclip-it while you walk, hike, rollerskate, in your car, golf bags, shopping, gardening, camping, strollers and much, much more. Simply snap it, clip it, and go!
Comfortably slips over waistband or belt

Has gripper "teeth" to open stubborn beverage caps

Durable, non-toxic, and recyclable

Patented and made in USA
Aquaclip
MSRP:
$3.00

The Aquaclip is not available from the stores we monitor.
If you're looking for a new hydration accessory, check out the best reviewed current models.