Outdoor Research
Ferrosi Pants
Reviews
My go-to for my first spring hike this season! Wooohooo,…
Rating:


Source: bought it new
Price Paid: $80

Summary
My go-to for my first spring hike this season!
Pros
Lightweight
Flexible
Breathable
Pull cord in cuffs for cinching
Dry easily
Wooohooo, it's finally hiking season again! I've owned my OR Ferrosi Pants for a year now, and they have made me a very happy hiker! I can't say enough about OR's Ferrosi material. It's lightweight, breathable, and stretches to allow easy movement on steep hiking terrain.
The Ferrosi Pants are a great option for spring hiking as they can be adjusted easily as the temperatures change. I appreciate having the full length of the pant on chilly mornings. As I heat up and the weather warms during the climb to the summit, the pant can be converted into capri length. There is a pull cord in the cuff, which can be cinched to fit snuggly against your leg. I've hiked for miles with the pants adjusted to capri length and have had no issues with the cuff slipping, or with chafing from the pull cord. Here is a photo- please excuse my blinding white legs!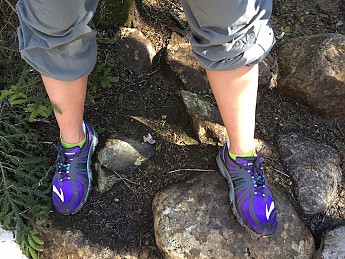 A constant to New England hiking, especially in the spring, is water — rain, rivers, muddy trails, etc. The Ferrosi material dries quickly, and does not seem to chafe the skin even when it is wet. The pockets are great as well. There are two standard pant pockets in the front and back, and the two back pockets have zipper closures. There is also a front zipper pocket midway down the thigh. If I'm going to be taking pictures as I hike, I often stick my phone in this pocket- it's the perfect size. 
All and all, I'm really happy with the Ferrosi Pants. As a bonus, they fit really well, are incredibly comfortable, and look great! I've been known to wear them even when I'm not planning an outdoor adventure!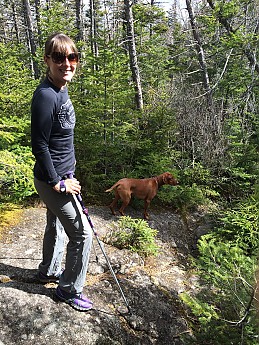 Extremely comfortable, great wind resistance, very…
Rating:


Source: bought it new
Price Paid: $55

Summary
Extremely comfortable, great wind resistance, very stretchy, and fit great.
Pros
Comfort
Wind resistance
Good fit
I was in the market for a wind resistant pair of pants (not windproof as I get warm absurdly easily), after having wearing (and loving) the Ferrosi Jacket for a couple of years, I decided to try these out.
The first time I tried them on, I loved them. I then wore them out on a bike ride in 45 degree weather, and wondered how I ever lived without them. Right when I got back from my bike ride I bought another pair. These pants are great, from a leisurely walk in the woods all the way up to extreme activities.
As with all of my Outdoor Research products, they are well made, very durable and extremely comfortable. These are the most free moving pair of pants I've ever come across. It almost feels like wearing sweatpants the way in which they stretch so well. I can't imagine doing a movement that these pants would hinder.
5 stars, highly recommended.
Excellent lightweight pants. The thinnest softshell…
Rating:


Source: bought it new
Price Paid: $52

Summary
Excellent lightweight pants.
Pros
Tough
Comfortable
Stretch
Not too hot in hot weather
Breathable
The thinnest softshell pants I have seen, but a much more substantial feel than the wispy ultralight nylon pants. Some people use these over a baselayer in winter as well, as they are water repellent and wind resistant, but I have the Marmot Durango for that.
Outdoor Research Ferrosi Pants
currently retails for:
$39.48 - $79.95