Outdoor Research
Rocky Mountain Low Gaiters
3

reviews

5-star:

0

4-star:

2

3-star:

1

2-star:

0

1-star:

0
Specs
Weight
4.8 oz / 136 g (L/XL)

Reviews
Low in weight, high in performance—an easy-on, easy-off…
Rating:


Source: bought it new
Price Paid: $19.34

Summary
Low in weight, high in performance—an easy-on, easy-off option to prevent rain, snow, or debris from entering your shoes or boots.
Pros
Quality construction
Easy-on, easy-off design
Comfortable
DWR weather resistant
Cons
Bottom strap is not replaceable
Note: A quick check of of the Outdoor Research site lists this item a a current price of $33.50. It appears to have become unavailable on other sites recently.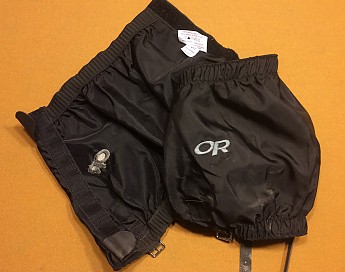 There is a trail in southwestern that rises steeply from Helton Creek on the slope of Elk Garden Ridge toward Deep Gap, west of the summit of Mount Rogers in southwestern Virginia. It is a lovely trail beneath a soaring canopy of trees, a narrow footpath lined with shin-high vegetation. And just as one's eyes lift in exhilaration to admire the lofty boughs above, pain shoots through one's shins: the innocuous stinging nettle that lines the trail claims another victim.
It doesn't take too many experiences with nettles to crave a means of keeping their hypodermic barbs at bay. But nettles are not the only thing to attack one's ankles or feet: if one hike east of Mount Rogers along Wilburn Ridge, one will savor astounding views but also grow plagued by pebbles and scree that somehow finds its way into shoes or boots in irritating fashion.
Gaiters are the solution, and Outdoor Research's Rocky Mountain Low Gaiters (hereafter RMLG's) offer lightweight, durable protection that have kept my ankles free from nettle stings and my boots free from scree for many miles of trail.
Outdoor Research offers a wide variety of gaiters. I bought these for their comparatively low profile and low weight. I didn't want to tote a huge mass of material in the wild, and I wanted something with a bit more protection that what the popular Dirty Girl Gaiters might offer.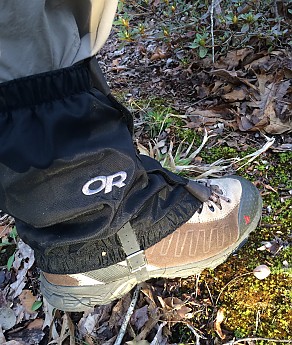 The material here is 8 oz nylon packcloth; despite the secure, inch-wide band of elastic that holds the gaiters close to one's calf and boot (or shoe), I have not found these to be especially hot. The gaiters wrap around one's ankle and footwear from behind, sealing on the front with a generously wide strip of hook-and-loop fastener.
A hook on the toe end slips over one's laces to secure that end in place, and at both top and bottom of the these 9.5-inch gaiters a second, rounded flap offers an additional measure of fastening security on top of the central hook-and-loop seam.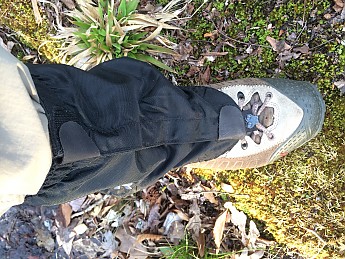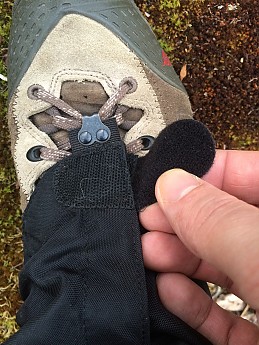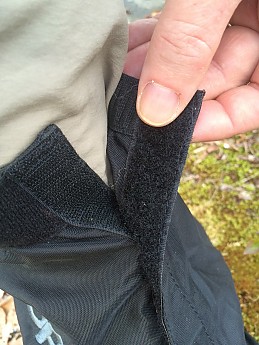 Beneath the arch of one's foot, a durable Hypalon strap loops from one side to a buckle on the other. This permits one to secure the gaiters comfortably, customizing the fit to one's footwear.
Durability is good. I've been both on trail and off with these gaiters, and they show little signs of wear or abrasion. The Hypalon strap on the bottom is slightly frayed at the edges, but this is an aesthetic concern, not a functional one. I understand some gaiters offer replaceable straps; these do not, a potential drawback if the packcloth outlives the Hypalon.
Comfort is also good. It takes a few moments to get used to the snug collar of elastic around one's calf or the tugging of the pants when some contortion pulls fabric out from underneath the gated, but these sensations quickly become the norm. I find them convenient, stowing them in an exterior side pocket of my pack for ready use. At 120g/4.2 oz (the pair), they offer good protection at what I deem an acceptable weight.
Do they do their job? Yep. Using the RMLG has become habitual, as natural as pulling on shoes or boots. They offer additional perks in rain or snow, too. Winter gave me ample opportunity to enjoy them in the snow, sledding with my kids or trekking in the woods. It was nice not having snow get packed in the top of my boots as I scrambled around in the snow. There were equally nice on a recent day hike that led be through beds of briars. My thighs suffered, but the tough packcloth resisted snags and helped me work my way through areas only B'rer Rabbit could have loved.
In short, the OR RMLG are perfect for someone who seeks a measure of protection from thorns, weather, or debris, and yet who wishes to eschew the weight and bulk of longer gaiters. 
Solid gaiter, Good price. Looking to keep rocks, dirt,…
Rating:


Source: bought it new

Summary
Solid gaiter, Good price.
Looking to keep rocks, dirt, twigs out of your boots/shoes? These gaiters will do the trick. I am not quite sure why OR has the monopoly on gaiters, but all of their gaiters are solid and do the job. These are on the lower end of the price scale but not quality. A definite recommend.
Great low gaiters for light brush/leaves. Durable…
Rating:

Great low gaiters for light brush/leaves. Durable except for the string that goes around the bottom of the foot. The support around the bottom of the foot is one of the reasons I chose this one over others but the string is made of weak materials that shred after continued use.
5 stars if it wasn't for that. Waterproofing was great...never noticed any water getting in. Elastic on top and bottom seal off your boots. Metal laces clip is very nice.
Where to Buy
sponsored links
Help support Trailspace by making your next purchase through one of the links above.
Manufacturer's Description
The durable, traditional packcloth construction and no-bulk design of the Rocky Mountain Low Gaiters is all you need for all-season performance. Pair these lightweight gaiters with hiking boots or cross-country ski boots to keep rocks, dirt and light precipitation from finding its way into your footwear.
Fabric: Packcloth: 100% nylon, 420D
Durable
Breathable
Top and Bottom Shear Tabs Secure Front Closure
Reinforced Boot Lace Hook
Hypalon
Visit Outdoor Research's Rocky Mountain Low Gaiters page.
Retailers' Descriptions
Here's what other sites are saying:
The lightweight, breathable Outdoor Research Rocky Mountain Low GaitersTM are ideal for fast packing through talus, sand, wet brush and light snow.
- REI
Outdoor Research Rocky Mountain Low GaitersThe Outdoor Research Rocky Mountain Low Gaiters are ideal for when you're in the mood to take part in outdoor winter activities. Whether it's hiking, backpacking or cross-country skiing you're planning, these lightweight low gaiters will protect your feet from the snow, debris and dirt. The packcloth design offers superior water-resistance, while the breathable fabric of these boots allows moisture and sweat to escape. This pair of gaiters comes with a convenient front closure that makes it easy to slip them on and off. The elastic top and bottom edges make sure versatility, so that you can use them with a variety of boots. Your gaiters are equip with a Hypalon instep strap, which secures them to your boots and provides superior stability. Explore the winter wonderland, with the Outdoor Research Rocky Mountain Low Gaiters.
- SunnySports
Outdoor Research Rocky Mountain Low Gaiters are durable low-top gaiters that will keep dirt, rocks, and light snow out of your boots. Wear these lightweight gaiters with cross country ski boots or hiking boots. Low bulk design takes up little room in packs. 1 inch wide hook and loop front closure. Hook and loop shear tabs at top and bottom of front closure prevent separation. Elastic bottom and top edges. Double-riveted boot lace hook. Hypalon instep strap. Made from uncoated packcloth. Infinite Guarantee - Outdoor Research products are guaranteed forever. Fabric Packcloth: 100% nylon, 420D. Avg. Weight: 4.8 oz / 136 g (L/XL). Color: Black
- Tahoe Mountain Sports
On Sale. Outdoor Research Rocky MTN Low Gaiter FEATURES of the Outdoor Research Rocky MTN Low Gaiter Durable Breathable 1in.-Wide Hook/Loop Front Closure Top and Bottom Shear Tabs Secure Front Closure Elastic Top and Bottom Edges Reinforced Boot Lace Hook Hypalon Instep Strap SPECIFICATIONS of the Outdoor Research Rocky MTN Low Gaiter Weight: per pair: (L/XL): 4.8 oz / 136 g Packcloth: 100% nylon, 420D This product can only be shipped within the United States. Please don't hate us.
- Moosejaw
Outdoor Research Rocky Mountain Low Gaiters
currently retails for:
$26.00 - $35.00
MSRP: $33.50

where to buy: