Petzl
Ascension
2

reviews

5-star:

2

4-star:

0

3-star:

0

2-star:

0

1-star:

0
Holds wet rope. So, I have said the same thing on…
Rating:


Source: bought it new
Price Paid: $50

Summary
Holds wet rope.
Pros
Best ascender on the market
Cons
Being right- and left-hand specific is both a pro and a con
So, I have said the same thing on my Petzl Croll review, but in a "Frog" Ascension system, the Croll and Ascension are both critical components. You can't have one without the other.
Petzl's ascenders are the only ones I've ever used for caving. They work right every time. I can set and remove them while wearing gloves. I literally have trusted my life with them scores of times. Petzl tends to be a bit pricier than other other brands, but I'll stick with the leader when it comes to my safety.
Photo is me ascending out of Rumbling Falls Cave. My hand is gripping the Petzl Ascension. You can see the gold Petzl Croll at my chest.
As I state in many of my reviews, rope work in a cave is dangerous. One should not just pick up a bunch of equipment and go try it out. Join a caving club (called a "Grotto" and found at www.caves.org) and learn from them. It is also wise to find out what your local Grotto is using in caves. If you are using a system they are unfamiliar with, it will be difficult for them to assist you, should you get into trouble (and, yes, cavers get into trouble on ropes all the time. Usually, it's not a big deal, but then others wind up in the obituary section, because they didn't know what they were doing.)
I got the Petzl Ascension ascender to replace my prussik…
Rating:


Price Paid: $70

I got the Petzl Ascension ascender to replace my prussik cords for jugging fixed lines. In my search, I tried out numerous types of ascending devices such as the Black Diamond nForce and the Petzl Tibloc, but the Ascension stood out as the best piece for the job.
I picked the left handed version so that I switch from using the "double ascender" method of jugging to the ascender/grigri method when I got enough money to guy the grigri.
I also carry it along in case I need to perform a self rescue.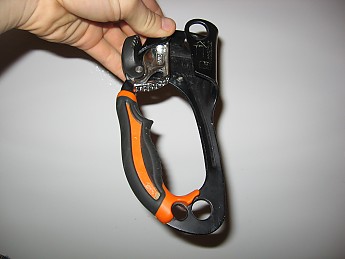 The Good:
The best feature of the Ascension that makes it stand out over the competitors is how smoothly it slides up and down the climbing rope. Also, the thumb trigger makes the device very easy on and off the rope as you pass up gear placements while cleaning aid pitches.
The device itself has two attachment points on the bottom of the device, which are plenty big to fit even large carabiners into, and the holes at the top of the device allow you to create a 3-to-1 pulley system with a loose carabiner for taking in slack with the ascender/grigri method.
This feature has proven extremely useful when installing or removing bolts on sport routes. Weight is another plus to the ascension, weighing in at 196 grams (less than other competitors of similar shape). One of the cool features I like to use the ascension for is self-belaying on a fixed top rope line as opposed to using a locking pulley.
The Bad:
Some of my climbing partners commented that the hole at the bottom was not large enough to rotate a locking carabiner 360 degrees, but I don't see this as being an issue that I will ever have to deal with.
Overall:
Overall I am totally satisfied with the Petzl Ascension. It meets all my needs and offers great versatility either climbing, caving, or jugging. I would highly recommend this product if you are in the market for an ascender.
Where to Buy
sponsored links
Help support Trailspace by making your next purchase through one of the links above.
Petzl Ascension
currently retails for:
$67.96 - $79.95
MSRP: $74.95

where to buy: