Petzl
Croll
1

review

5-star:

1

4-star:

0

3-star:

0

2-star:

0

1-star:

0
Reviews
As a component in rope ascending, the Petzl Croll…
Rating:


Source: bought it new
Price Paid: retail

Summary
As a component in rope ascending, the Petzl Croll continues to be the best on the market. It is easy to use, even while wearing gloves. It holds true on wet, gritty rope. I have trusted my life to this item numerous times and will continue to do so.
Pros
Lightweight
Holds on wet rope
Cons
None to report on this item
Petzl's ascenders are the only ones I've ever used for caving. They work right every time. I can set and remove them while wearing gloves. I literally have trusted my life with them scores of times. Petzl tends to be a bit pricier than other other brands, but I'll stick with the leader when it comes to my safety.
The Croll is designated as a "chest ascender." This may cause some confusion, as it actually attaches to your harness at your waist. However, it is held in place by either a chest harness or a piece of webbing running up and over the shoulders. As a climber "frogs" up the rope, the Croll sits primarily at the bottom of the sternum.
The photo is me ascending out of Rumbling Falls Cave. My hand is gripping the Petzl Ascension. You can see the gold Petzl Croll at my chest.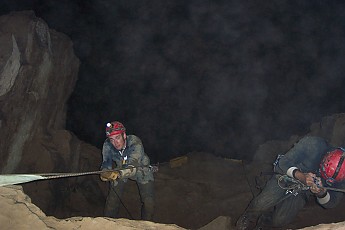 In a pinch, the Croll could be configured as a different ascending device, but it lacks the convenient handle on dedicated foot ascenders.
As I state in many of my reviews, rope work in a cave is dangerous. One should not just pick up a bunch of equipment and go try it out. Join a caving club (called a "Grotto" and found at www.caves.org) and learn from them. It is also wise to find out what your local Grotto is using in caves. If you are using a system they are unfamiliar with, it will be difficult for them to assist you, should you get into trouble (and, yes, cavers get into trouble on ropes all the time. Usually, it's not a big deal, but then others wind up in the obituary section, because they didn't know what they were doing.)
Where to Buy
sponsored links
Help support Trailspace by making your next purchase through one of the links above.
Manufacturer's Description
Retailers' Descriptions
Here's what other sites are saying:
Use the Petzl Croll chest ascender with a chest strap and a hand ascender for simple and efficient ascension up fixed lines while you're aid climbing, caving and mountaineering.
- REI
When used with a chest strap and a rope clamp, the compact Petzl Croll makes for a simple and efficient system for ascending fixed lines. Angled attachment hole keeps the device properly aligned on the chest. Compact and light Stainless steel wear plate improves durability by reinforcing the rope friction zone Chrome-plated steel cam with angled teeth and self-cleaning slot securely grips the rope, even in muddy or icy conditions Ergonomic trigger allows one-handed installation and removal Upper hole is used to attach shoulder strap Safety catch prevents the cam from opening too far, thus helping to keep the rope captured for added safety UIAA, CE EN 567 certified Made in France
- OMCgear
When it comes to ascending fixed lines, nothing rivals the Petzl Croll Chest Ascender for speed and efficiency. When used in conjunction with a chest strap (Petzl Torse) and a basic handled ascender, the Croll simply slides up the rope as you make upward progress. The self-cleaning slot allows the stainless steel cam to perform on frozen or dirty ropes, and the compact nylon trigger allows for quick manipulation of the device.
- Backcountry.com
On Sale. Free Shipping. Petzl Croll Ascender FEATURES of the Petzl Croll Ascender Used with a BASIC ascender or with an ASCENSION handled ascender for rope ascents Toothed cam with self-cleaning slot optimizes performance under any conditions (e.g. frozen or dirty ropes) Stainless steel cam has better resistance to corrosion Stainless steel wear plate for improved durability Open the catch by pinching for simple, quick manipulation Lower hole angled to keep the CROLL chest ascender flat Upper hole for attaching a TORSE shoulder strap and keeping the ascender in position Mechanism is totally integrated into the body of the rope clamp to help prevent rubbing Thumb catch can be pinched for easy manipulation when the clamp is in position Angled attachment hole allows the device to lie flat against the chest Used with the SECUR shoulder strap to keep the rope clamp in position SPECIFICATIONS of the Petzl Croll Ascender Weight: 130 g Rope type(s) and diameter(s): For single ropes between 8 and 13 mm in diameter Certification(s): CE EN 567, UIAA Case Quantity: 10 Material(s): Aluminum for the frame, stainless steel for the cam, nylon for the trigger ALL CLIMBING SALES ARE FINAL.
- Moosejaw
Petzl Croll
currently retails for:
$55.14 - $68.95
MSRP: $59.95

where to buy: