Petzl
Ecrin Roc
2

reviews

5-star:

2

4-star:

0

3-star:

0

2-star:

0

1-star:

0
Reviews
It's the "Best" helmet. I have used it extensively…
Rating:


Price Paid: $90

It's the "Best" helmet. I have used it extensively from rock climbing to winter mountaineering.
Absolutely rock solid, heavier than the more contemporary models, but do not forget almost all of them have been designed by taking this particular helmet into consideration. Adjustable to any head. Plastic patches are available if you wanna restrict the air flow or stop the rain through the air vents on either side of the helmet.
Look no other, this has been on the market for I do not know how many years, proved its usefulness to the extremes.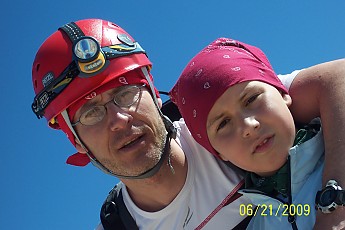 I use this helmet for caving, as does my daughter.
Rating:


Price Paid: $58-85

I use this helmet for caving, as does my daughter. Major advantages include the easily adjusted straps and headband, the clips for holding a headlamp on the helmet, and the air vents.
Disadvantages--none that I know of, except that a headlamp can be pulled out of the clips by a passing rock while crawling. I have not used this helmet for rock climbing.
Manufacturer's Description
Retailers' Descriptions
Here's what other sites are saying:
The Ecrin Roc is fitted with 2 adjustment wheels for a perfect fit.
- GearX.com
Your headgear shouldn't distract you from your climb, and it won't if you're wearing Petzl's Ecrin Roc helmet. Adjust the fit on the fly with two adjustment wheels to compensate for hats and balaclavas while you keep your head cool with 14 ventilation holes.
- Mountain Gear
The Ecrin Roc is the classic Petzl helmet, the standard for mountaineering, climbing and caving. Extremely durable, this helmet can withstand the harsh conditions and rough treatment that are often encountered in the high mountains or deep caves.
- CampSaver.com
The Petzl Ecrin Roc is fitted with 2 adjustment wheels for a perfect fit. Supplied with 2 foam headbands (choose thick or thin foam according to size). Thanks to the numerous holes in the shell, it offers perfect ventilation. When the wind and cold really bite, a set of plugs (sold as an optional extra, ref. # A01870) allows you to keep your thoughts clear, and your head warm! Technical specifications : Colors: white, red, yellow. Size: Universal. Weight: 475 g. CE - UIAA. Return Policy: Climbing equipment sales are final. In order to guarantee the life saving integrity of the climbing gear we sell -- we cannot accept returns on any life safety climbing or mountaineering equipment.
- Appalachian Outdoors
Petzl Ecrin Roc
MSRP:
$99.95

The Petzl Ecrin Roc is not available from the stores we monitor. It was last seen July 4, 2014 at Mountain Gear.
If you're looking for a new climbing helmet, check out the best reviewed current models.