Petzl
Tikka 2
3

reviews

5-star:

0

4-star:

1

3-star:

2

2-star:

0

1-star:

0
It is a decent camp light. It has good water resistance.
Rating:


Source: bought it new
Price Paid: $40

Summary
It is a decent camp light. It has good water resistance. The battery life on low is good. The lamp has been reliable.
Pros
Water resistance
Good battery life
Straightforward to use
Lightweight
Cons
Only two light settings
Light output is barely adequate for night hiking
Cannot control wide or narrow beam
Light "leaks" on bottom with the clear housing
I bought this lamp to replace the Tikka offered  from about 3 years ago. That lamp was, um,  permanently borrowed when I was overseas.
I was really happy with the model this design replaced, and from the other reviews I read, this model seemed to be a decent lamp.
Maybe because the other lamp was so amazing, I was spoiled, but I just haven't been nearly as satisfied with this as its replacement.
The range of working light on high is probably about 40 feet. But the light is pretty diffused. If I didn't have decent night vision, I would struggle with the throw and intensity of the light.  I found myself getting very frustrated that I was not able to change the setting from diffused to beam, much more than I was expecting that I would.
Another frustration is this version's shroud is translucent under the actual lightbulb, and light "leaks" into my eyes when the headlamp is squared on my forehead. In order to stop that, and not have itaffect my night vision, I have to push the headlamp up farther on my head, and then it wants to slide off the top my head.
The lamp came with batteries, and I have not had to change the batteries yet. That is one of the great things about his light. It sips the juice, especially on the low setting, which is what I tend to use when I at camp to conserve the battery life.
The batteries are easy enough to change. Just watch the flanges to not pry too hard.
The design shucks water fine.  I have not had any issues with moisture.
The button is pretty straightforward. It cycles through the settings fine, and it does turn on in the same mode it was last turned off.
The red mode seems bright enough to use at night, but I find I just tend to use the low white light setting. I find that I would rather have a mid white setting than a strobe setting. Realistically, I doubt I will ever use the strobe setting. The need seems to be pretty limited.
One of the primary reasons I bought the Tikka is because of Petzl's reputation. I have been quite happy with  physical durability of their products.  This headlamp seems to represent that durability.
I used this headlamp for all of my backpacking last season. I did some night hiking, and lots of camp duties at night.
In my experience, it is barely adequate for night hiking. At 70 lumens, and its diffused design, I can use it on the trail hiking, but I sure wouldn't use it for running trail. It makes an adequate camp light, and its dim setting is fine for tent reading.   I am sure that the strobe setting would be fine for biking or emergency beaconing.
If I had it to do over again, I would not go with this lamp.
I have no good, clear images of my personal use, but I am including some pictures that feature the lamp in its look, use, and design: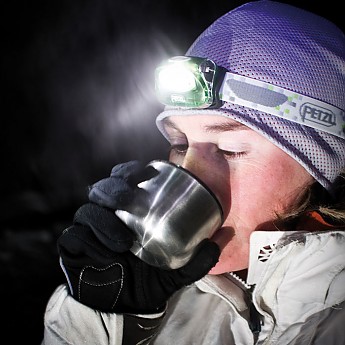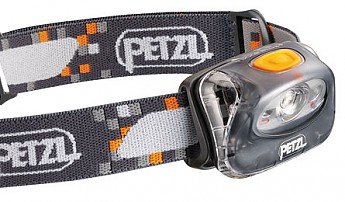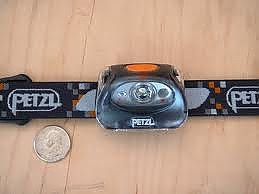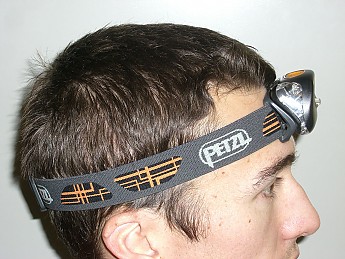 Got this as a Christmas present in 09. It replaces…
Rating:


Price Paid: Gift

Got this as a Christmas present in 09. It replaces a Princeton Tec light which was cracked open by my 2 yr old daughter. Light is powerful. Cons only high/low setting. Good light for the $$$.
Had the standard energizer lamp before I bought this.
Rating:


Price Paid: $30

Had the standard energizer lamp before I bought this. WOW! What a difference. Covers the perfect amount of area/depth and is brighter than expected. Incredibly light and comfortable. 
Where to Buy
sponsored links
Help support Trailspace by making your next purchase through one of the links above.
Manufacturer's Description
Retailers' Descriptions
Here's what other sites are saying:
With three lighting modes and a 40 lumen maximum output, the Tikka 2 Headlamp from Petzl is ready to meet the needs of your next adventure.
- CampSaver.com
The versatile Petzl Tikka 2 is a longtime favorite, this headlamp is ready out of the package for camping, backpacking and biking thanks to 40 lumens of brightness and three lighting modes. The compact Petzl Tikka 2 headlamp will arm you with 4 LEDs worth of powerful lighting and the adjust-ability to tackle a variety of projects and adventures. Three lighting modes- maximum, economic and strobe Battery pack is easy to open to make changing the batteries a snap Single compartment contains LEDs and batteries and allows light beam to be aimed Compatible with the ADAPT mounting system to mounting options on helmet, backpack, a vest, or a belt strap Adjustable headband fits heads, hats, and helmets Push-button switch prevents the lamp from inadvertently turning on in your pack Compatible with lithium batteries for the best weight and performance at lower temperatures Water resistant Petzl's high quality, durable design won't disappoint - a 3 year guarantee keeps you covered against glitches Ready to use out of the box, three AAA batteries included
- OMCgear
Petzl Tikka 2 HeadlampGetting stuff done around the campsite, or riding your bike home late is always going to be a lot of stumbling around without one Petzl Tikka 2 Headlamp. This lamp solves that problem for sure. Bright, less bright and flash setting, are three modes that let you get just the right amount of lighting, while saving batteries life. This new generation of TIKKA 2 headlamps uses the latest in LED technology for significantly improved lighting performance. Petzl added a tilt able housing to let you aim the light beam wherever you need it, so you can send your project or pitch your tent without issues. In maximum mode, the four LEDs deliver 40 lumens of light and provide enough light to see over a distance of 29 meters. The economic mode optimizes battery life and therefore provides a long burn-time of up to 120 hours. The battery compartment is from the Petzl Tikka 2 Headlamp is now hinged for easier access along with an easier to use closure system.
- SunnySports
Petzl created a versatile, do it all lighting source by giving the Tikka 2 Headlamp a range of 29 meters and battery life up to 120 hours. Three modes let you get just the right amount of lighting while saving battery life. Petzl added a tiltable housing to let you aim the light beam wherever you need it, so you can send your project or pitch your tent without issues.
- Backcountry.com
Petzl Tikka 2
currently retails for:
$20.44 - $29.95
MSRP: $29.95

where to buy: